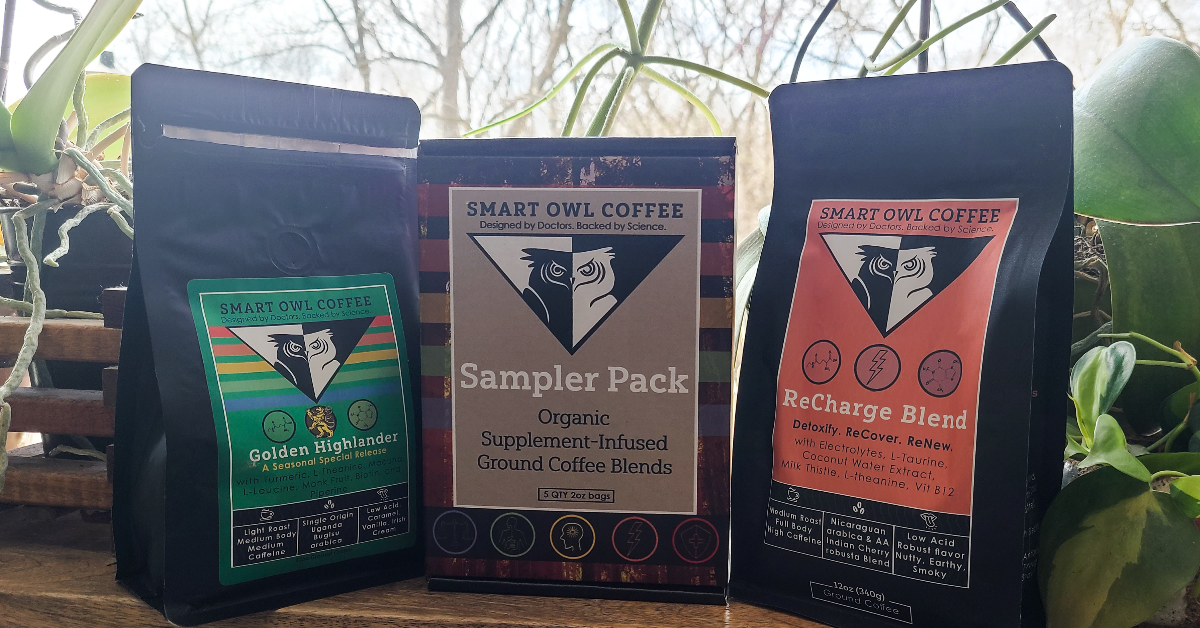 Smart Owl Coffee: Starting the Day off Smart
Like many people, I'm a big fan of coffee, mainly due to my proclivities as a night-owl student who tends to stay up late and needs that extra boost in the morning to wake myself up. However, I actually don't drink coffee too much on a day-to-day basis, mainly because of issues I have with caffeine causing episodes of heightened anxiety. When not absolutely needed, a cup or two can get me pacing around the room for half an hour with my heart beating out of control, so I do my best to stay away from it outside of particularly early mornings. However, after I was recently made aware of a coffee company that claims to have scientifically-backed and proven methods to give a more relaxed, healthy, and crash-free energy boost, I decided to give them a try and do a feature on it for any others like me who have problems drinking coffee or just want to infuse it with a better morning routine.
Smart Owl Coffee is a specialty one-and-wholesale coffee seller based right here in Springfield, selling specialized organic supplement-infused blends aimed at providing consumers with various beneficial effects. One of the main substances used in all of their blends of coffee is L-Theanine, a green tea compound and amino acid that helps to counteract certain neurotransmitters found in caffeine that result in those high-stress reactions or crashes that can be associated with coffee, ensuring that consumers get the wake-up call they need without as many side effects. Their different blends incorporate a variety of other vitamins and supplements to give drinkers different benefits, such as immune system support, relaxation, a more balanced energy boost, and enhanced focus and cognition.
For those with concerns about the sourcing of their coffee as well as those who are meticulous about the science behind what they are consuming, Smart Owl gets their coffee from USDA-certified organic producers as well as all ingredients and supplements in their blends have been audited and approved by the FDA to ensure their safety and effectiveness. Each blend has been third-party tested to confirm its effects on the brain. Smart Owl also likes to be completely aware of where their coffee is coming from and ensure the farmers are getting their fair share, partnering with producers that work directly with farmers and co-ops to ensure the fair trade of their coffee as best they can.
Aside from coffee, the company has also recently branched out into other product such as their new items such as their new Ronin Blend chai tea and specialty mushroom extracts, adding additional nutrients to your coffee or any other beverage you want to add it to, though they are generally favored to complement coffee.
Smart Owl Coffee is owned and operated by one Faith Valenti, and she handles the majority of day-to-day operations and decisions. Faith was inspired to open up Smart Owl from her own coffee habits and the issues it could cause. In her time at college, she was, of course, just as stressed as any other student, and coffee sometimes gave her jitters and anxiety, much like me. Her husband had learned about L-Theanine in college and had been using it from time to time himself, and seeing as coffee was having such effects on Faith, he suggested adding the compound to her coffee in the morning. Doing so proved quite effective in her daily routine; it caused less jitteriness as well as helped with keeping focused and energized throughout the day. They had tried themselves to find coffee producers who sold brews with added L-Theanine but couldn't find any, but with the positive responses from friends, family, and co-workers, they decided to sell their own. From there, Faith took on the majority of the business decisions and operations, from marketing to communications with partners.
Of course, on the topic of ownership, the fact that Smart Owl Coffee is woman-owned and operated is something Faith doesn't want to define the company, but she does take great pride in her image as a woman in a position of power and hopes she can serve as a positive role model for young women and girls. The idea of gaining special recognition or accolades based on the gender of an owner is something Faith does not want to fall back on. She wants to ensure that Smart Owl is a successful and respectable company by having a quality product, making smart business choices, and providing customers with the best service possible first and foremost and proving that women can succeed as entrepreneurs on their own merits and abilities just as much as their male counterparts.
Smart Owl is also involved in giving back to their community. Their Give A Hoot program to give a portion of their coffee sales back to charity means that your money will not only be buying you their quality-assured product but going back to those who need it. Also, on May 13, Girl Smart Owl plans to sponsor an education and enrichment program for all of the girl scout groups in the Springfield area through one of their partners, Treehouse Wildlife Center. If you are interested in trying out some of Smart Owl's products, they encourage you to go to their website to either order directly online or find it in a store near you.