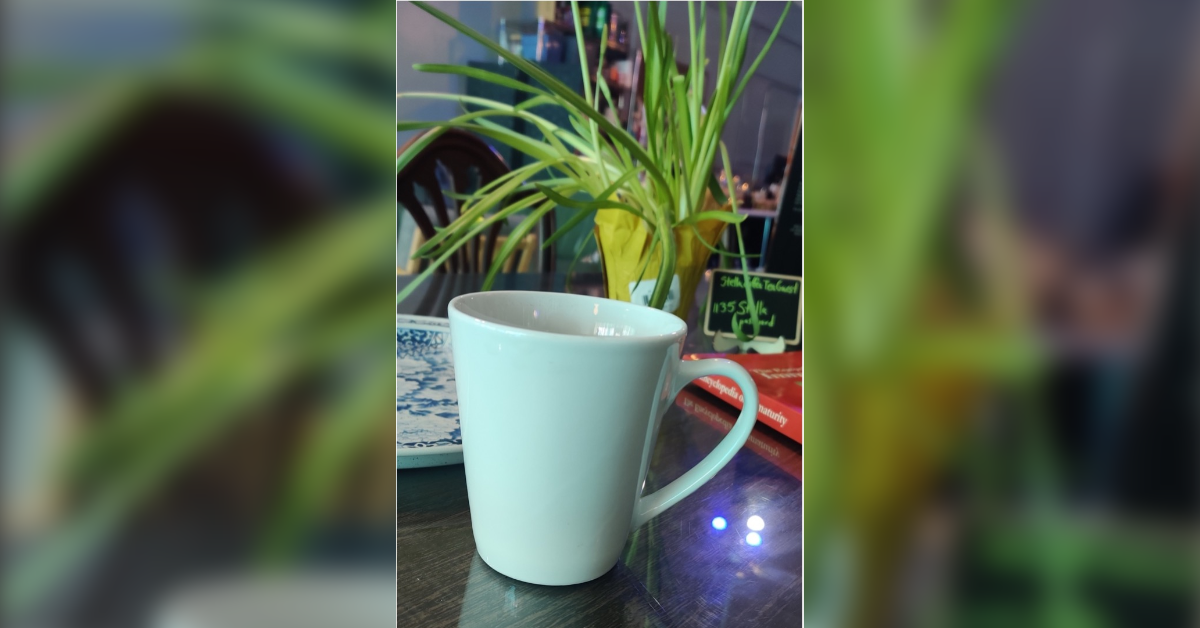 Experience the Hidden: Stella Coffee and Tea House
Perhaps Springfield's most eclectic and eccentric establishment is Stella's Coffee and Tea House. Tucked away in Springfield's historic West District, Stella's rests on a brick road in a building that also hosts an antique store and a thrift shop. The store's interior is covered in plants surrounded by muted blues and greens. Scattered all over the tables are aging editions of the magazine, The Week, and the bookshelves are lined with a vintage book collection from a vendor called Oddities and Esoterica. White coffered ceiling tiles sit high above the floors. Stella's provides the perfect ambiance for a laid-back conversation with friends.
The owners, Rich and Sarah Van Dorn, moved to Springfield, Ill., in 2022 to be closer to their family. The store opened in early October of 2022 and is still trying to define itself as a business place. Their menu items fluctuate because they are still trying to develop a taste for what their client base appreciates. Rich and Sarah are trying to create a more sustainable business practice by using reusable and biodegradable supplies. All over the shop sit quirky mugs for sale, and if you buy a mug, you can "get a cup of coffee for free." I appreciated how fun some of the mugs were and how reasonably priced they were. The shop also has adorable spoons and stirrers for sale to promote sustainability further. The store is open from 7:30 am-1:00 pm Monday through Saturday.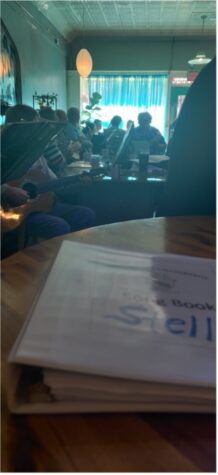 Stella's functions as much as an open mic and bookstore as a traditional coffee shop. Every weekend, Stella hosts local music artists from the Springfield area. This past Saturday, Feb. 11, the music group the Springfield Uketopians was invited to perform at the café. This music group was composed of 30-plus ukulelists who invited beginners, advanced players, and your average music enthusiasts to sing and play with them. The performance group, led by a talented woman named Joan Thome, played for two whole hours. Passersby were invited into the coffeehouse to sit, grab a cup of coffee and enjoy the show. Rich and Sarah even joined in to play and sing along. Next Saturday (2/18), the local artist is a Bob Dylan/folk music cover band, and the following Saturday (2/25), Stella's will be hosting their monthly open mic.
Stella's menu is very basic. Unlike most local coffee shops, they do not serve any espresso beverages. Their menu depends on a variety of bagged tea, and their house blend coffee, called the Orion blend, is served as a drip coffee. The Orion blend is a medium blend and is sweet enough on its own that it can be enjoyed black. In addition to sampling their house blend, I also elected to try their tea. As a tea enthusiast, I was slightly disappointed that they served the same brand of tea I have at home. I was hoping they would have a unique tea blend, but other than that, I had no complaints. On the bright side, they offer free refills for tea drinkers if you keep your tea bag. Additionally, they have locally-sourced pastries and goodies and offer smoothies if you aren't a tea or coffee drinker. I think Stella's is an excellent place if you want to savor the ambiance of a coffee shop for a low price.
All in all, Stella's Coffee and Tea House is a great space to hang out, hear music, and relax. The storefront has ample seating, fast and complimentary WIFI, kind owners, and a wonderful ambiance. I highly suggest visiting on a Saturday to hear local musicians.