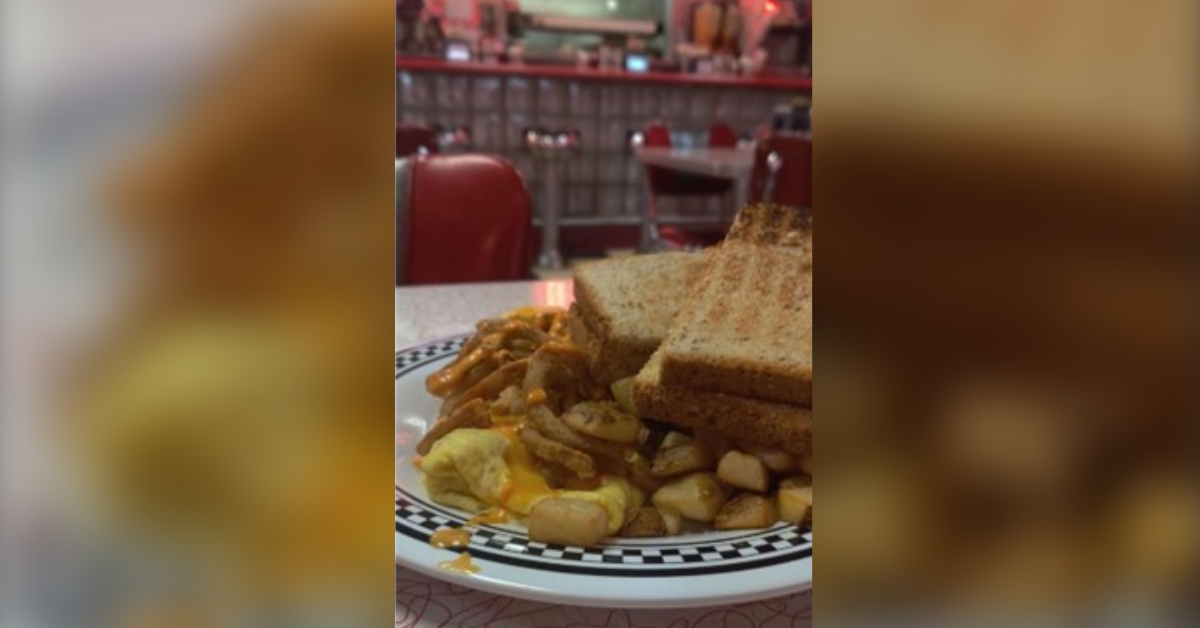 Experience the Hidden: Charlie Parker's
Across the United States, you can walk into any diner and know what to expect. Often it's soggy hash browns drowned in salt and pepper or an omelet so stuffed with cheese that you cannot taste the ingredients. Charlie Parker's is the exception to that norm – the food is traditional diner fare with a twist. The restaurant was featured in an episode of Diners, Drive-Ins, and Dives, which propelled it to the forefront of the local food scene and beyond. After being featured, the restaurant went on to win a plethora of awards. According to their website, the restaurant won Grand Champion in the Thomas Hometown Breakfast Battle, as well as Illinois Times Best Bed and Breakfast numerous times. It was featured in various news sources, such as the Wall Street Journal and the Chicago Tribune. To put it plainly, Charlie Parker's reputation precedes itself.
The restaurant's exterior is an unassuming Quonset hut with a dirt parking lot. As you enter the establishment, you are greeted with bright checkered floors contrasted with cherry-red accents. The walls are covered with 1950s memorabilia, records, and artwork. My favorite decoration is a print of Edward Hopper's Nighthawks. The stunning interior adds so much to the quirkiness of the restaurant. My favorite part is that they did not give the interior the "Springfield Special." Many local businesses try to appeal to the tourist market by incorporating Abraham Lincoln into their interior. While there is nothing wrong with this, Charlie Parker remains genuine and thematically consistent, which I admire. Additionally, the interior of the restaurant is spotless. From the counters to the floors, everything was shiny and well-kept.
Another perk of the restaurant is that service is so quick! My table was in and out in under an hour. The wait staff was pointed and efficient – they made no room for small talk – it was all about getting your food as fast as possible. In fact, their motto is "eat it and beat it." Finally, and most importantly, the food was delicious. I make it a personal mission only to order specials off the menu. Why would I order a menu item I can get anywhere when I can buy something unique to the establishment? For breakfast, I had a cup of coffee (free refills, by the way) and Charlie's favorite omelet, a giant omelet full of chicken, bacon, cheese, and onion straws topped with boom-boom sauce, with two slices of buttered toast and American fries on the side.
The food was so good that it didn't need additional sauces or seasonings. My favorite part of my order was how the boom-boom sauce added another dimension to the dish's flavor. It complemented the onions well while also not overpowering the dish. The most popular menu item would be the Breakfast Shoe, a variation of the horseshoe sandwich with breakfast foods. Or possibly Charlie's Famous Giant, a 16" pancake featured in the aforementioned episode of Diners, Drive-Ins, and Dives. Finally, and perhaps the best part of my experience, was how cheap it was to eat there. A vast breakfast and coffee cost me $13 – you cannot get a coffee and breakfast sandwich from Starbucks for that cheap.
Overall, every student, tourist, and average Springfield citizen should eat at Charlie Parkers. It is delicious, cheap, and has a fun interior. I would suggest steering yourself to their award-winning food items or challenging yourself with the "Four Stack of Giant Pancakes" challenge (the winner gets their food paid for and a complimentary t-shirt and gift card). Do not let its exterior deceive you – a phenomenal eclectic restaurant is in the interior.