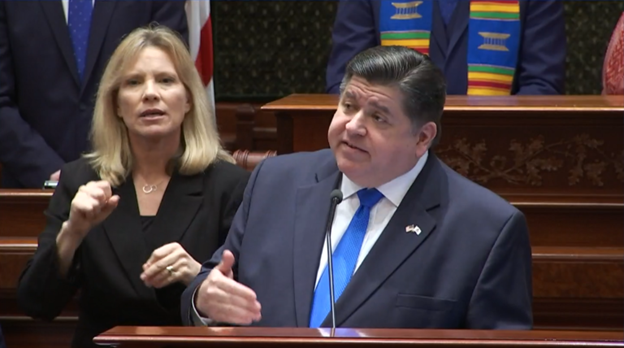 Tuition Breaks and Scholarships Coming to Illinois Colleges Soon
Any college student will tell you that their tuition is costly. Many students rely on financial aid and scholarships to offset these costs. The State of Illinois wants to help individuals with their higher education journey. At times,  people do not even have the option of going to college because of how expensive it is. The response is a proposed increase of funding to the MAP grants.
Illinois Gov. JB Pritzker gave the State of the State and Budget Address on Wednesday, Feb. 15, on the Senate floor of the Howlett Building in downtown Springfield. A portion of the Governor's speech was about "Historic Education Investments for High Education." This portion of the address focused solely on what the governor hopes to do for higher education. Not only does he have a plan, but he also expressed the importance of providing funding to make college more affordable.
"For decades, we neglected direct investments in our state universities and community colleges. I propose we raise our direct investment in them by $100 million — the largest increase in more than two decades. This is yet another way to make college more affordable," said the governor. This year he would like to address why funding has not been given to state universities and community colleges. Although this promise sounds enticing, the only wonder is where this money and funding will come from.
"This year, every single student who is eligible for a MAP grant now gets one, and we are providing larger scholarships than ever before," said the governor. "While other states battle dwindling enrollment numbers, our public universities are seeing extraordinary growth."  The statement has already been proven true as the University of Illinois Springfield reported enrollment up by 6.4% for the fall semester. The eligibility is in question: what guidelines does one have to follow to receive the MAP grant? I know many individuals have special circumstances that can sometimes limit their eligibility for the MAP and Pell grant.
The Governor continued, stating, "with a $100 million increase to MAP, we can make history. Together with Pell grants, virtually everyone at or below the median income in Illinois can go to community college tuition-free." Many states have talked of trying to make community college free to everyone but were not able to follow through. Illinois would like to make that change and follow through with the promise. Not only would it provide better career opportunities for individuals, but it would also help boost the economy in many different ways. If community college were to be tuition-free, Illinois would have more individuals attending as well as increased career opportunities.
Not only did the Governor speak on this topic, but he invited a few individuals who have had academic and career success from being a recipient of financial aid, particularly the MAP grant. A UIS student was present and was acknowledged on the floor by the Governor as "Jaichan Tyrique Smith from Chicago, who is currently a junior at the University of Illinois Springfield, majoring in psychology with a minor in child advocacy studies. He plans to pursue a career as a child clinical psychologist so he can help the next generation of young Illinoisans. In Jaichan's words, he could not have attended college without the MAP Grant program." Gov. Pritzker continued, explaining that Jaichan's success represents the promise of what affordable college can do for the future. Investing in public universities and community colleges is investing in the future success of young Illinoisans.