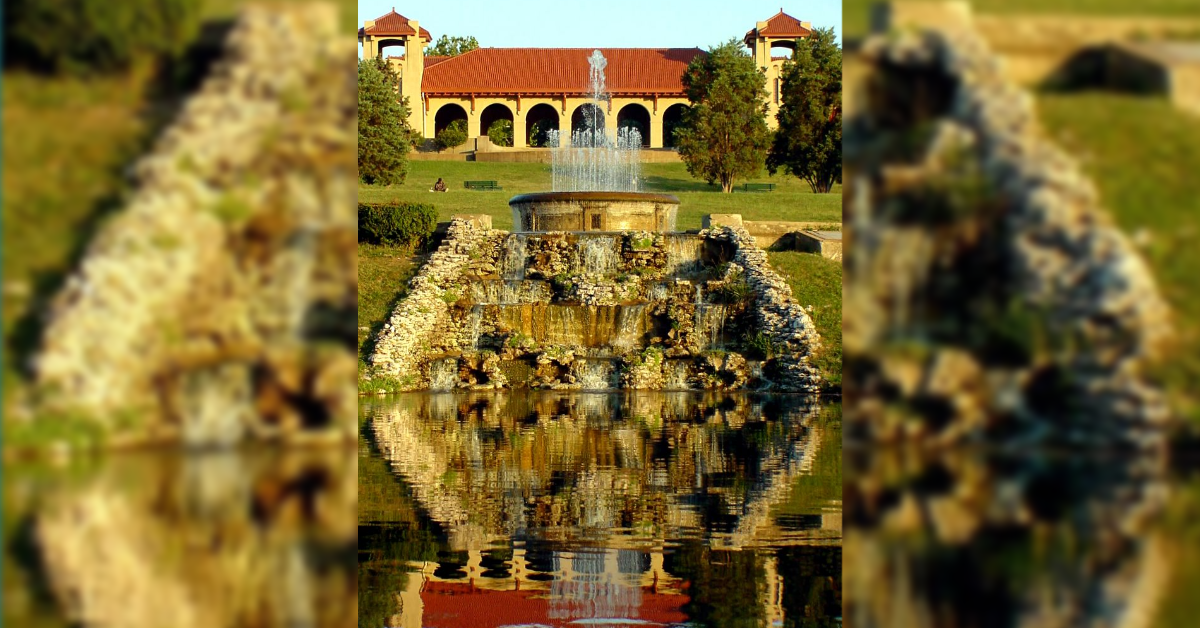 Forest Park in St. Louis: A Great Day Trip for UIS Students
With spring finally showing its green beginnings, you may be antsy to get out of Springfield and explore something unique. With St. Louis less than a two-hour drive from campus, you may be excited to experience the big city but may not be sure where to go or may have a tight budget. Forest Park is a great destination for any St. Louis visitor with any sized budget. Between art, history, animals, theater, and nature, there is something here for everyone. And for most things, admission is free.
Forest Park Is a 1,300-acre urban park just west of downtown St. Louis. The park was dedicated on June 24, 1876, coinciding with the centenary of the United States Declaration of Independence. Today the park receives 15 million visitors every year. Its founder's vision was for the park to be for everyone, including "the rich and poor, the merchant and mechanic, the professional man and the day laborer…  and there will be no notice put up to 'Keep off the grass," per an unnamed founder at the park's dedication.
The park includes a large historic pavilion designed in commemoration of the St. Louis World's Fair, the Saint Louis Zoo, the St. Louis Art Museum, the Missouri History Museum, a natural playscape, an outdoor theater venue, a science and discovery center, a lake with boat rentals and a golf course. None of these are small in scale or have the appearance of an almost-done attraction.
While there are many reasons to come to Forest Park, a love for animals may bring the most visitors every year. Saint Louis Zoological Park is a 90-acre zoo with over three million visitors annually. It is home to over 16,000 animals, many of which are endangered. While there are several pay-for attractions, admission to the zoo itself is completely free.
"Because it is free to the public, we tend to see people from all over the world. I've met people from Australia, Germany, France, and many other places. It's cool to learn their stories and passions and to be able to explain the joy of the zoo," said Brianna Fischer, an education interpreter at the zoo, which opened in 1910 but continues to grow and change over time. One change that visitors to the zoo can look forward to this year is the chance to get up close and personal with the animals. Soon you will be able to pay roughly $5 to feed the giraffe two leaves of lettuce, Fischer said. While she enjoys being present at these attractions, she says she really enjoys getting to educate guests about conservation.
"There are many different ways we can incorporate conservation into our conversations with guests. We work with biofacts a lot, which are real skins, skulls, and furs from different animals that allow for the guest to have a tactile and visual understanding of the animal. The main conservation messages we tend to talk about include climate change, palm oil, and habitat loss. Depending on the animal being talked about, we will bring up those conservation topics and tell the guest simple ways they can help.'
The zoo has plenty of things to keep someone busy for the day, but there are many other avenues for exploration in Forest Park.
The St. Louis Municipal Opera Theatre, or the Muny, claims to be the world's oldest and largest outdoor musical theatre. This historic theatre seats 11,000 people. Seven shows are presented from June through August, with all shows starting at 8:15 pm. and including a pre-show at 6:48-8 p.m., every show night throughout the summer. The shows for this season include: Beautiful: The Carole King Musical, Disney's Beauty and the Beast, Little Shop of Horrors, Rent, Chess, West Side Story, and Sister Act. The last nine rows of seating, which include over 1,500 seats, are free admission on a first-come-first-served basis.
Maybe your day trip is in need of some peace and quiet contemplation. Look no further than the art or history museums at Forest Park. The three-story Saint Louis Art Museum hosts regularly featured exhibitions, as well as rotating exhibitions, including the "Currents" series, which features contemporary artists and has regular exhibitions of new media art and works on paper. The museum contains more than 34,000 objects, and the collection is divided into nine areas, including American, Ancient Egyptian, African, Oceania, Asian, decorative arts and design, European to 1800, Islamic, modern and contemporary, prints, drawings, and photographs. The exhibits include works from artists including Monet, Renoir, Homer, and Van Gogh, to name a few.
Forest Park has it all. This article only scratches the surface of what is offered here and obviously could be turned into a full week's getaway. So jump into your car or onto the Amtrak from Springfield for a fun day of art, culture, music, animals, exercise – and hopefully some sunshine. See you there!