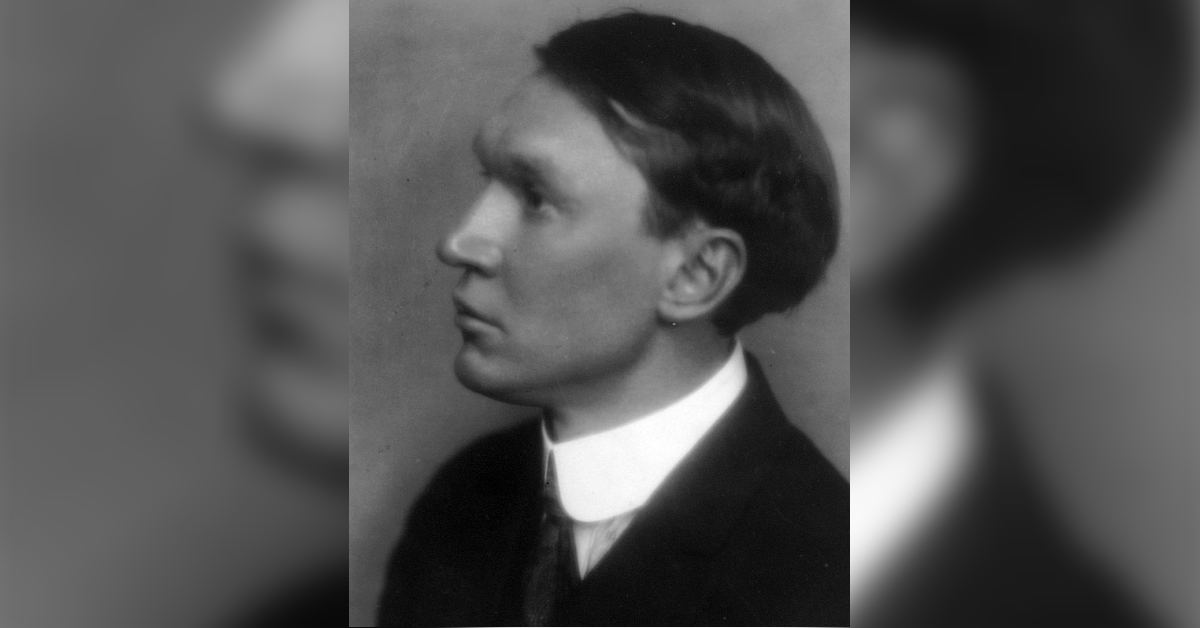 The Life and Work of Vachel Lindsay: Documentary Premier at UIS, Friday, April 14
Nicholas Vachel Lindsay (1879-1931) is probably most recognizable to Observer readers as the namesake for one of the little streets wending their way through the UIS campus. Lindsay is in fact one of Springfield's many prominent historical figures, a poet who was known across the country in his time and whose legacy is still honored by many in his hometown of Springfield. Hailed as the father of modern singing poetry and known overall for his theatrical methods of writing, Vachel serves as a long-lasting figure in the history of artistic expression and a fascinating subject for any interested in writing and art history.
As such, it may be of interest to our readers that this Friday, April 14 at 6 p.m., the Sangamon Experience will be hosting the premier of The Life and Work of Vachel Lindsay in the Brookens Auditorium. The documentary on the famous poet and his work's effect and legacy was produced by Storyteller Studios, a film company also based here in Springfield and was created to be incorporated as a regular part of tours of the Vachel Lindsay Home (603 S. Fifth St. in downtown Springfield) in conjunction with the Illinois Department of Natural Resources (IDNR). Storyteller Studios itself is most often involved in producing marketing videos for businesses and nonprofits, often working with companies outside of central Illinois. They are also responsible for a film shown to visitors of the Old State Capitol building.
Storyteller Studios owner Josh Hester was kind enough to allow me a preview of the documentary as well as some bonus features, which will also be presented alongside the film on Friday, in order to understand more about Lindsay as well as to discuss some broad topics of interest that may appeal to viewers.
Lindsay was very different from other contemporary poets of his time, where the common practice was to simply read out their poems to the audience, Vachel was a performer at heart, and he wrote his poems to reflect that. From his rhythmic style of writing lending itself to more of a theatrical approach, to his unprecedented animation and movement on stage. He would later tour the country and became famous as his work enraptured audiences and demanded their attention, creating a truly one-of-a-kind experience. In fact, the extra features of this film are meant to encapsulate and reenact what it would be like to attend Vachel's readings, performed by local actors, many of whom have studied and enjoyed his work themselves.
The premier here at UIS will be followed by a Q&A panel with many of those who helped with the film, for those with a deeper interest in Lindsay's life and art as well as how his work changed the way he affected the way we approach artistic expression to this day. The film was produced by request and in conjunction with IDNR, who have a part in managing historic sites in the state, with the goal of the film becoming part of the Vachel Lindsay Home experience for visitors. The studio worked with historical scholars and researchers, mainly associated with the Vachel Lindsay Home itself, in order to recount the feeling and effect of his work as impactfully as possible.
On behalf of Storyteller Studios, Hester wishes to express gratitude to the Sangamon Experience at UIS for the opportunity to showcase this documentary. If you are interested in Vachel's work but are unable to attend the showing Friday, the film is viewable at the Vachel Lindsay Home as part of the tour.
It will also be available on the Storyteller YouTube channel starting in May 2023.
Tickets for Friday's 6 p.m. screening of The Life and Work of Vachel Lindsay at Brookens Auditorium on the UIS campus are free of charge and can be reserved here.