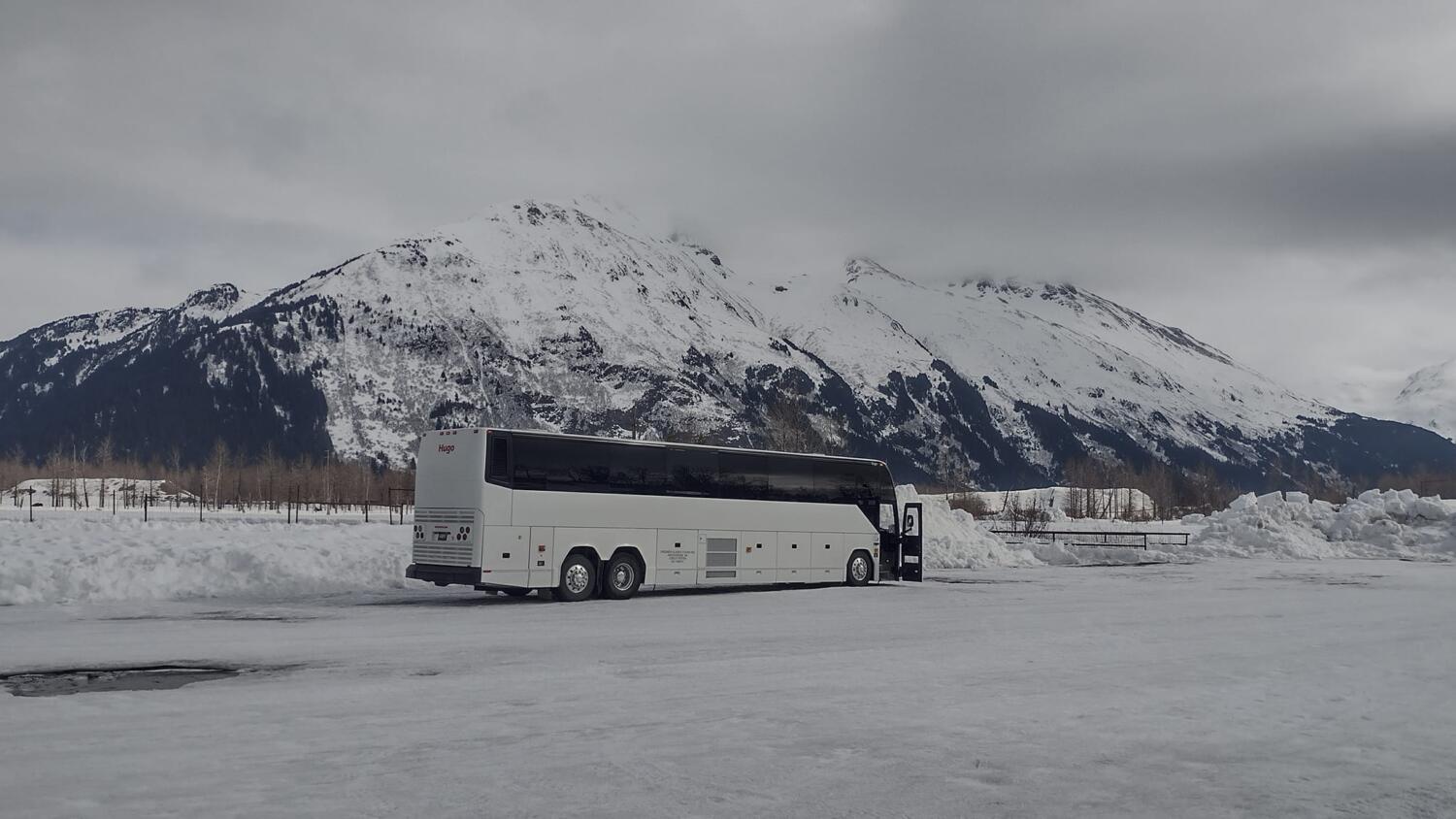 Comedy Brought Me to This Depressing Place
I sat in my Airbnb, wondering if I am ungrateful. I was given this private room with a giant comfy bed and a private bathroom. I came here with a childlike exuberance. New experiences were going to happen. I wanted to get the heck out of Illinois for once.
I'd never flown before. I'm an uncultured swine who'd never been above 10,000 feet. It was exhilarating seeing Canadian and Alaskan land that was untouched by humankind. Then I got to the airport.
Ted Stevens International Airport in Anchorage is one of the busiest airports in the country. It's just not busy in terms of people. It's the second busiest cargo airport—a middle ground for shipping flights from Asian countries. You are met with various dead animals in the airport. That bear probably deserved to be stuffed professionally.
I still was excited. I went with my hookup to the comedy festival, which is why I was in town. Let's call the guy Ron. Ron is a lanky, curly-haired redhead. His voice reminded me of Seth Meyers. Ron looked like the lead singer of Wolfmother (I know – I'm disappointed that I know what the lead singer of Wolfmother looks like, too). He picked me up in his giant white Ford Explorer and was playing Sufjan Stevens. I'm not sure anyone else driving a gas guzzler has ever listened to Sufjan, but Ron was an interesting guy.
We went to a Mexican-Korean fusion restaurant called Seoul-Casa. A giant picture of Guy Fieri is prominent in the business. The food tastes like Guy Fieri would endorse it. Very bland – and even adding sriracha didn't bring any heat. It certainly needed some donkey sauce. Anchorage was already starting to disappoint me.
I want to make this abundantly clear. The folks in Anchorage are some of the nicest people. It is an incredibly multicultural city. The problem for Anchorage lies within the city itself: there's no infrastructure. There's no creative mind thinking of what the future of Anchorage could be. I mean, for goodness sake, they called their bus system people mover.
This place stinks. That's all that was on my mind as I rode across the slush of Spenard, downtown, and Fairview. The town used sand and stone to melt its ice.  This is better for the environment but creates a mucky-looking town.
This muck is exacerbated by the overcast skies beyond the limited Anchorage skyline. Usually, you can see the beautiful mountain ranges all across the city. This includes the Talketeena, Chugach, Tordillo, Kenai, Aleutian, and the Alaskan range. If the weather is just right, you can see Denali, the tallest mountain in all of North America. I don't think I ever got the right weather.
The weather also needs to be perfect if you want to see the Northern Lights. The lights were the reason I really wanted to come to Alaska. Unfortunately, the lights never came when I was here—another disappointment.
Throughout my first few days in Alaska, I was baffled by how nice the people were. Think Midwest, but without the sarcasm. Wait, that's probably Utah. Think Utah, but with potheads. Alaska is an outdoorsy stoner wonderland. Anchorage is the unfortunate meeting point for these folks.
The old weatherworn buildings that adorn the community show their age. The sprawl of Anchorage doesn't help, either. It goes on forever. The place is a city planner's nightmare. There's no continuity. It's like they hired an intern to structure the city. It sucks because the backdrop couldn't be more gorgeous when it's not overcast.
I'm staying in an Airbnb with two other comedians. These two comics could not be more different. One is a short and stout auto engineer from Michigan. The other is the most Los Angeles person I have ever encountered.
The LA comedian laughs at everything, including himself, a lot. I really enjoyed his presence when I first got to town, but as the days dragged on, he reminded me of why people complain about LA. It's filled with the confidence that everything is going to work out without any of the anxiety that it might not.
LA —which is what I'll call him— floats along, being excited about doing mushrooms in the forest. I have to be the mom and remind LA that we are going to do a group visit at the Alaska Wildlife Conservation Center the next morning. It might not be wise to do shrooms and have to wake up early.
I'm awake early and realize that my dimwitted rump forgot to pack a decent coat. I'll also need some boots for the first time in years. I'm hungry, too. It's time for a journey downtown.
I take a couple of steps into The White Spot Cafe and wonder if they're closed. There's one old guy munching on something, and he looks like a gold prospector. The two employees scurry to the front. One employee is a middle-aged, tatted-up Marine who mentions that he likes listening to Steven Crowder incredibly early into our conversation. The server is a mustachioed gent who gives off a Freddie Prinze Sr. vibe.
Both guys are extremely nice to me. Did I mention how all of the people are so darn pleasant? They are. I devour the reindeer sausage breakfast. It includes the sausage, two eggs, home fries, and toast. They make sure you know on the signage in the cafe that wheat is the only type of toast available. I get an earful about how comedy has changed from the Marine while consuming a mouthful of Santa's flying animals.
After picking up a coat and boots from Big Ray's, a small Alaskan clothing chain, I sauntered onto our tour bus. LA sits in front of me. I flop down next to a dentist from Oregon. He tells jokes, too. We banter while everyone takes pictures of what they thought could've been whales in the ocean off of the highway. They weren't whales, but they could've been.
Eventually, we get to the Alaska Wildlife Conservation Center (AWCC). The AWCC is one of the only positives I will take from this experience. I find it interesting that any positive stories I've heard about sightseeing are outside of Anchorage. AWCC is about an hour away from Alaska's metropolis. It's worth the trip. Brown bears, muskox, moose, a bald eagle, and many other animals are protected by the center. More pictures are taken because memories don't last – but random photos on social media totes do. I took pictures, too, because of this story and because I am a hypocrite.
It's another overcast morning this time, with added snow flurries. I look back at my phone and think about how I miss Illinois. I never thought I'd type those words, but we think our infrastructure is terrible. We think of how bad our roads, trains, buses, and buildings are. But this trip gave me perspective. It gave me hope. At least I don't live in Anchorage.
The people are nice, though.