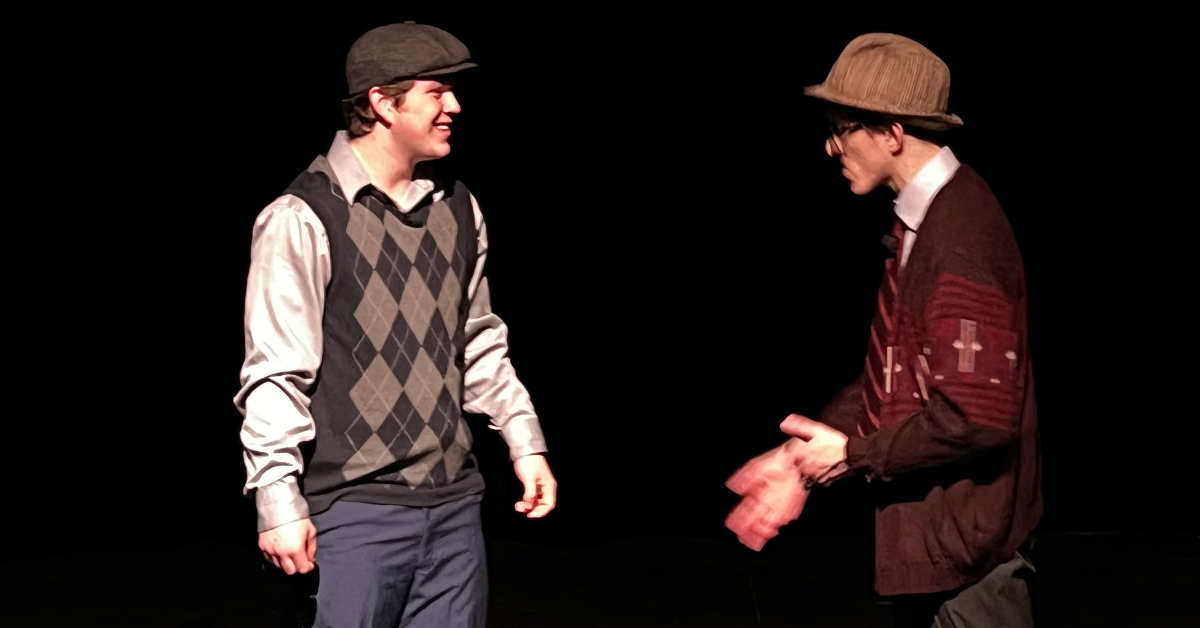 Painful History Shown Through Multimedia Play At PAC
Long discussions about selfies and the price of eggs began one night at the UIS Performing Arts Center Studio Theatre. Audience members spoke to each other freely about the concerns of the day before the play started. The murmurs filling the theatre are a privilege of the living.
And Then They Came For Me: Remembering the World of Anne Frank brings a devastating time in human history to the forefront of theatergoers' minds. The play uses video to show two real-life Holocaust survivors with close ties to Anne Frank. Ed Silverberg and Eva Geiringer both knew Anne Frank. Anne Frank talked about Silverberg in her diary. Geiringer's mother married Otto Frank, Anne Frank's father, after the war. Silverberg and Geiringer survived. They were two of the lucky ones.
The fast-paced, poignant play wrenches the guts of each individual audience member. The story questions what someone might ignore if it does not directly affect them. The play talking about a tragedy from 80 years ago feels all too current. Reminiscent of Sinclair Lewis' novel It Can't Happen Here, it makes you wonder how close America is to fascism.
Anne Frank, played by Elisa Marti, introduces herself to the audience by talking about fashion. She contemplates what a dress needs to pop. "Shoulder pads, this dress definitely needs shoulder pads." These moments shine brightest in the play. They show a person, not a historical figure. That person could be your family member or friend. That person could be you.
Marti, an Italian-born, New York Film Academy-trained actress, has a familial connection to the Holocaust.
"For me, the topic is extremely important. It's connected to me personally, my family," Marti said. "My grandfather was actually deported into a concentration camp. So, I'm dedicating this work to him."
The play was emotional for Marti, with each performance taking a toll. She says her grandfather's name, Vladimiro, in her head before each show.
The ensemble cast tirelessly rehearsed the play for over a month, and it shows. The play made history by becoming the first-ever play produced by the UIS Performing Arts Center with paid local actors who auditioned. Connor McCloud originally auditioned because he needed something to do, but was then wowed by director Carly Shank's less formal audition process.
"Usually whenever you go into an audition, it's 'number eighteen step up,' and then you say what you need to say, in some cases you sing what you need to sing, then it's 'alright next,'" McCloud said. "Carly is very personal. She learned everybody's name at the audition. She made sure that everybody ran every line that they needed to and didn't feel so much pressure on it so that they could get the best experience possible."
McCloud, as Ed Silverberg, delivered one of the play's most memorable moments. When he whistled the "Ode to Joy" portion of Ludwig van Beethoven's Symphony No. 9. The whistle hit his father's ears, and the two embraced in jubilation. The father and son had been separated before finally connecting after years apart in Belgium.
Eva Geiringer, played by Emma Shafer, experienced a joyous moment of freedom from Nazi persecution, but that moment was more muted than Silverberg's. Geiringer and her mother returned to their Amsterdam apartment after months of train rides and walking across Europe without a penny to their names. They found that their apartment had been kept clean by a neighbor, a moment of collective good after years of dealing with collective evil.
"I'm really attracted to what I deem activist theatre, which is what this is," Shafer said. "I think it pushes people towards humanity."
The ending of the show was intentionally vague, leaving the audience unsure of how to respond to the horror of what happened throughout the performance. The actors linked arms, and a standing ovation erupted.