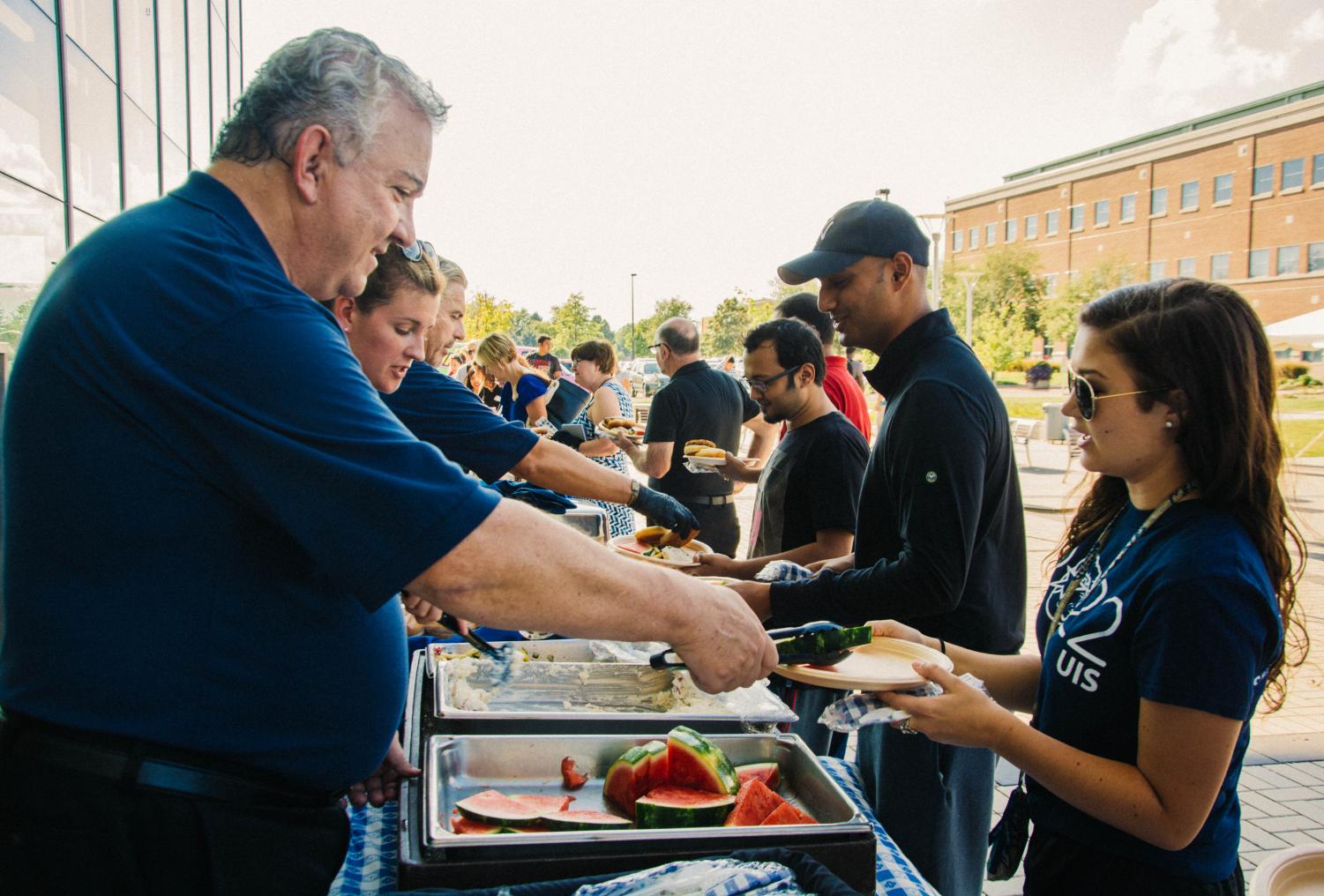 Chancellor Elated to Uphold Tradition at the Student Union
The 2018 Chancellor's Picnic was a success! Sponsored by Student Life, the festivities ensued Tuesday, August 28. This was in lieu of Welcome Back Week. Held in the vicinity of the Quad and the Student Union, this event attracted a formidable crowd. Delectable dinner selections ranged from hamburgers and hot dogs to fruit arrays and pasta, as well as other assortments. Participants that wanted to partake in more than just the dinner had plenty of other options from which to choose. Rows of bean bag toss games were set up in front of the dining area. Patrons could sit down at a booth in the dining tent to check out the free Speed Sketchers caricatures and see what they looked like as a zany and distorted character on paper. Coloring tables ensured that children and adults alike were entertained. In addition to all this, WDBR 103.7 FM gave out free t-shirts and played music for the crowd to enjoy.
When interviewed about the picnic, Chancellor Susan Koch said she was elated to be upholding the tradition at the Student Union for the very first time. Its aesthetically dazzling structure and many features, including the ever-glorious air conditioning, promised refuge to hungry patrons in the August heat. Koch has been organizing the Chancellor's Picnic for eight consecutive years. This warm welcome has been continually held for returning and new students. However, Chancellor Koch emphasized that this was not the sole purpose assigned to her picnic. So many more people were fed, entertained and welcomed that day; parents of students, children, faculty, and staff all united as a community to take part in this event. This University of Illinois Springfield hospitality perpetuates itself with the continuation of this year's Welcome Back Week events, but it does not stop there. The Chancellor's Picnic was a great way to get a feel for the friendly atmosphere circulating the campus, and I am confident that next year's event will be just as much of a hit as this one.