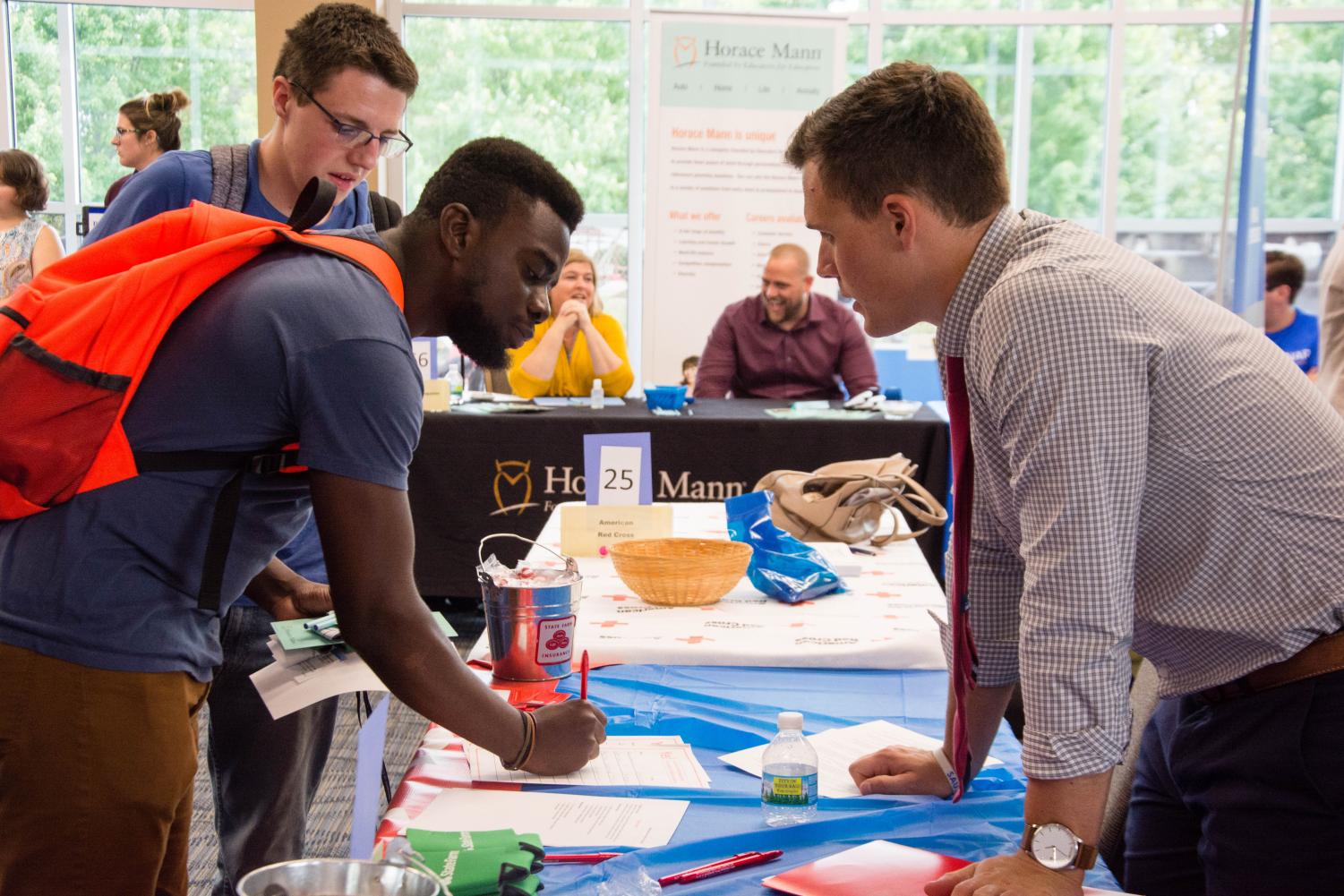 UIS Students Explore Foot in The Door Fair
Whether you are an incoming freshman or a soon-to-be graduate student, everyone faces the challenges of our modern job market and its impact on all lives after college. Where once a college degree acted as a definitive route towards a career, the reality now is that employers are looking for more than an academic education. From internships to extracurriculars, the building of a quality resume has become a journey to collect as many relevant job skills as possible. With that in mind, The University of Illinois at Springfield Career Development Center hosted their annual Foot in The Door Fair on Thursday, August 30. This aptly named event is a yearly opportunity for students to explore a variety of potential careers and volunteer services centered in the Springfield area. From Aflac Insurance to service in the Peace Corps, the event hosted a diverse sample of paths beholden to prospective young workers.
Beyond finding an internship, the event also allowed the Career Development Center to advertise some of the services they offer young workers. No resume starts ready for the job, make sure you visit their walk-in help hours to get a leg up. While the event did offer great networking opportunities, those who missed out may be wondering how to put themselves out there. Two senior students were questioned about their experiences with finding and participating in internships. When asked for advice on how to find an internship, senior Ciara Koepke responded by saying: "Just look around. Go to places that put you outside of your comfort zone. Most businesses are looking for fresh ideas. You just need to show them what you have to offer."
Perhaps more important than finding an internship are the lessons one can take from the experience. When I asked senior Kody Freeman about his experiences working for The Illinois Association for Behavioral Health he responded saying, "The workplace goes beyond theoretical stuff they teach you in classes. You need to learn in the real world." Ultimately, the event provided a mere snapshot of the myriad opportunities available to students. The best way to find an opportunity is to put yourself out there and search for something that interests you.