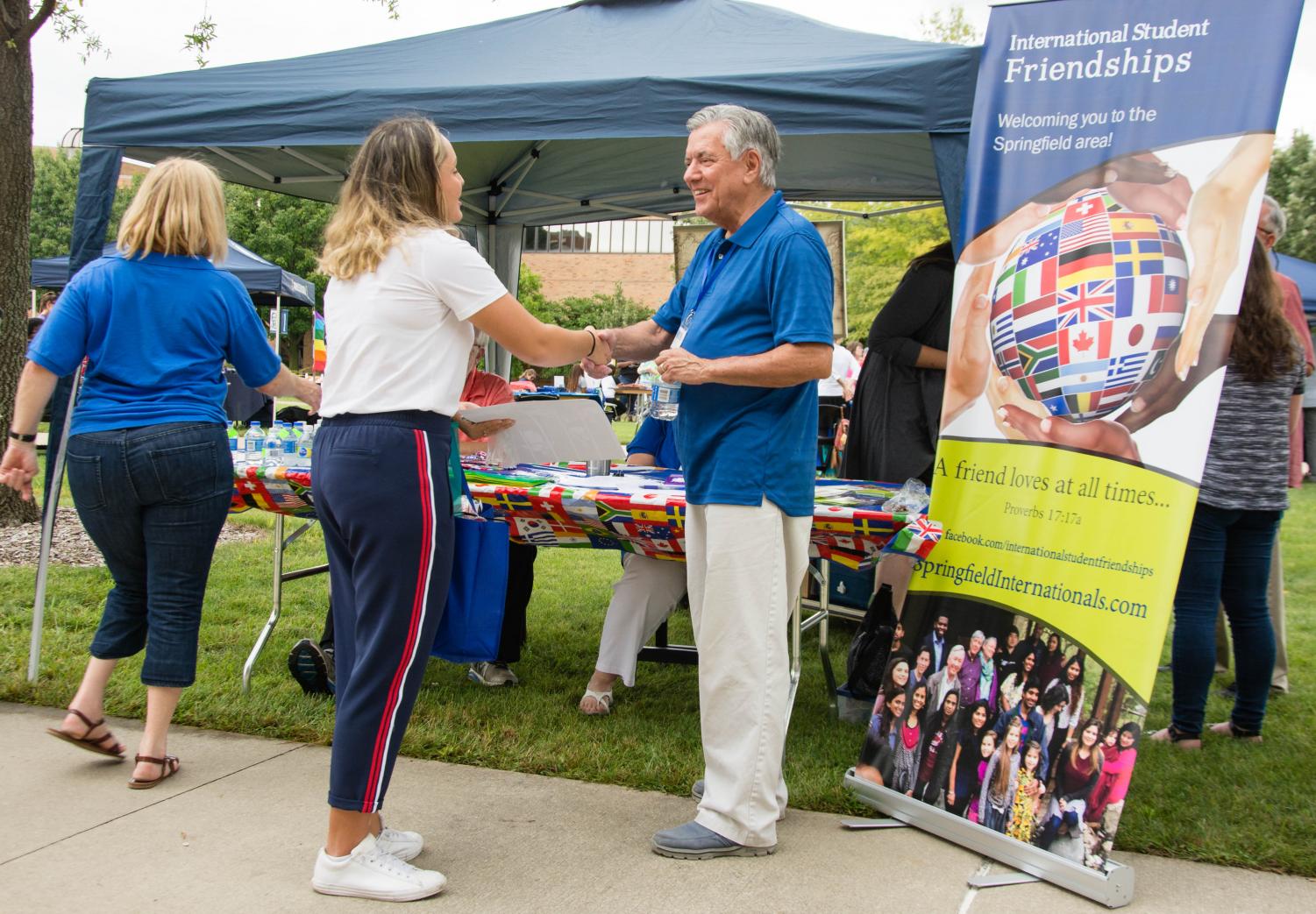 Getting Involved at The Involvement Expo
UIS held its annual Involvement Expo on Wednesday, August 29, wherein various organizations make themselves known to the student body as a whole. Among the groups represented at the Expo, were volunteer organizations such as Alternative Spring Break, which offers students the opportunity to spend their spring break working on a service project chosen by the group's members.
Other groups seeking volunteers for service projects at the Expo included the American Red Cross, the Catholic Charities Crisis Office, the Hospital Sisters Mission Outreach, the Kidzeum of Health and Science, Habitat for Humanity, and others. Various offices of the university were present, university were present, informing students of the services they offer.
Brookens Library was there, providing information on how best to utilize the library's amenities, as well as signing up volunteers for the annual Haunted Library held on October 19. Also attending were representatives from the Counseling Center, which provides students with psychological consultation and outreach, Gender and Sexuality Services, which advocates for and supports LGBTQIA+ students, and the Office of International Student Services, which provides assistance for international students in their academic pursuits and integration into the UIS community.
The Greek societies of UIS were also well represented, with representatives there from the Phi Kappa Tau, Sigma Lambda Beta, Phi Beta Sigma, Alpha Phi Alpha, and Delta Kappa Epsilon fraternities. The sororities in attendance included Gamma Phi Omega, Zeta Phi Beta, Tau Chi, Alpha Kappa Alpha, and Delta Sigma Theta. As were several of the campus spiritual organizations: the Catholic Student Organization, the Lutheran Campus Ministry, the Chabad Jewish Center of Springfield, the Christian Student Fellowship, and Cor Unum, an affiliate of the Dominican Sisters of Springfield. The campus's political and student advocacy groups were also presenting their respective causes. These included the College Republicans and College Democrats, the Libertarian Party, Young Americans for Liberty, a student organization dedicated to promoting civil rights on college campuses, Loud for Animals, a group dedicated to promoting and educating students on animal rights, the Student Advocacy Coalition, which advocates for the University of Illinois with the Illinois legislature, and PERIOD, an organization dedicated to advocacy and education regarding menstrual care. Local businesses such as Pizza Hut and Chic-fil-A were also there promoting their products.