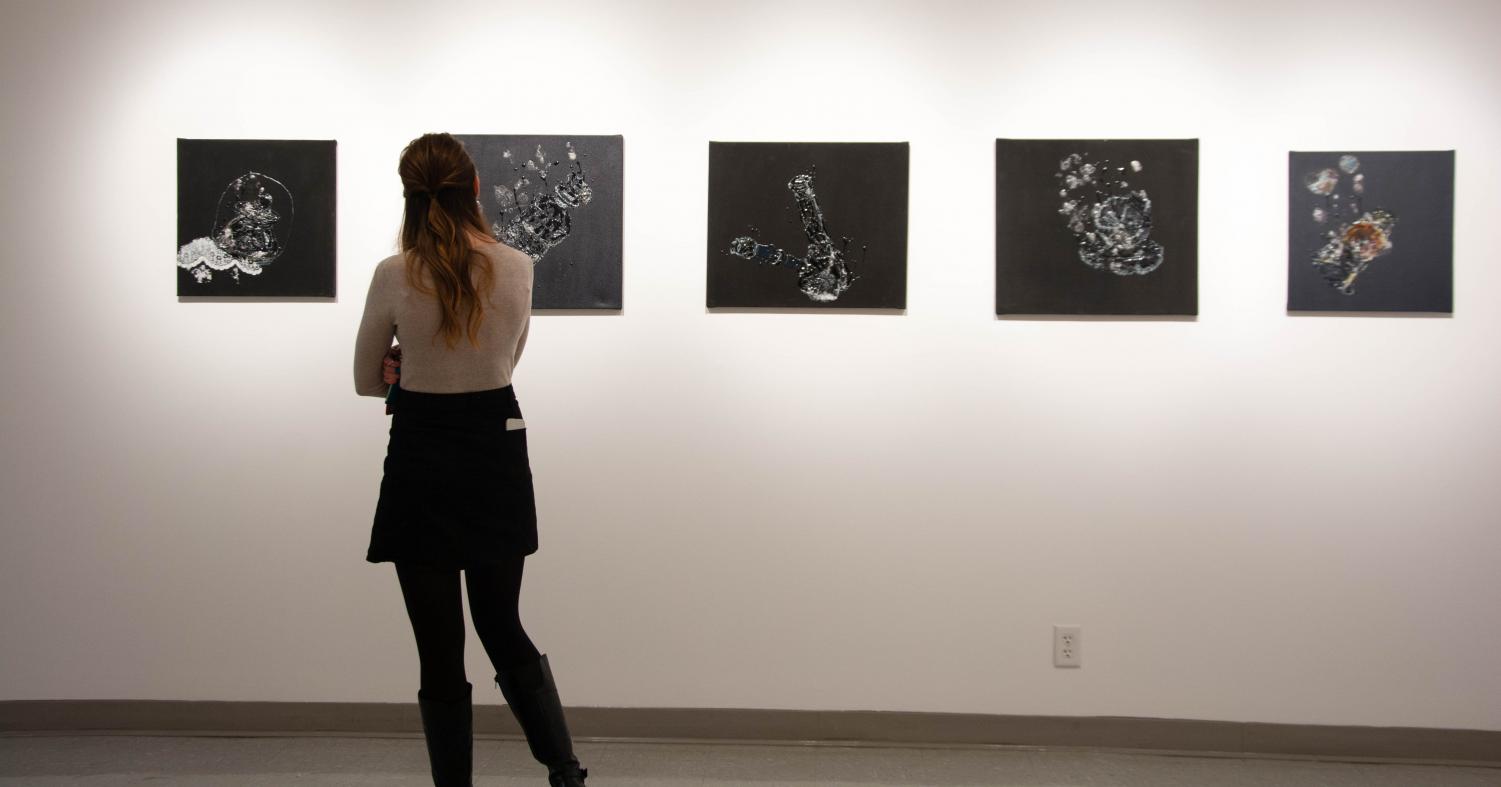 Fancying Artwork on Campus
In a cold, cruel world full of impermanence and loss, imagination and elegance are powerful weapons to arm the human mind with. John Keats expressed this idea in his exceptional poem "Fancy." He pointed out that beautiful things (of the intangible variety, such as ideas and fantasies) lose their novelty over time through overuse, yet people are always finding new ones to conjure up and hold onto. How do fancy objects–such as outfits, jewels, and other items–fit into this idea? In other words, do people use materialistic yet elegant pleasures to offer themselves respite from the harshness and ugliness of the world, in the same sense? The exhibition "Let The Fancy" attempts to answer these questions, and the results are thought-provoking at the very least. Curated by Allison Lacher and Jeff Robinson, this mixed media exhibition opened up to the public and began its initial reception on Thursday, Sept. 27 at 5:30 pm in HSB 201. The exhibit will run through Thursday, Oct. 8, in the gallery on Mondays through Thursdays, from 11:00 am to 6:00 pm. Featured artists include Matt Morris, Rose Nestler, Sherwin Ovid, Preetika Rajgariah, and Elise Warfield. Co-curator Robinson highly encourages the consideration and practice of the ideas presented by Keats and expressed by the artists:
"It's urgent, the poet tells us, that we make use of this ability, since we are actually subject to terrible loss. Does this imaginative power have anything to do with that other kind of fancy–fancy clothes, fancy jewelry, fancy style? Is our urge to decorate and show off another way of resisting natural decay?"
Food and refreshments were served near the entrance of the exhibit during the reception, and all of the attendees were buzzing about their own interpretations of some of the pieces. Interpretive, experimental, sardonic, strange, and intriguing works decorate the gallery: sequined Budweiser cans, a veil, a magenta sari adorned with hair, tattered velvet cloth, eclectic takes on fancy clothes, and bejeweled Band-Aids, among others. Overall, this exhibition is a hit on campus, and it will certainly receive more and more visitors as students pass by it on their way to a science class or lab and stop to look at it out of curiosity. It will give them something to think about the next time they see beauty in the form of a particularly extravagant piece of jewelry or a wedding veil.