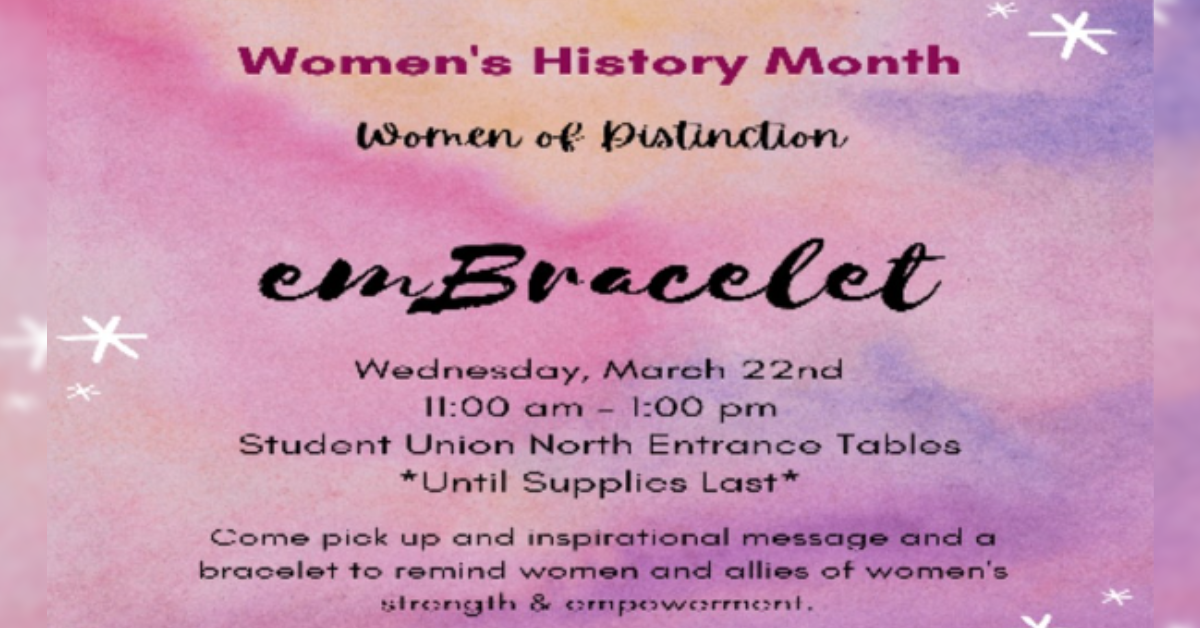 emBracelet Love at UIS
Last week, two University of Illinois Springfield groups came together to celebrate Women's History Month in a unique way. Women of Distinction and the Women's Center hosted an event called emBracelet Love.
The Women of Distinction group president, Daniela Toledo, said that "the groups were handing out bracelets with an inspirational quote to remind all women and allies of women's strengths and empowerment. The bracelet can be worn as a reminder of what being a woman is. Women of Distinction wanted to provide women and allies with a constant reminder of what it takes to be a woman year-round, especially during Women's History Month."
This event occurred in the Student Union's north entrance on Wednesday, March 22, from 11 a.m. to 1 p.m. Students could come to get a bracelet and learn the meaning behind this project. The event seemed like a total success, with the group running out of bracelets right as the event closed.
The campus has held many different women's events throughout March in honor of Women's History Month. Some of these events included self-defense classes, Luna Fest (the film festival by women filmmakers about women), empowerment groups, and much more.
The study of women's history has grown in importance in society in recent years as many individuals have recognized the importance of including women's perspectives and experiences in the larger narrative of human history. Before this, a lot of women's history had been overlooked and simply not included in traditional historical accounts. It was as if parts of history had never been told.
Women's history encompasses a wide range of topics, including the history of women's rights movements, the struggle for suffrage, the contributions of women to science, technology, and the arts, and the experiences of women in different cultures and societies around the world. It also examines the ways in which gender roles and expectations have evolved over time and the impact of these changes on women's lives.
Women of Distinction at the University of Illinois at Springfield aims to promote diversity, ethnicity, and unity of all women and allies at the university through volunteering, fortifying cultural awareness, and fostering leadership while maintaining a strong academic focus.
The Women's Center provides programming and support for students across a wide range of issues related to gender, equity, and justice. According to their web page on the campus website: "Our comprehensive, intersectional, and welcoming approach to the community allows for uplift for individuals of any background and women-identified students and their allies to feel protected and adequately represented. Our programming and services cover various topics, needs, and special interests that allow for community and engagement to manifest. These programs and services cover but are not limited to, violence against women, women's empowerment, women's health, and other identities that are plagued by systematic oppression. The Women's Center works to improve the status of women in higher education. Overall, the approach of the UIS Women's Center is intended to be intersectional, recognizing that not all of those who may identify as women experience life the same way."
There is an abundance of additional information about both groups available on the UIS website.