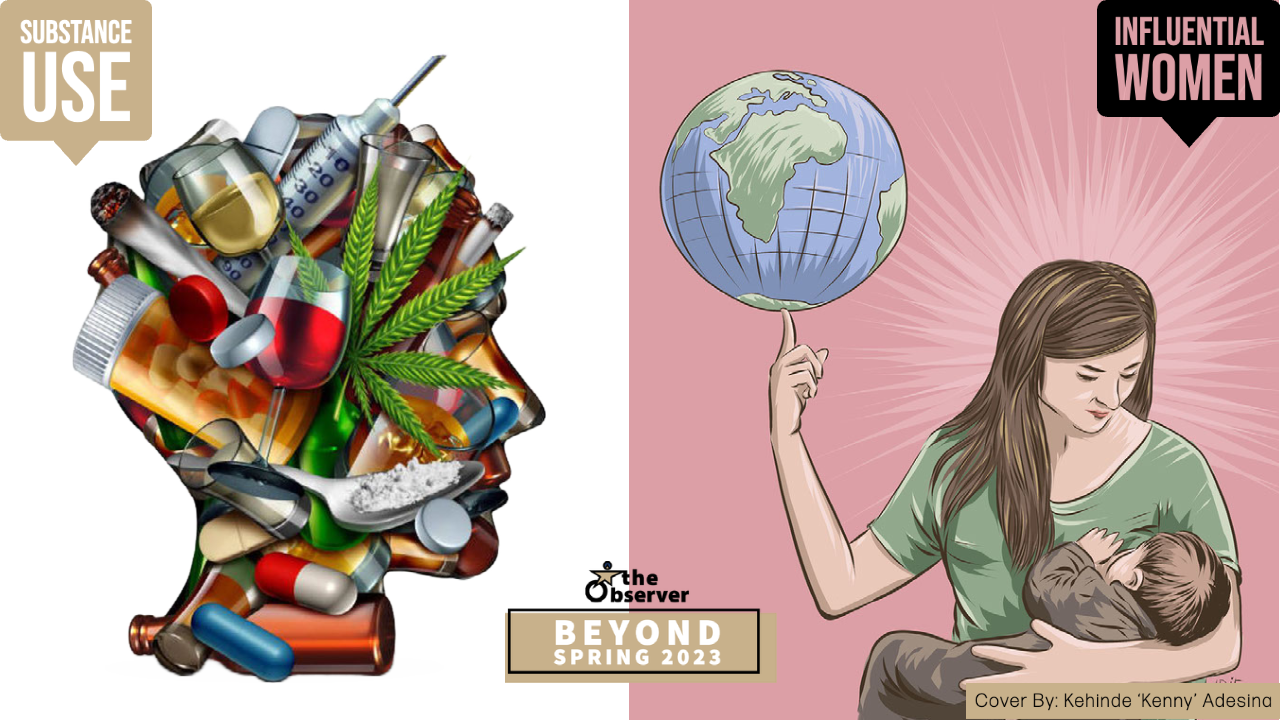 Introduction: Beyond Spring 2023 – A Duality of Themes
It's that time of the semester when we are back with our biannual semester publication, The Beyond.  At The Observer, once a semester, we do a publication around a central theme – this is The Beyond.  We explore high-level topics across various facets of that topic across the many dimensions of our lives and lived experiences.  The theme changes every semester and is selected to reflect the contemporary times in which the publication is written in.  This semester we are going further to push editorial boundaries and embrace a duality of themes.  We wanted to touch on two important themes that resonate innately with our editorial staff.  This semester we will engage on the topics of Influential Women and Substance Use.  We will publish at least one piece from each topic daily, encompassing the duality of this semester's themes.
Some of the most influential people among us have been women. Women have historically been kept from participating in many professional and societal spheres. The symptoms of our misogynistic society are further exacerbated when a woman is also a woman of color. Thus, we have worked to tell not only the stories of women overcoming misogyny but also of women overcoming both misogyny and racism to open the doors for an even wider selection of oppressed individuals to enter various spaces. It is important to acknowledge that there is oppression that exists beyond the baseline of oppressed identities and that these identities and their consequences can be stacked against a person. However, in the cases of the women we have written about, these oppressed identities allowed them to be motivated to create unprecedented opportunities for themselves and others. Thus, they should be honored as they have been honored here.
Substance use is a difficult topic for many.  We live in a culture that perpetuates a certain taboo regarding substance use.  Whereas society has deemed some substances "good" and some substances "bad," the reality is much more nuanced than that.  Many adults engage in safe and responsible substance use, utilizing knowledge, science, and education to help guide the choices they make with their bodies.  And there are many other people who simply cannot engage in substance use safely or responsibly as they suffer from the horrors of addiction.  We have spent so many years criminalizing people's choices without fixing any of the underlying problems, we have made those suffering from addiction face immense barriers to receiving the help they need, and we are too afraid to have honest conversations about substance use.  In this semester's Beyond, we are having those conversations, and we hope to make the topic less taboo.
We are proud to share our contributors' hard work with you, and we hope that everyone can find something meaningful to them in our duality of themes. Influential women help shape our lives, societies, and the world around us.  Here at The Observer, we believe in empowering women to reach success in everything they do.  Substance use is a complicated and taboo topic, and while safe and responsible substance use is a reality for many people, substance abuse can be a struggle for many others.  At the end of this article, we have left information regarding the health services available at UIS. If you or anyone you know is struggling with substance abuse, we encourage you to reach out and get help.
Information for help with Substance Abuse at UIS:
Phone Number: (217) 206-7122
Office: Human Resources Building, HRB 64
Hours: 8:30 a.m. to 5:00 p.m. M – F
Reach the After-Hours Crisis Counselor: (217) 206-7122