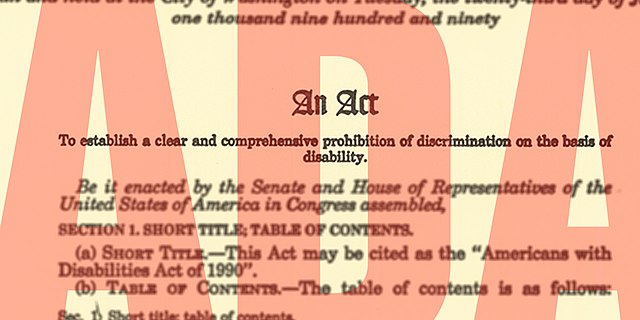 Understanding Reasonable Accommodations for Disabled Students
I recently had a phone conversation with a graduate student. They had attended the University of Illinois Springfield for their masters and a fellow student with disabilities. They described a disturbing trend in the university and many others across the nation: professors rejecting students' approved accommodation.
Here is an example from The Hoya, the college newspaper of Georgetown University.
For students with a disability, having an Office of Disability Service allows them to compete with non-disabled students on an equal playing field. The process is spelled out in every class's syllabus: if you have "a documented temporary or ongoing disability in need of academic accommodations, please contact the Office of Disability Services at 217-206-666."
After the ODS receives proof of your disability, permanent or temporary, it then works to find the correct accommodations that will help each student. These plans include different needs depending on the student: mobility, sensory, stimulation, or any other acceptable, legally-described disability. These plans are then printed out for teachers in the form of letters, preferably signed by both student and teacher.
For disabled students to be on equal footing in the classroom, these accommodations are often necessary. Teachers may write something on the whiteboards provided in the classroom. They may hand out papers for students to fill out. They may read sections of the textbook in classrooms. Professors could require students to physically join small discussion groups or speak in front of the class – all normal things that the approved accommodation system was designed to overcome.
However, it seems that some professors in some colleges are not honoring all of these accommodation requests. I have been told of professors failing to sign and return the accommodations in time for them to be implemented. I have also heard reports of professors refusing some accommodations, including the refusal of a personal note-taking device.
I am bringing this up in our school newspaper not to embarrass the university but to engage in a meaningful conversation about these issues. In a world where everyone is already carrying electronic devices capable of recording, transmitting, and editing any interaction, I cannot imagine why a digital recorder would disrupt the class.
The University of Illinois has online resources for instructors that answer FAQs about ADA compliance and student accommodations. It states that students with disabilities at the university have the right and the responsibility to receive necessary accommodations and/or auxiliary aids and services, as long as those do not impose a fundamental alteration on a program or activity of the University.
It is important for students seeking accommodation to work with the university and know how to advocate for themselves and their rights under the ADA. It has been my experience at the university that the professors are helpful and understanding, but this is a common enough problem that a dialogue needs to be had in order for disabled students not to become handicapped by their own aides.