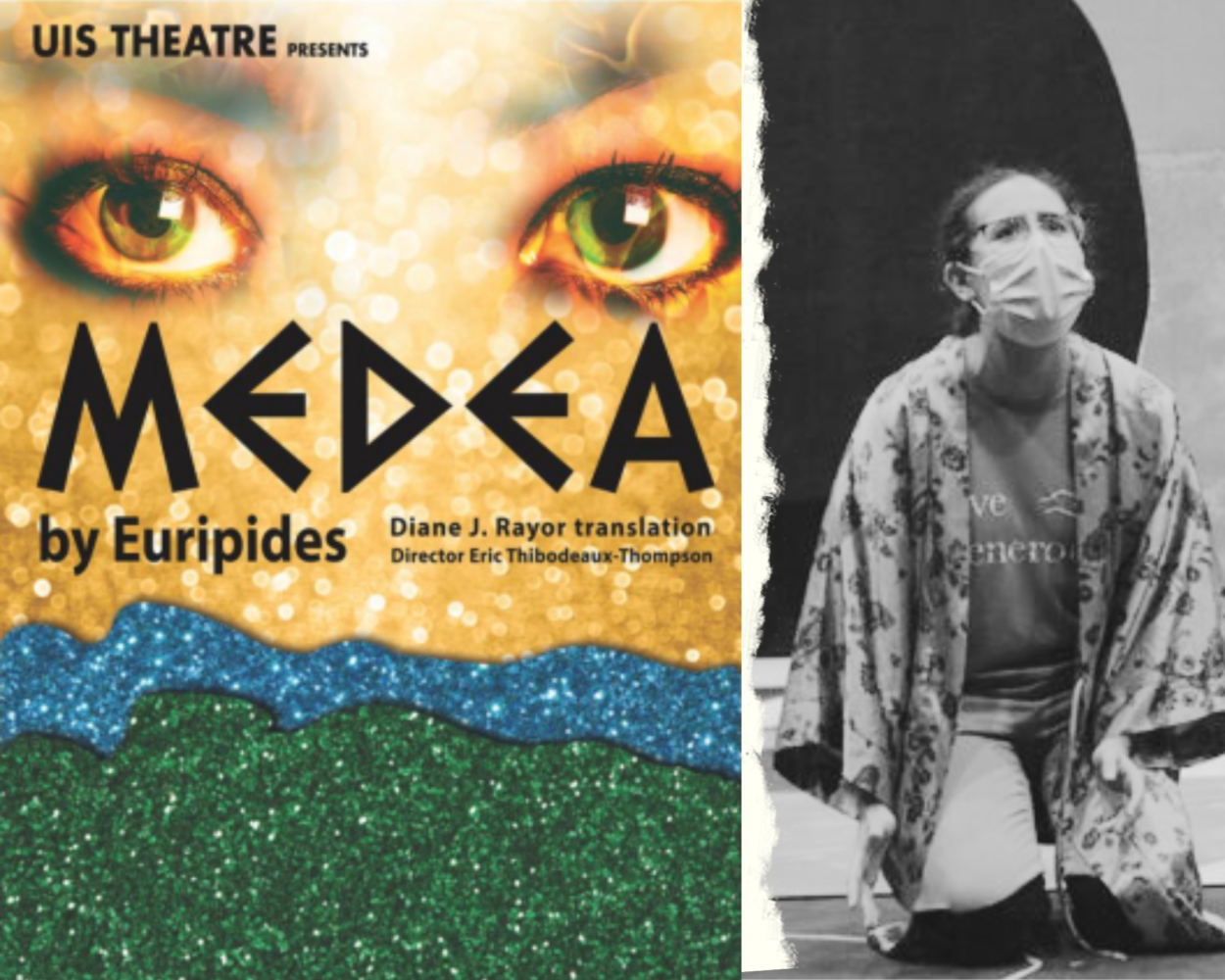 UIS Theatre Set to Put on Greek Tragedy: Medea
UIS Theatre is presenting the Greek tragedy of Medea in the Studio Theatre starting this Friday, October 28. The play, originally written by the ancient Greek tragedian Euripides, now has a new translation by Greek language and literature expert Diane J. Rayor. Under the direction of Eric Thibodeaux-Thompson of the UIS Theatre department, this translation is being brought to life by both UIS and local talent.
Medea is the tragic story of a woman betrayed by her husband, Jason, after saving his life. Jason, before the play, would be sent out on a quest by Pelias, the ruler of Iolkos, who seized the throne from the rightful heir. The quest was to claim the "Golden Fleece" of a golden-winged ram held in Kolchis. The task is meant to be a wild goose chase to keep Jason from claiming the throne for himself. Medea felt bad for Jason and fell in love with him. The action of this play follows the falling out of Medea and Jason.
This production of Medea stars Kayla Sarabia and Carter Coryell as Medea and Jason. Both actors are UIS students previously seen in the 2021-2022 UIS season that showcased Stop Kiss by Diana Son and A Doll's House Part 2 by Lucas Hnath. The show also features UIS student Mary Shay Dennison and community members Tamara Bivens– also in last year's season, Melissa Betty, Tom Hutchinson, and Mike Krcil- seen in UIS's 2019 production of Dead Man's Cell Phone, and recently in Springfield Theatre Centre's production of The Play That Goes Wrong.
This particular production of the show is set apart by its costume choices. As the play progresses, the costumes continue to represent different eras of time. The set stays static, representing the Greek city of Corinth, but the play intends to emphasize that the show's happenings can happen anywhere, at any time.
UIS Theatre is celebrating 20 years of theatre and theatre education this year. Join them as they continue their 2022-2023 season, which includes Student Directed Scenes on December 1st and 2nd, and On the Verge or The Geography of Yearning in the Spring of 2023.
Medea will run from Friday, October 28 to Saturday, November 5, in the Studio Theatre on the lower level of PAC. Aside from the Sunday matinee performance at 2 p.m., all shows start at 7:30 p.m. The performance on Thursday, November 3, will feature a talk-back event with the cast and crew after the show.