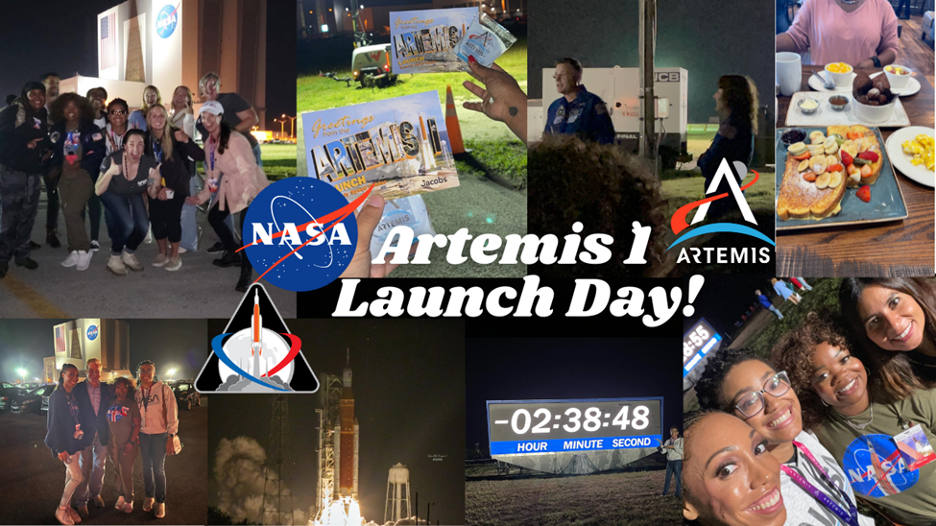 NASA Invites UIS Student to Watch History Twice
SPRINGFIELD—On November 16, 2022, at 12:47 am CST, UIS student Cameryn Hodges was a guest of NASA at Launch Complex 39 in the Kennedy Space Center to witness their launching of the first step to return to the moon. NASA hopes that in a few years, they'll be able to put the first African American female astronaut on the moon. While the first rocket test was aborted, the second one was successful and is due to splashdown on Sunday, Dec. 11, one day after the 50th anniversary of the last manned flight to land on the moon.
"Being able to watch, feel and experience this rocket launch was such a thrilling experience that I can't even begin to put it into words," Hodges said.
Artemis 1's main objective is to test the Orion spacecraft, especially its heat shield with manikins, in preparation for future Artemis mission programs goal is to establish a presence on the moon so that technology and business approaches that would lead to the exploration of Mars can be first tested.
The Artemis 1 rocket faced months of repairs after its first failed attempt. Once the mechanical issues were resolved, NASA sent about to return the online creators that it invited to watch the first attempt. Hodges once again headed down to Florida in the middle of the fall 2022 semester. The weather in Florida was good in the mid-60s. Before the launch, the NASA social media team passed out free Artemis 1 merchandise.
"My fellow digital creator friends and I also got to meet with NASA Administrator Bill Nelson as well as talk with Astronauts Christina Koch and Doug Wheelock about the future Artemis missions," Hodges said. The video is shared on her YouTube page.
After the launch, Hodges describes the crowd as "completely shocked and speechless."
"I just feel so incredibly blessed that I can get invited to experience a once-in-a-lifetime opportunity like this all because of my social media presence that I have worked so hard on over the years."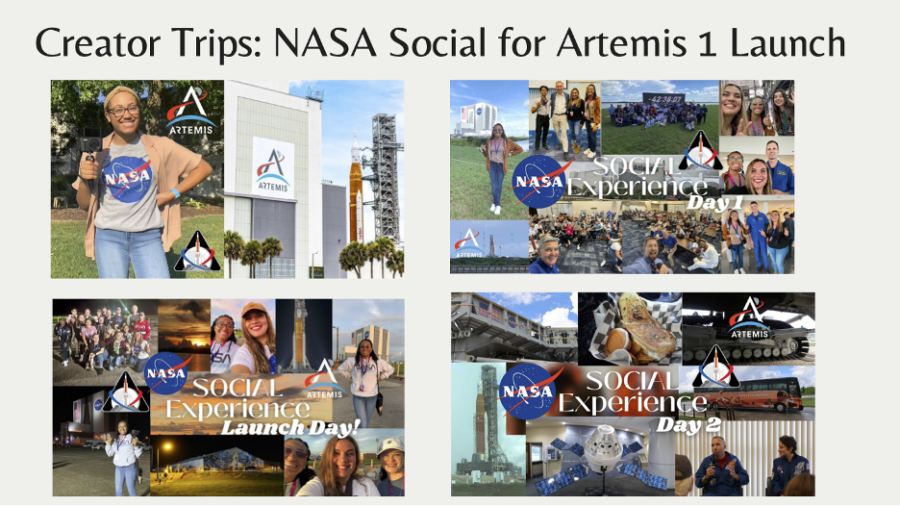 NASA invited 100 social media creators to watch the first attempt in August.
"This was my first ever creator trip that I have been invited to, and I felt so honored that NASA even considered me to come and join them for this historic time in the Artemis generations."
However, since the first launch attempt was canceled, there was some doubt that she would be able to make a second trip during the school year as they were unsure of when it would be scheduled. From Aug. 27-29, Hodges was able to stay on her own in Florida. NASA sponsored the event with food trucks serving hot dogs, sandwiches, and slushies to the onlookers at the event.
During the November launch, Hodges roomed with one other digital creator, Shalira Taylor, in a hotel room in Orlando, Florida.
"We went to go experience that launch together. The day after the launch, we got brunch and went shopping before I flew back home," Hodges said.