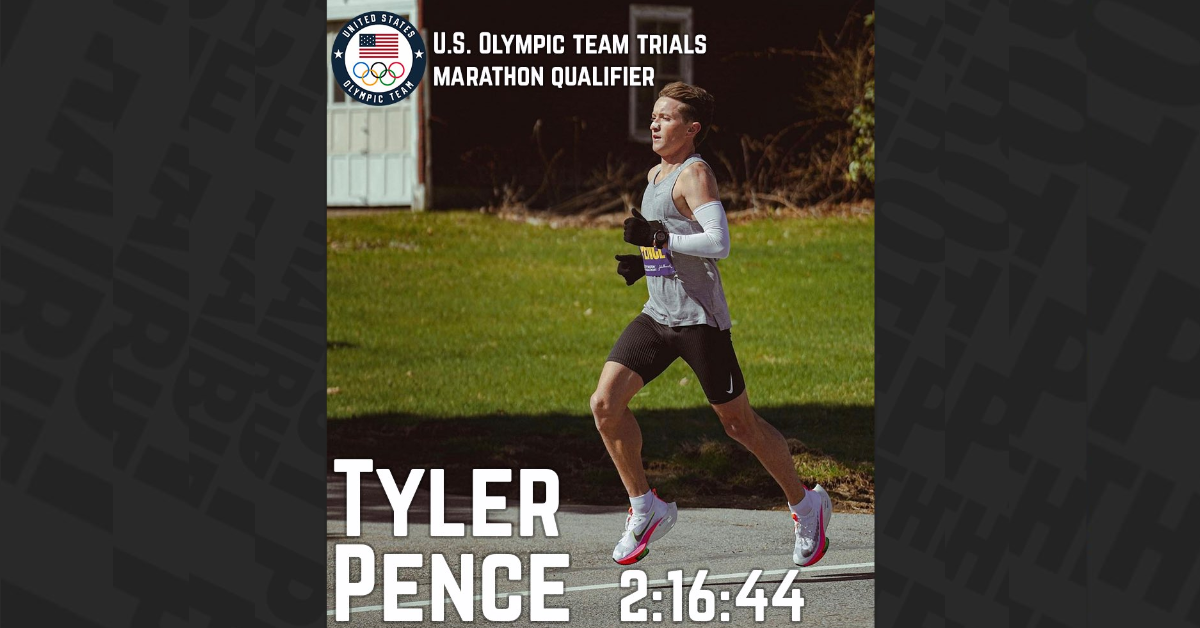 UIS Assistant Coach Tyler Pence, Qualifies for Olympic Trials
UIS Men's and Women's cross country and track assistant coach Tyler Pence competed in the Houston Marathon and has qualified for the US Marathon Olympic Trials for the second time. He finished the 26.2 miles in a blistering 2:16:44, a time that meets the US qualifying standard. He will compete next year in Orlando, Florida, with other qualifiers fighting for three spots on the American team. I sat down with Tyler and learned what makes him the marathon runner he's become.
Throughout his running career, Tyler recalls finding joy in Sunday long runs, which are common among long-distance runners.  These long runs are usually slower runs focused on distance rather than pace. While running in high school and college, the marathon was never an event that was offered. He always gravitated to the longest events available. Tyler got into the marathon after college when he started coaching and realized that the runners he was coaching were starting to become faster than him. He ran his first marathon in 2017 and had been running them since. Many runners ache for race day, but Tyler is unlike every runner. Although he enjoys the racing aspect of the sport, running, to him, is a mental workout just as much as it is physical. Tyler's love for the sport allows him to find joy not only on race day but also in the process of improving.
While training to qualify for a spot as an Olympian, diet is very important, and while Tyler meal preps and eats healthy meals, he doesn't let it run his life. Tyler made it clear that running is a hobby and not a job to him. This way, he can live like many of us do on a day-to-day basis. Regardless of how you train or what you eat, training for races that test the physical limits of one's body is a grueling cycle. Tyler thinks his time as a marathoner might be winding down after this push to qualify for the Olympics. Come 2024, Tyler will be hunting for what could be his final shot at making the United States team and representing our nation on the world stage. He thinks he will have to battle the heat and have a great day against an increasingly talented field to achieve that goal. The biggest key to success will be staying patient and waiting to make a move for the front.
Rapid Fire Reporting
Any pre-race rituals or superstitions?
"In college, I had a pair of socks that I ran in all four years, but now it's more if I don't have my racing shoes, I'd freak out."
"It's definitely "Mob Ties" By Drake. It has been for a while – that and "Me vs. Me" by Moneybagg."
Hot take, ___ is a good food.
"Salted Caramel GU, but I'm not picky. I could eat anything."
One dinner with three people, they can be dead or alive; who is at the table?
"Tiger Woods, Drake, and Elon Musk"
"To get what you want, deserve what you want."