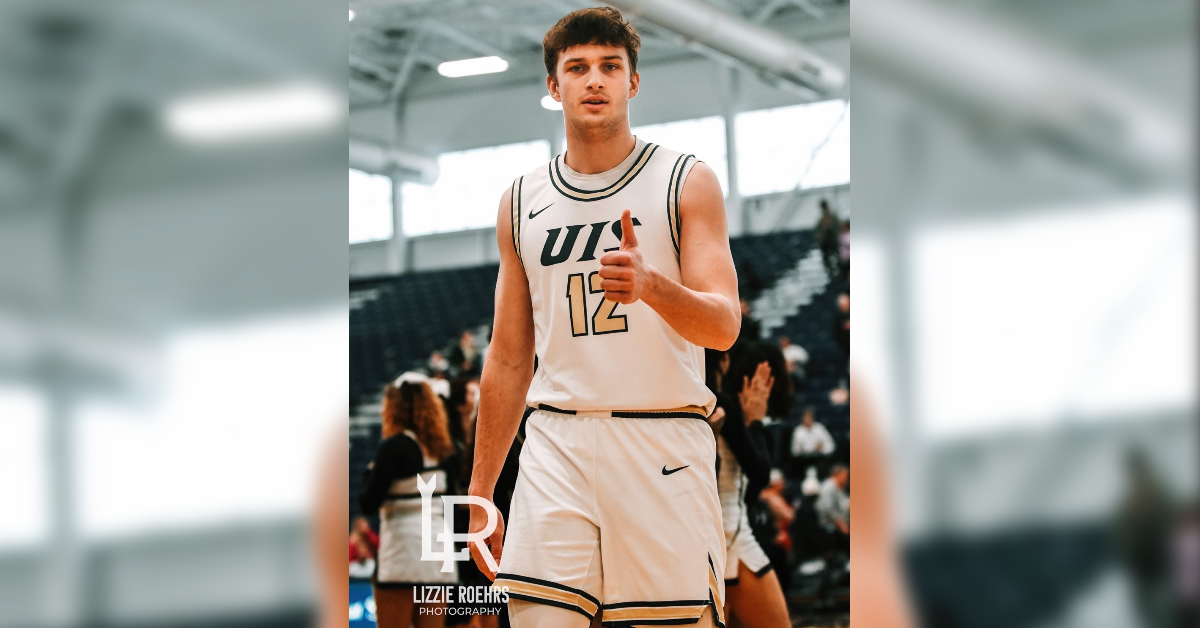 A Sit Down with Kyle Ingram of UIS Men's Basketball
Kyle Ingram (a/k/a KI, 12, or Shiesty) is a UIS student and member of the men's basketball team representing his hometown. Kyle is from Springfield, Ill., and chose to stay close to home and his family to further his basketball and academic careers. Kyle is a junior business major focusing on marketing and a double minor in sports management and management information systems. Kyle attended Sacred Heart-Griffin High School in Springfield before his last three years at UIS, where I was fortunate enough to see his path to and progress at the collegiate level.  Kyle as a basketball player, could be classified as an all-around player who can play either side of the ball. He's no stranger to shooting from deep but with a body build made for getting to the glass.
Kyle and the men's basketball team are getting hot, winning their last two games – including a tight win against Lewis on the road. The Star boys will take on Truman state and Quincy in back-to-back road games on Feb. 9 and 11, respectively. The team is looking to improve on their current record of 14-8 overall and 8-6 in conference play as they approach the postseason in the near future. In hopes of highlighting the individuals that make up our amazing athletic teams throughout the year, I sat down with Kyle and got to know him a little better off the court. Be sure to continue coming out and supporting our basketball team, along with all of our sports teams who are in season this spring.
The Observer: What NBA player would you compare yourself to on the court?
Kyle Ingram: I would say that I'm closest to a watered-down Nikola Jokić, basically a big [guy] that can also shoot.
The Observer: What would be the first thing you would do if you were born 50 years ago?
Kyle Ingram: I would find my relatives that were alive during that time and see what they were like
The Observer:  If the Hunger Games happened on your team, who would win, and who would be the first dead?
Kyle Ingram: I would definitely win it, but the first to be out would probably be Isaiah because he doesn't seem like the outdoors type.
The Observer: Worst baby boy name in 2023?
Kyle Ingram: I cannot really see a baby being named Ron or Paul in 2023, just because they are older names that aren't used as much now.
The Observer: Best fast-food chicken sandwich (not including Chick-fil-a as it's an obvious answer).
Kyle Ingram: It would've been Chick-fil-a, but you can't ever go wrong with a McChicken from McDonald's
The Observer: One Roommate, one Boss, and one Dad: Matthew McConaughey, Neil de Grasse Tyson, and C-Lo Green.
Kyle Ingram: C-Lo Green would be my Dad, I would have McConaughey be my roommate, and Neil de Grasse Tyson as my boss because that means I probably have a good job if he's my boss.
The Observer: What world record would you rather attempt to break: most watermelons crushed in between your legs in a minute or the longest continuous time spent in a Waffle House?
Kyle Ingram: Definitely the Waffle House because I have everything I need there.
The Observer: You can take one person of your choosing to an all-inclusive private, but you have to both stay forever and not leave. Who would you pick?
Kyle Ingram: My brother, because we get along and would make it work.