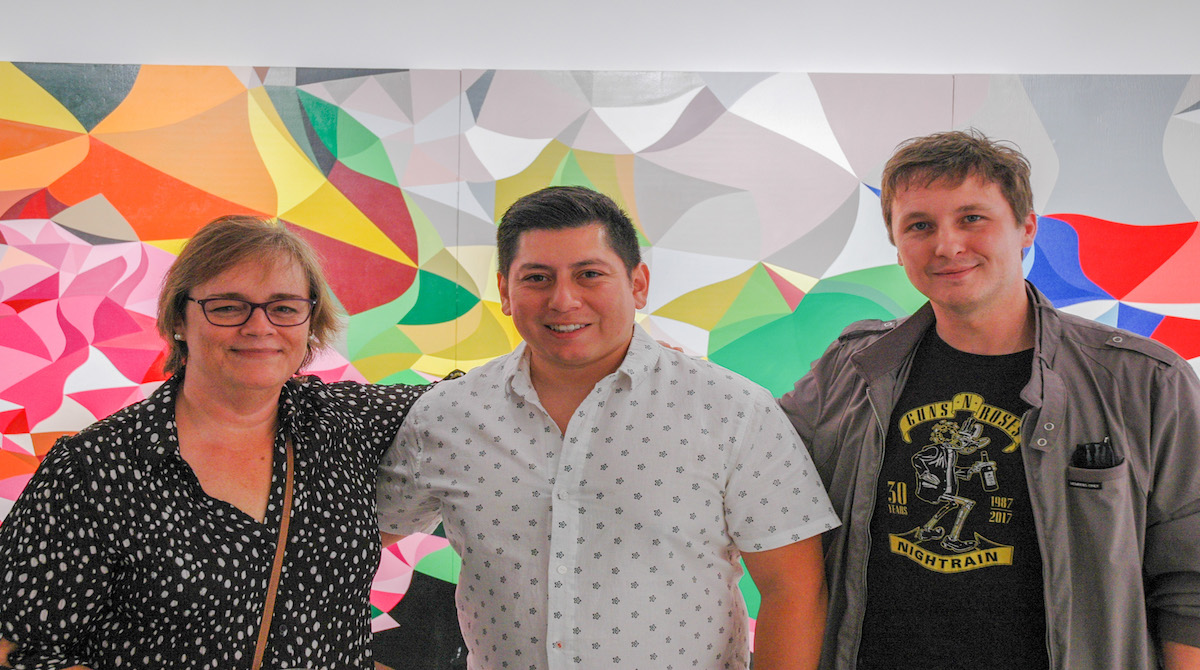 UIS Alumnus Returns to Campus for Colorful Art Exhibition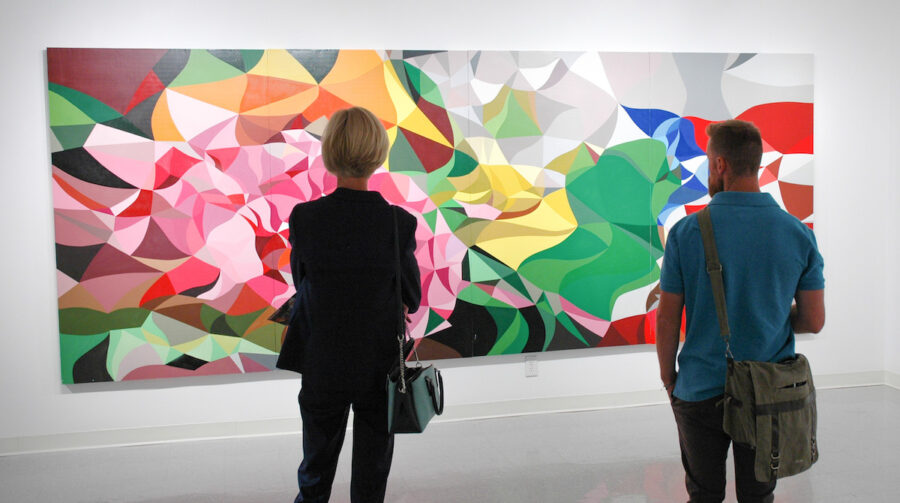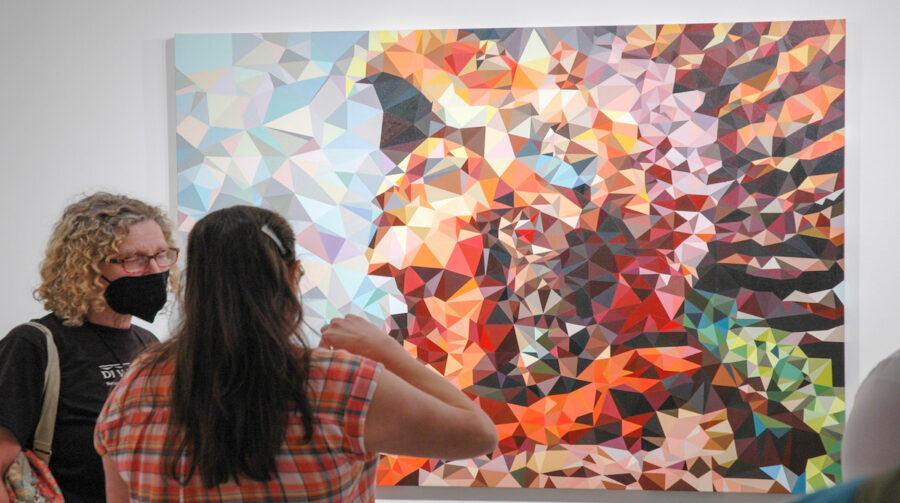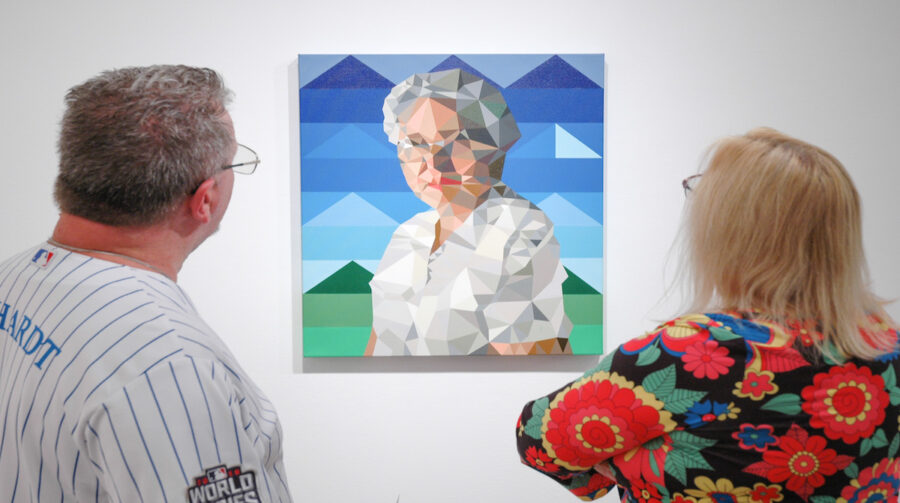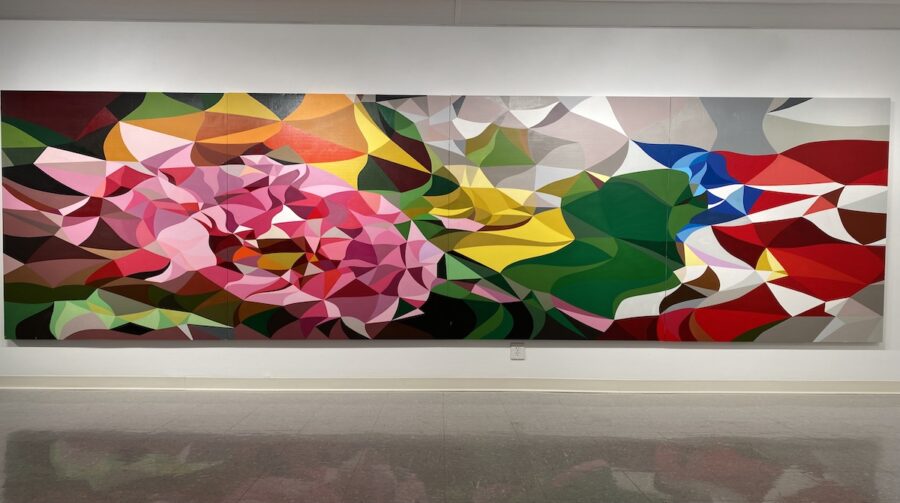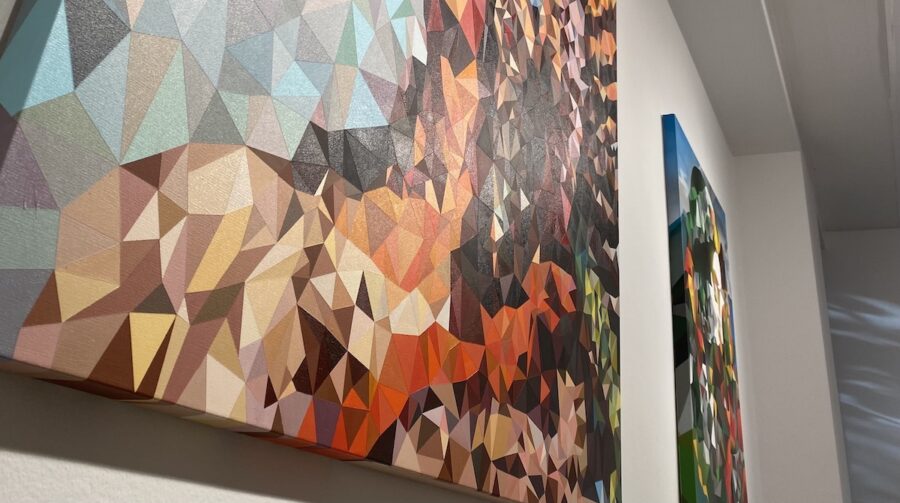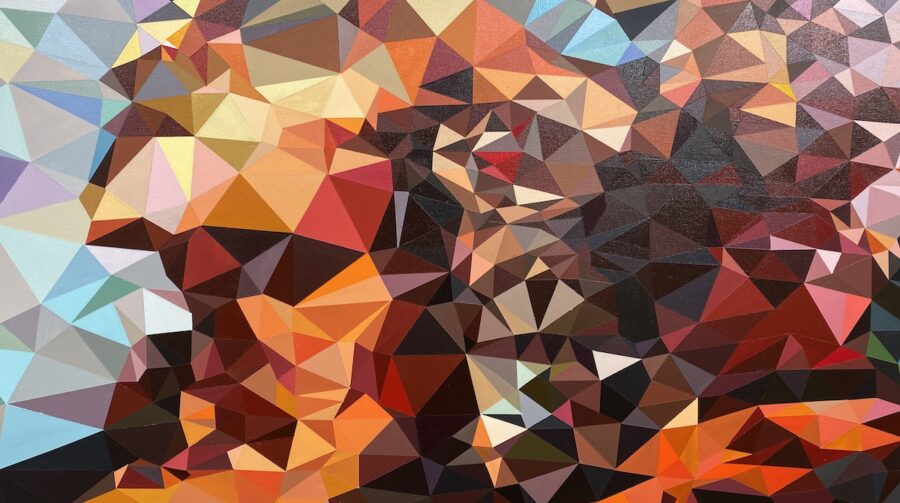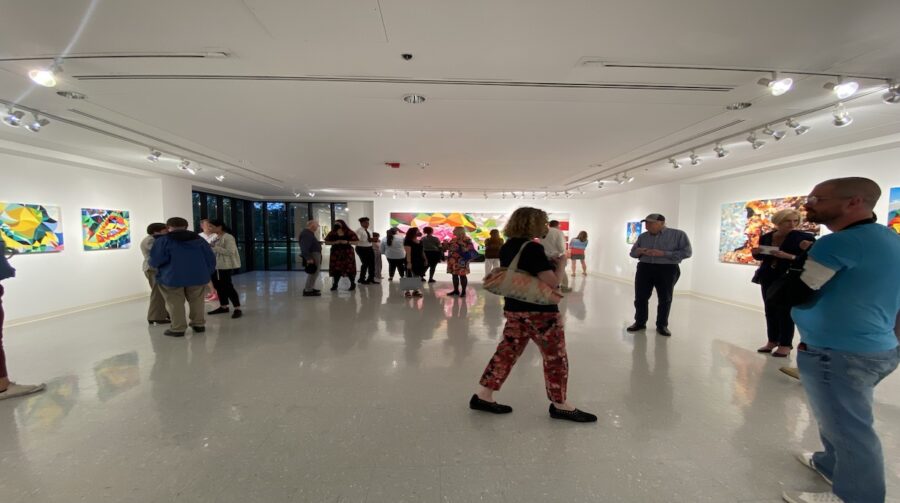 On the evening of Thursday, Sept. 22, the UIS Visual Arts Gallery began showcasing a new exhibition: "Poly-wave: Seeds of Color" by UIS Alumni Mauricio Ramirez. The exhibit features a bright array of geometric-shape-colored canvases that represent Ramirez's Mexican American heritage.
Mauricio Ramirez is a Chicago-based artist who specializes in street murals. Ramirez has transferred his style from its usual urban settings to the canvas for this exhibit. His purpose is to showcase the diversity of his Mexican heritage in the form of his art. "As a Mexican American artist, we find ourselves making a lot of work that looks very literal," Ramirez said. "I kind of wanted to go left and make something that is a little more abstract but still recognizable."
Ramirez coined the term poly-wave, describing how the geometric shapes in his paintings wave and bend to create visually striking illusions and coherent images. "I decided to kind of bend all the different shapes in certain areas to create this wave effect," he said. "Every single shape [is a] seed that makes up the entire image." This is where the other part of the exhibition's title comes from- the seeds of color.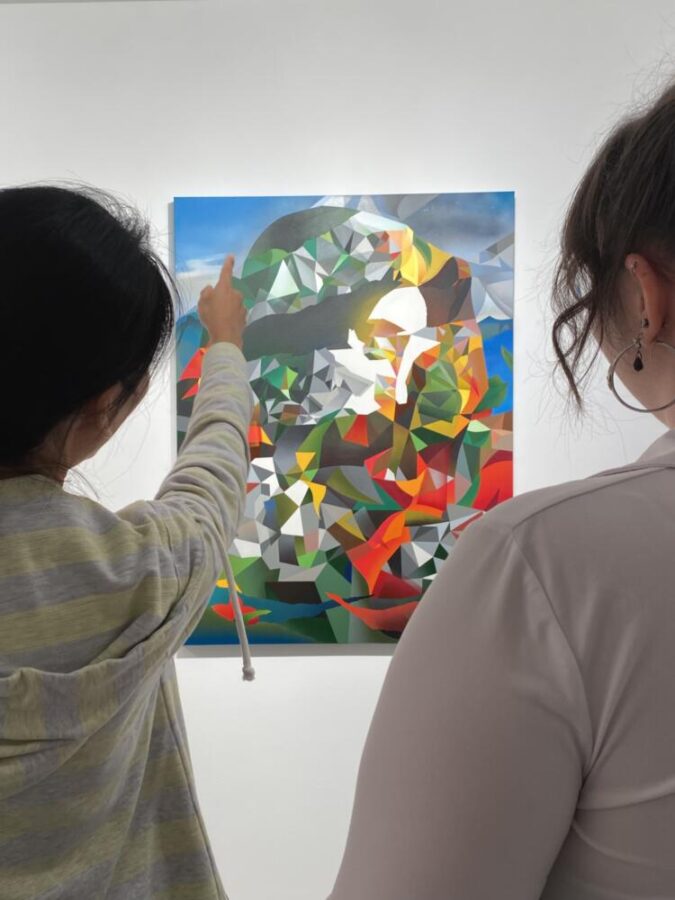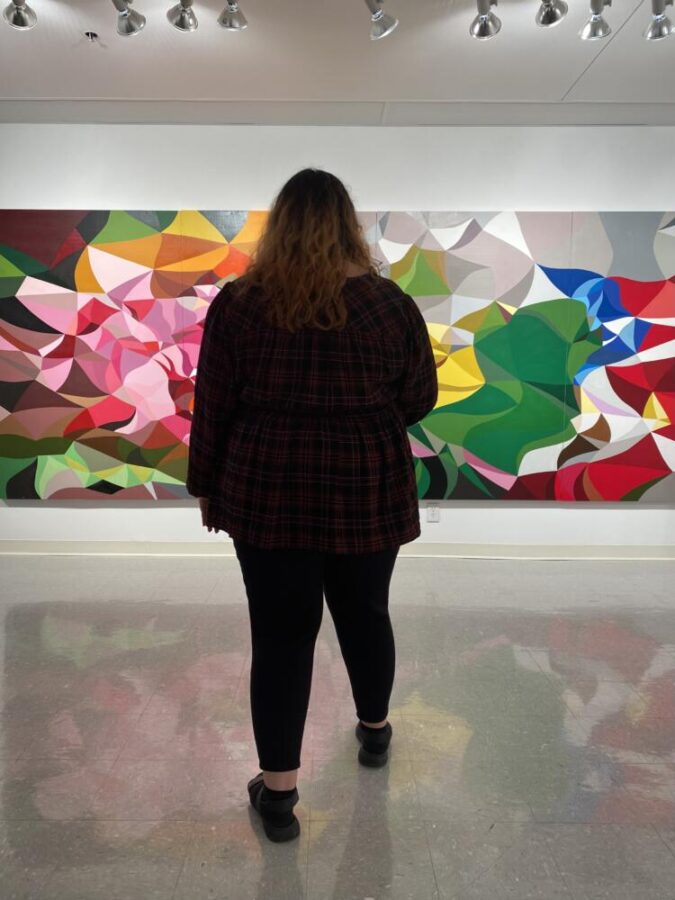 Ramirez was a student at UIS just 10 years ago. His major was English, but, like most students, his interests lay beyond his then-chosen field. Moving to Springfield and attending the university helped Ramirez explore those interests more. "A lot of people would say that Springfield is boring – especially coming from Chicago and [other] big cities – but I think that's the wrong way to look at places like this," Ramirez said. "I think [Springfield] is a perfect opportunity to really hyper-focus on things that you're really interested in."
Ramirez made this clear: "I wanted to play soccer, and I wanted to create art." And that he did. He, in fact, played for the soccer team during his time here, and in his downtime, he would sneak into the art studio and make his work.
There, he caught the eye of some of his mentors in the visual arts program. Even though Ramirez wasn't taking many art classes at the time, he still was fortunate to have the art staff at UIS for guidance and support. Ramirez would become a student worker for the Visual Arts Gallery during his time as a student. This UIS experience inspired a dream in him. "It's awesome to be able to finally participate in this space – not just in helping create shows but also to be featured. It's a dream come true," Ramirez said.
The Visual Arts Gallery is just as excited to welcome Ramirez. Allison Lacher, the gallery director, expresses how pleased she is with Ramirez and his work. "I remember, as a student, he was already so ambitious," Lacher said. She knew him when he was a gallery assistant when she first started her work at the gallery. "He already had so many questions about the professional side," she recalled. Ramirez has kept in touch with the UIS gallery staff even after his time here. "We have followed his career… he's had a great trajectory [and] a great career," Lacher continued. "He has a wonderful art practice that we wanted to feature."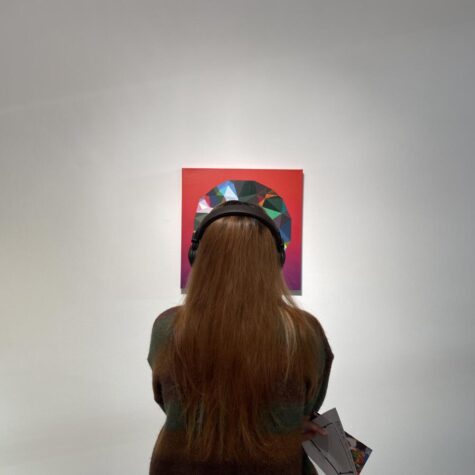 Ramirez's work communicates messages to those who view it. Many students attended the exhibition on the night of the reception. Jihyeon Park stood in awe of all of the shapes in colors on the canvases. "As a visual arts student, it's kind of eye-opening," she said. Andrew Davis said he could tell how much attention to detail was paid to each piece. "It really shows just how much time [was taken] and how much it was planned out." Davis also said that he "really liked the colors" and the contrast of bright colors with lighter colors that don't hurt the eyes. Another student, Ashley Martinez, recognized the celebration of culture within the paintings, observing, "You can see his culture, the story behind it, and how beautiful it is."
"Poly-wave: Seeds of Color" will be on display from Thurs. Sept. 22 through Thurs. Oct. 20 in the UIS Visual Arts Gallery inside the Health and Sciences Building. Gallery hours are Monday through Thursday, 11:00 a.m. – 6:00 p.m. Learn more about Mauricio Ramirez by visiting his website at https://mauriciopaints.com/