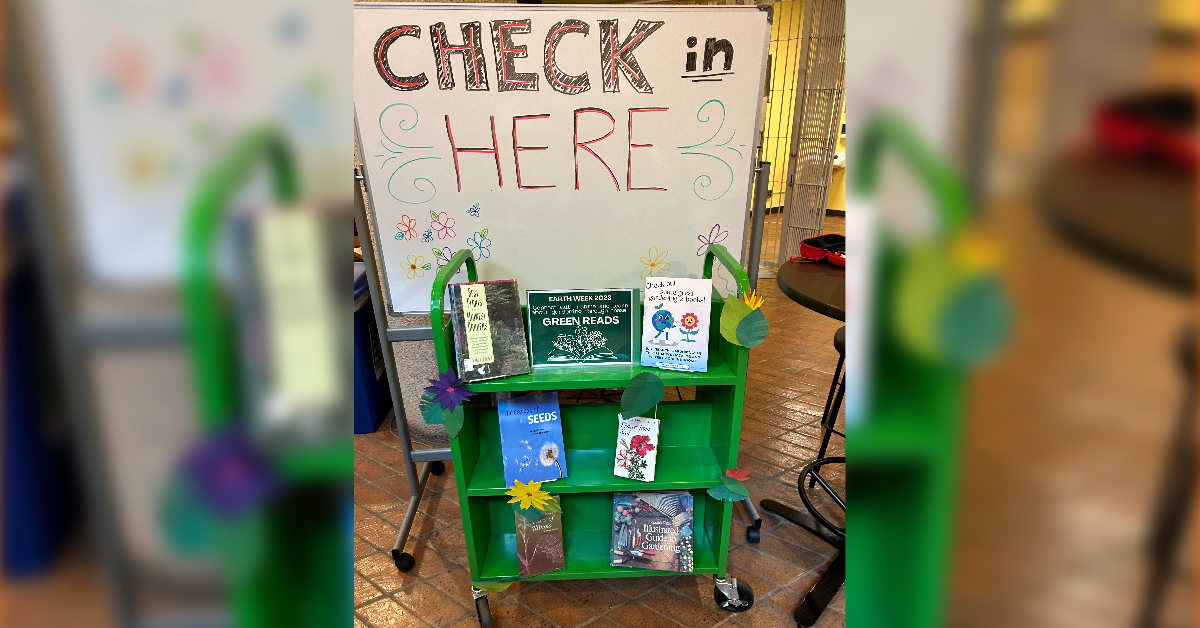 Grow Your Own Event
On Thursday, April 20, Brookens Library held its Grow Your Own event from 1-3 p,m. in celebration of Earth Day. The library partnered with the Green Fee Association and the Community Garden Club to provide gardening education, free tote bags, snacks, and supplies for the event. Initially, the event was supposed to be located at the Brookens overhang, but due to high winds, it was forced to move to the library's first floor. The event was well-attended by students, staff, and faculty. It was so well attended that they had to end the event early because they ran out of plants, seeds, and tote bags.
The Grow Your Own event featured seedling plants, such as strawberry plants and lemon balm, and seeds for participants to grow in pots. All of the supplies were donated from the UIS Community Garden. The options ranged from flowers such as snapdragons (my flower of choice for the event) to herbs like cilantro and fruiting plants like strawberries. If you picked to plant seeds, you were directed to meet with the president of the UIS Community Garden, who taught people how to germinate their seeds properly. He showed students how different seeds should be planted in order to have a successful crop.
Additionally, Brookens supplied all participants with instructions printed on recycled paper. While students had the opportunity to pick either a seedling or a plant of their own, the plants ran out quickly. Brookens Library Staff also had a small book display with books about native midwestern plants, books about seeds, and other general gardening guides. After you planted and labeled your seeds, you were invited to receive a tote bag if you pledged to the UIS Green Fee Committee to reduce your usage of single-use plastics.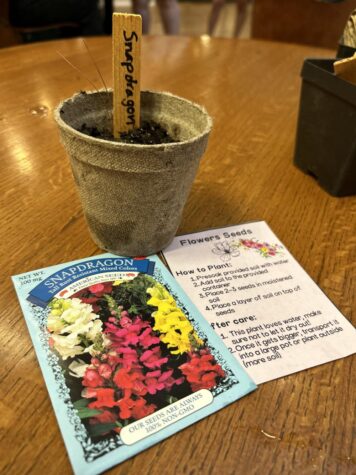 This event was a great way for students to take time to relax for a few minutes during the busiest time of the semester, as well as encourage education about sustainability and plants. For those who missed it, the Learning Hub hosted a de-stressing event focused on helping students study for finals and offering them the opportunity to decorate flower pots and hang out with other students at the UIS Quad.  This event took place on Tuesday, April 25, from 1:00-4:00 p.m.
These events were part of a larger celebration of Earth Day, with other events and activities spread out over the course of about a week. On Wednesday, April 26, at the Brookens Auditorium, the Earth Week ECCE Keynote Address discussed UN Climate negotiations and how the "international legal system does not provide an adequate structure to address the problems of climate change" (ECCE Website). Associate Professor Dr. Brandon Derman gave this lecture. Additionally, on Thursday, April 27, there was a Downtown Sustainable Business Tour and Dinner, which started at The Keep Store (314 E. Adams St.).
If you want to get involved with the UIS Community Garden Club, it is volunteer-based, and their next event is on Friday, April 28. It is an opportunity to help prepare the garden for a successful season. The garden is chemical free and organic, and the food is for the UIS community and is a great opportunity to enjoy time outside with fellow students.