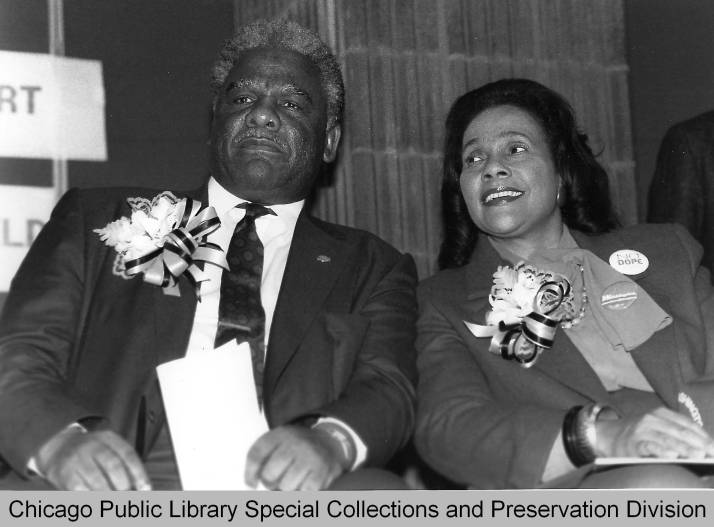 Springfield First to Pass Bill to Make King's Birthday a Holiday
SPRINGFIELD—In 1973, the State Senator from Chicago, Harold Washington, sponsored a bill to recognize Martin Luther King's birthday as a paid state holiday. Washington was a civil rights activist and made a point of getting bills passed honoring civil rights figures. He passed a resolution honoring Congressman Ralph Metcalfe, his mentor, and James J. Reeb, a Unitarian minister who was beaten to death in Selma, Alabama, by a segregationist mob. Senator Washington and a coalition had been trying to get this bill passed since King's death five years earlier. The first was tabled and later vetoed.
In 1969, Washington and Chicago pastor Rich Redmond got the holiday recognized as a "commemorative holiday," meaning that schools were still in session, but children were allowed to learn about King's life and struggle. But Harold Washington wanted the holiday to become a full-paid day off. Washington came close in 1971, passing the bill through both the State Senate and the House. However, the then governor, Republican Richard B. Ogilvie, vetoed it, only agreeing to support a federal holiday.
Then, incumbent Ogilvie lost the gubernatorial elections, and Washington had renewed hope. Washington worked his political charm to get the 1973 version of the bill through typical Illinois politics. After the bill passed, Washington then raised thousands of signatures on a petition for the new Democrat governor to sign it. While the effort to make his birthday a national holiday had begun immediately after Dr. King's death, Illinois holds the distinction of being the first to make it into law when Governor Daniel Walker signed the bill.
In 1982, when King's birthday was honored in sixteen states, Washington reaffirmed his commitment to making it a national holiday at an event at the Kennedy-King junior college. The local CBS affiliate captured Washington's comments about his fight for recognizing Dr. King's birthday as a national holiday.
"In recognizing Dr. King, this country would do itself an honor both here at home and abroad by telling everyone that Black people have been an integral part of this country and world. We've made our contribution, notwithstanding adverse circumstances, and symbolic of the great people we want to recognize on a national holiday for the one and only late Dr. Martin Luther King Jr. Nothing short of that will do," Washington said.
On November 2, 1983, President Ronald Reagan finally signed a federal bill that made the third Monday in January the observance of Martin Luther King's birthday, which is Jan. 15. Harold Washington continued in Illinois politics, becoming the first Black mayor of city of Chicago in 1983. He suddenly died in office in 1987 of heart failure.