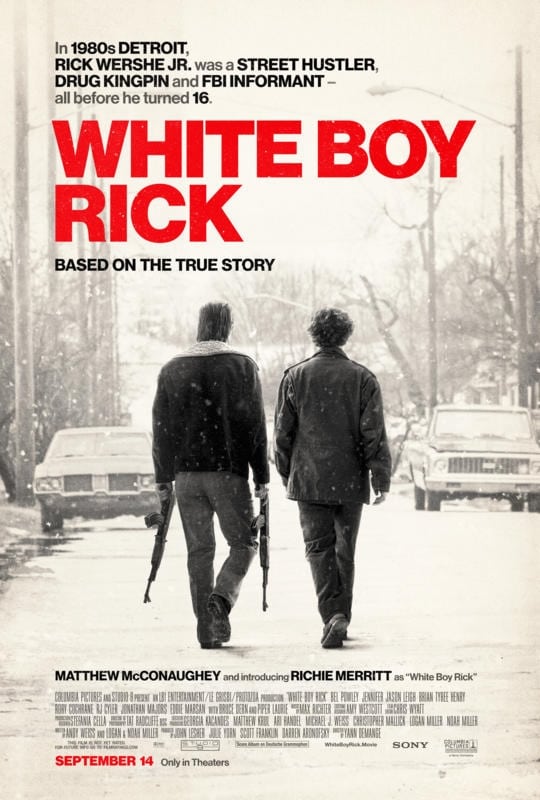 White Boy Rick
"White Boy Rick" is a dramatization of the real life story of Rick Wershe Jr., who was the youngest FBI informant in history at 14 years old, and later a cocaine dealer. Rick Wershe Jr., played by Richie Merritt in his debut role, is depicted as a slow-speaking, cold and tough teenager.
His father, depicted by Matthew McConaughey, is shown to be a much more emotional and hopeful character that is guided by what happens to him instead of guiding his own life.
This film is rated R, and has definitely earned the rating. Set in a lower class neighborhood in 1980s Detroit, many of the darkest aspects of gang life and the War on Drugs are not hidden. Within the 116 minute run time, there is teen pregnancy, large amounts of cocaine, racial slurs, crack houses and addiction, gang violence, illegal arms trades, strippers, underage drinking, and even the murder of a young child.
With that said, this film does a decent job of depicting the story of Rick Wershe Jr. The themes of America's flawed legal system and police corruption are not immediately apparent, but by the time the credits roll, these themes are dropped into the viewer's lap. The camerawork is not fancy or stylistic, and the color palate seems to be realistic instead of stylized.
This is important for the type of story the film wishes to show, as the whole point is to depict a real event instead of a fictional one. Playing the role as Rick's father, Matthew McConaughey acts to his fullest and becomes the focus of every scene he is in.
Unfortunately for the film, Matthew McConaughey is not the lead. Richie Merritt plays the title role, and does an average job with it. Rick is shown to be mostly apathetic and emotionless throughout the film. This may be an attempt to portray him as "tough" and "street-smart", but it comes off as a flat performance.
There are a couple scenes where Rick shows actual emotions, and these scenes are some of the best in the film. The pacing of the film seems a bit strange as well, with no clear climax and the most shocking scenes appearing near the middle of its run.
It must be noted that this film is a dramatization of real-life events, and it is not a faithful depiction of them. Rick Wershe Jr.'s actual older sister condemns many aspects of the way her family was portrayed in the film, with her main points of criticism being the portrayal of her dad as an enabler and the portrayal of her grandparents as crazy drunks. This film should be viewed as a form of entertainment and not a look at reality.