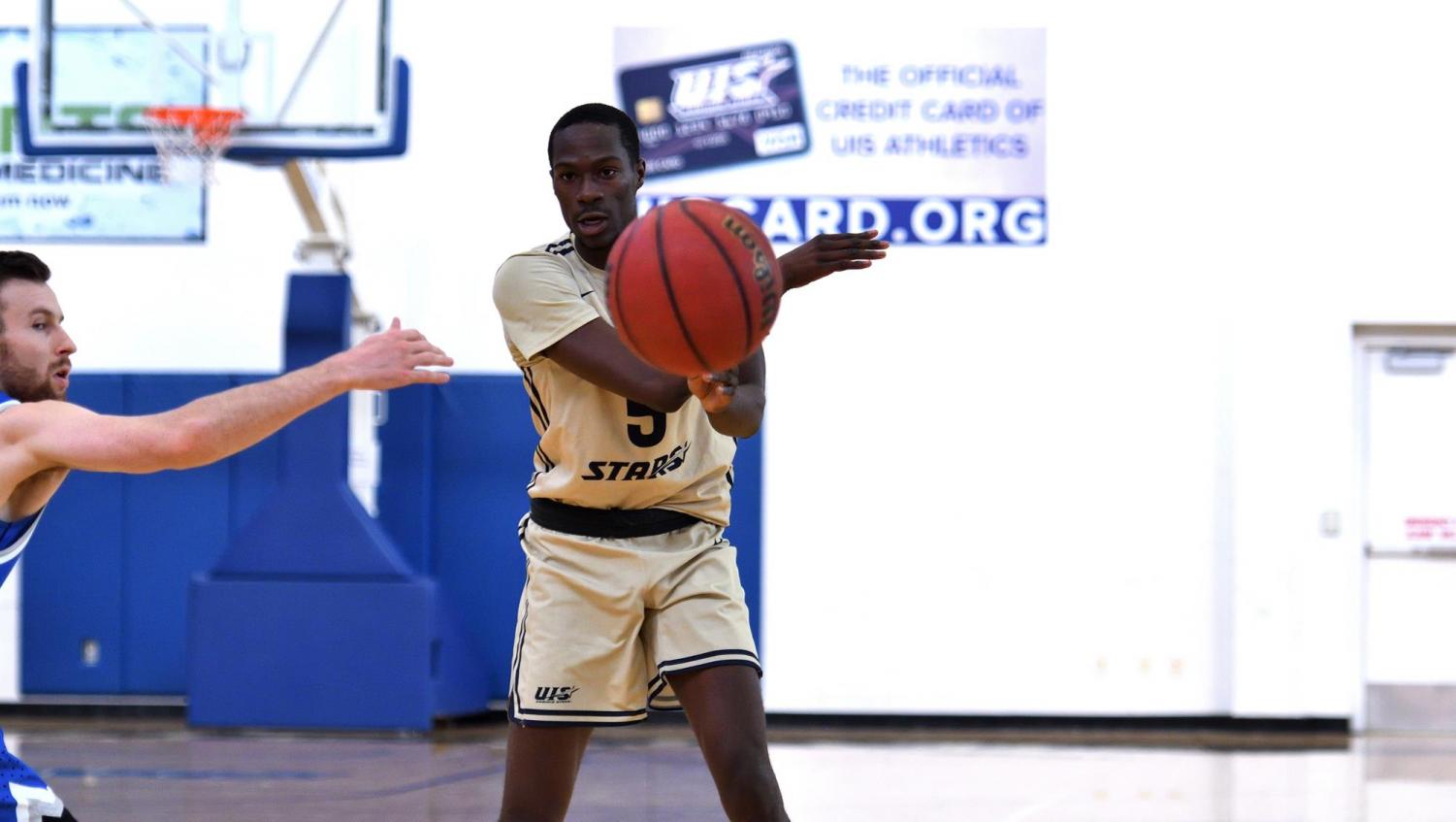 Men's Basketball Wins Its Second Straight To Start GLVC Play
The University of Illinois Springfield moved to 2-0 in GLVC play on Saturday afternoon in St. Louis with an 83-74 victory over Missouri- St. Louis. UIS scored over 80 points for the third straight game, and its defense forced 19 turnovers.
The first half had six ties and the Tritons led 30-29 with 4:46 remaining in the period. A three-pointer by Gilwan Nelson gave the Prairie Stars the lead and sparked a 14-3 run that helped the team lead 43-33 at half.
In the first part of the second half, UIS built its lead to as much as 17 at 58-41 with 12:17 left in the game. The Tritons were never able to get closer than eight the rest of the way.
UIS shot 46.3 percent from the field and made 11 three-pointers, five more than Missouri-St. Louis. The Prairie Stars also attempted 18 more field goals in the game. UIS had four more rebounds and five fewer turnovers. The Prairie Stars were able to convert Triton turnovers into 23 points off turnovers.
Nelson led the Prairie Stars with 20 points, and Aundrae Williams had 16 points and a team-high four rebounds. Daniel Soetan had 15 points and collected four of the team's 11 steals. Vince Walker was the final player in double-figures with 12 points. Cole Harper and Nelson each led the team with nine rebounds.
UIS improves to 5-3 on the season, and is off to its best start in conference play in the 10 years that it has been in the GLVC. The Prairie Stars are off for two weeks until a Dec. 15 home game against Purdue Northwest.