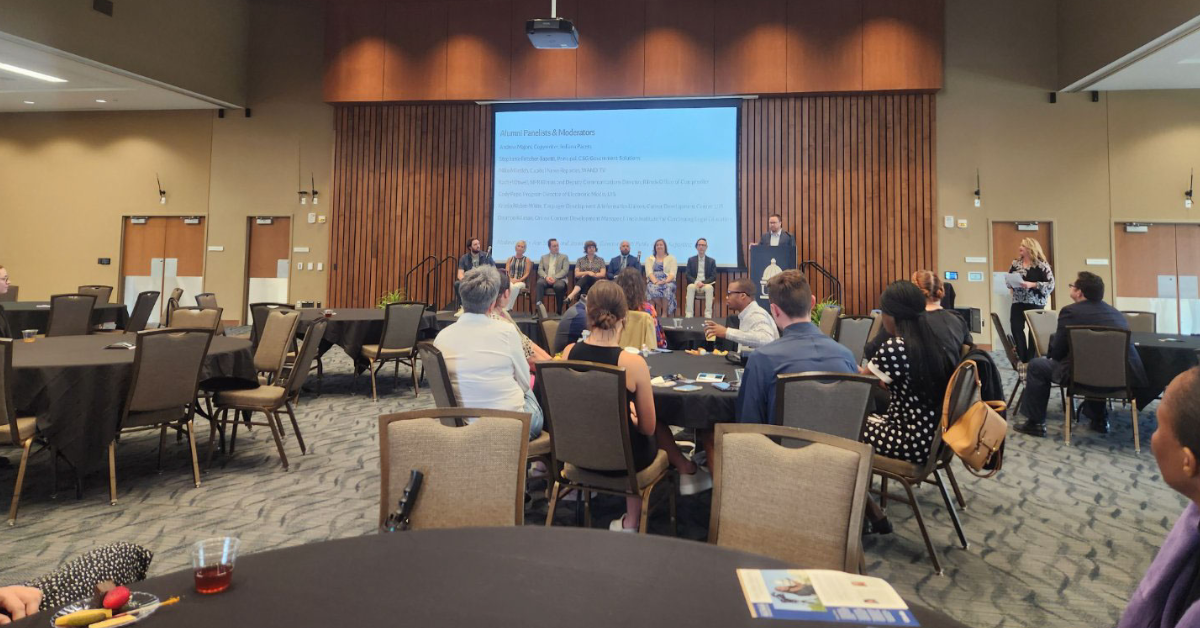 Lambda Pi Eta Installation Ceremony & Spring School of Communication and Media Celebration
The Lambda Pi Eta Installation Ceremony and the spring School of Communication and Media Celebration occurred on Thursday, April 20, in the afternoon at the UIS Student Union Ballroom. At this event, UIS alums took part in a panel discussion. After this discussion, incoming Lambda Pi Eta members were inducted. Lambda Pi Eta (LPH) is the National Communication Association's official honor society at four-year colleges and universities. LPH has more than 500 active chapters at four-year colleges and universities nationwide. A few facts about Lambda Pi Eta provided on UIS Connection are as follows: "LPH became a part of the National Communication Association in 1988 and the association's official honor society in July 1995. It is a member of the Association of College Honor Societies. LPH represents what Aristotle described in Rhetoric as three ingredients of persuasion: logos, meaning logic; pathos, relating to emotion; and ethos, defined as character credibility and ethics."
The event began with the Alumni Panelists and Moderators talking to the crowd. The lineup and speakers are provided below.
Moderators: Dr. Ann Strahle and Jason Piscia, Director of Public Affairs Reporting
Andrew Majors, Copywriter, Indiana Pacers
Stephanie Fritcher-Sapetti, Principal, CSG Government Solutions
Mike Miletich, Capitol News Reporter, WAND-TV
Rachel Otwell, NPR Illinois; Deputy Communications Director, Illinois Office of Comptroller
Cody Pope, Program Director of Electronic Media, UIS
Kristin Nisbet-White, Employer Development & Informatics Liaison, Career Development Center-UIS
Daymon Kiliman, Online Content Development Manager, Illinois Institute for Continuing Legal Education
The moderators asked each alumni questions about their careers and invited them to share advice with the others. The guests were then offered the opportunity to ask the panelists questions that could help guide students through their educational journey.
A portion of this celebration was dedicated to discussing the university's Public Affairs Reporting Master's Degree Program. The program is called PAR, and it is a 10-month, professionally oriented master's program that works to prepare students to become journalists who can produce intelligent news coverage of topics such as government and politics. A few aspects of PAR set it apart from other graduate-level journalism programs: it is time-efficient, affordable, and provides real-world experience. Students can earn this master's degree within less than a year while saving money through scholarships, tuition waivers, and stipends.
Along with that, the students get to cover Illinois politics as part of a guaranteed internship with a professional newspaper, wire service, TV station, or radio station. Some other information provided about this program: "PAR students graduate with a portfolio of professionally published/broadcast work that will make newsroom hiring managers take notice." Along with that, the "post-graduation job placement rate is at or near 100% every year." (UIS PAR pamphlet).
There have been many individuals who have succeeded through this program. "I applied to the PAR program at a time when I longed to do more with my undergraduate journalism degree and early career experience," said Ashely Lisenby, class of 2016. "Looking back, I can say the PAR program changed the course of my life and helped me gain the guidance, experience, and confidence I needed then to continue what I hope will be a long and meaningful career in journalism." This program seems to be a great option for anyone interested in pursuing a master's degree in reporting.