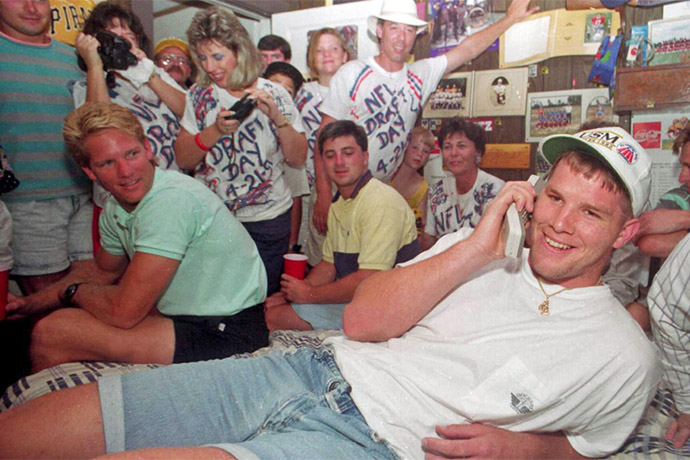 Opinion | Hall of Fame QB Brett Favre 0-2 Against Cell Phones
By now, you may or may not have heard the news that the FBI has questioned Brett Favre about his involvement in a welfare fraud scheme. You read that correctly. The unbelievable news that the Mississippi native and former longtime quarterback for the Green Bay Packers has been linked to a scandal that involved over $77 million in misappropriated funds has – surprisingly – garnered very little press coverage.
In a story first published by journalist Anna Wolfe in March 2020, Favre seemingly pressured former Mississippi governor Phil Bryant to find a way to fund a volleyball stadium at the University of Southern Mississippi, Favre's alma mater and the place that his daughter happened to play volleyball at the time. It was revealed that Brett Favre further discussed details of how to raise funds with Nancy New, who ran the Mississippi Community Education Center, a nonprofit that funneled nearly $5 million in Temporary Assistance for Needy Families (commonly referred to as TANF). Favre, who has not been arrested, stated that he was unaware that the funds set aside for constructing a new stadium were from a welfare fund.
Favre has stayed relatively tight-lipped about the ordeal, aside from the fact that he was paid $1.1 million for speeches he never gave. Favre returned $500,000 along with a statement claiming that he did nothing wrong and wanted to make sure to remind his fans that he has given millions to needy kids in Mississippi and Wisconsin in an attempt to remind them that he is not a crook but rather a benevolent philanthropist.
Philanthropist? Maybe. Benevolent? Not so much. Through one text message, Favre floated the idea of using prison labor to help get the volleyball facility built.
Favre's claim of ignorance has more holes than a block of Swiss cheese, as a text message between him and Nancy New showed Favre specifically asking if the media could find out that he had been paid ($1.1 million of TANF money). New assured him that their foundation doesn't list who is paid what and that there would be no problem. What is interesting to note is the fact that he wasn't worried about the state, local or federal authorities finding out about the exchange of cash – he didn't want the media or public to find out.
Through a series of closed-door deals and carefully crafted grant requests, Favre was able to secure close to $5 million for the construction of a volleyball facility while under 2% of families who applied for aid in Mississippi – the poorest state in the union – were approved for TANF funds in 2016.
It should be noted that the latest flub by Favre involving cell phones is not the first. In 2008, during a preseason game, New York Jets sideline reporter Jenn Sterger was allegedly approached by someone wearing a Jets employee badge who asked her, "How would you feel if Brett Favre asked for your phone number? What would you say?" to which Sterger replied, "I'd say, I like my job an awful lot. And I've been told I look remarkably like his wife."
Just to be clear – Sterger's response did not include her phone number at all. Sterger did not grant permission for anyone to divulge her phone number. In fact, Sterger makes a note of two things in her response: first, the fact that she was on the job – literally – at the moment the Jets employee presented this hypothetical question; the second thing she pointed out – and this should have been the flashing light – Sterger mentioned his wife. This should have been the clear sign not to proceed with whatever nefarious plan was in the works.
Sterger still doesn't know how Favre got her phone number, but the quarterback allegedly left a series of voicemails and explicit text messages – including photos of his penis. At the time, the sideline reporter was talked about as if she were a 'homewrecker,' 'mistress,' or 'gold digger' while she maintains that she doesn't even know – nor has she ever even met Brett Favre. Sterger soon lost her job, and Favre would later play for the Minnesota Vikings, where he would eventually retire from football after 20 seasons. The NFL launched an investigation into his conduct that culminated in a $50,000 fine to Favre for failing to cooperate with the league investigation and without there being enough evidence to prove his misconduct.
When it came time for Hall of Fame consideration, Favre made it without question. His inclusion came without hesitation or even mentioning the scandal that stunned the sports community in 2011. Still seen as football's golden boy, Favre has been able to escape the kind of harsh criticism that followed quarterback Jameis Winston when he was arrested for stealing $30 worth of crab legs during an isolated incident. Favre was able to cruise into the Hall of Fame the first time he was eligible to be voted in (first ballot), while Terrell Owens – who had the third most rushing yards – took three attempts to get in based on some of the drama and off-field issues that hurt him during the voting process. It should be noted that the issues in question did not include sending explicit unsolicited d*ck pics to someone on his organization's payroll.
Nancy New and her son Zach pled guilty in August 2022 to several charges that see them facing 100 years and 75 years in prison, respectively. Both have already made statements acknowledging the fact that they redirected $4 million in welfare money to the construction of the volleyball facility that Favre lobbied for. The mother and son also admitted spending welfare money to fund a Florida-based company trying to develop a concussion medication called Prevacus – something also publicly backed by Brett Favre.
While former governor Bryant and Favre himself have not been arrested or accused of a crime, the situation does not shine a positive light on either party. As the investigation continues, the former quarterback has been removed from several shows he regularly appears on. Given the guilty pleas of his alleged co-conspirators, we may soon see the former Green Bay star, not on the field – but this time in court.