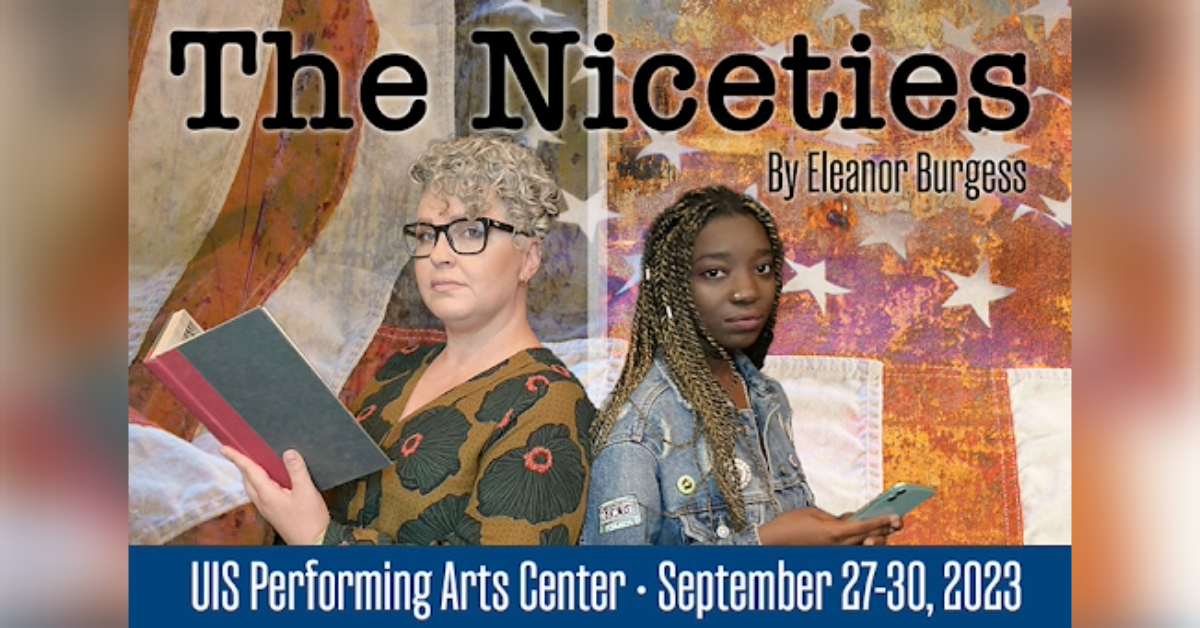 UIS Performing Arts Center Hosts 'The Niceties' play
The Studio Theatre in the UIS Performing Arts Center will be hosting a production of The Niceties, by Eleanor Burgess. The show premiers Wednesday, Sept. 27 and will run through Saturday, Sept. 30. This event is sponsored by the UIS Diversity Center. 
The Niceties was called "a barnburner of a play" by the Washington Post and for good reason. The plot follows a Black, female college student named Zoe Reed who is taking a class on revolutions that is taught by a white, female professor named Janine Bosko. Reed is writing a paper for Bosko's class. Reed meets with Bosko in order to review her current draft. The structure of this play centers on their meeting with one another and the discussions that arise regarding the topic of the course. The play features challenging discussions on race, power and history that will leave you asking yourself questions. The cast consists of two actresses only, making the dynamic of the production extremely unique – far different from the traditional musicals and plays usually presented on massive stages. The method of acting and stage design will allow the audience to connect with each character on a personal level and become familiar with their separate stories. As college students, we can also personally connect to the experiences of Zoe Reed. It can be extremely difficult to navigate our personal beliefs alongside academic standards. Our required work does not always inspire us and is not a true representation of ourselves. Sometimes, the classes we take and the work that we do completely opposes our moral compass. This play depicts these struggles firsthand. As students who are battling the system every day in a variety of ways, this production will speak to us, and represent us. 
The production features actress Regina Ivy (a former Observer contributor) as Zoe Reed and Meredith Vogel-Thomas as Janine Bosko. It is stage managed by V. June Chappelle and produced by Carly Shank. The latter two are also co-directors of this production. A small, but mighty team has put together a production that I would encourage any students to watch. Tickets are being sold online at uispac.com or they will be available at the ticket office inside of PAC. All showings of the play will take place at 7:30, from Wednesday, Sept. 27 to Saturday, Sept. 30. This event promises to be an exciting and emotionally-moving experience for UIS students and the Springfield community.