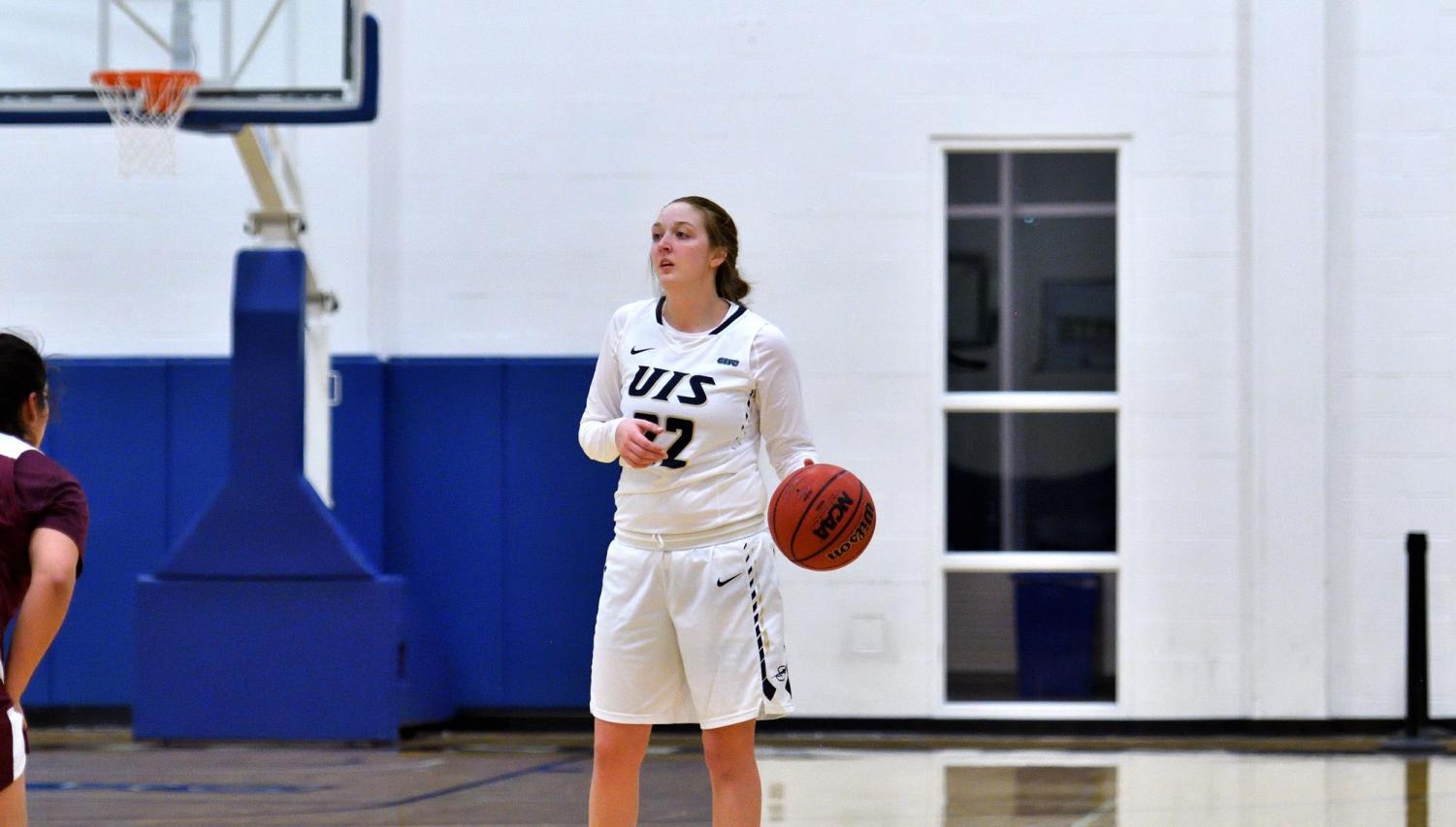 Strong First Quarter Leads Women's Basketball To Road Win At Quincy
A strong start by the University of Illinois Springfield women's basketball team helped the Prairie Stars to a 77-65 road victory in Great Lakes Valley Conference (GLVC) action on Saturday over Quincy.
Two days earlier, UIS (6-11, 3-6) suffered a 72-70 loss to Truman State University (17- 3, 8-2), which is receiving votes in the latest Women's Basketball Coaches Association (WBCA) NCAA Division II poll. The Prairie Stars responded by charging out of the gates on Saturday. UIS scored the final 14 points of the first quarter and it led by a 19-7 margin after 10 minutes of play. That 12-point lead held up for the rest of the game as the two teams tied in each of the final three quarters.
"This was a great response from our team after suffering a heartbreaking loss on Thursday," UIS coach Mark Kost said. "We played with poise and got a tough road win."
UIS shot 46.8 percent (29- of-62) from the field for the game, including making 10 three-pointers (43.5 percent) in 23 attempts. The Prairie Stars held Quincy (5-14, 3-7) to just 35.8-percent (24-of- 67) shooting for the game. UIS also turned the ball over just eight times, compared to 18 for the Hawks. The Prairie Stars finished with a 22-11 advantage in points off turnovers.
Tehya Fortune had a big game offensive, scoring 23 points. She made five three-pointers and was seven-of-15 from the field. Val Meissner added 16 points on seven-of-11 shooting, and Lauren Ladowski had 12 points and a team-high five assists.
Ellie Mitchell had a full statistical line with seven points and four assists, and she led the team with eight rebounds and four steals.
Maddie Spagnola provided 17 points for the Hawks. Michaela Groenwold contributed 15 points and Taylor Hickey tallied 12 points. Grace Schraufnagel pulled down 10 rebounds. Spagnola, Alexa Low, and Aleksandra Petrovic each collected eight rebounds. Low also blocked three shots.
The Hawks converted 8-of-21 (38.1 percent) shots from 3-point range.
Quincy out rebounded UIS 51-30. Despite Quincy finishing with 23 offensive rebounds, UIS still topped the Hawks 15-14 on second-chance points.
UIS made 9-of-15 (60 percent) shots from the free-throw line while Quincy hit 9-of-18 (50 percent) attempts from the charity stripe.
The Prairie Stars are scheduled for two GLVC matchups at TRAC next week. UIS hosts No. 18 Lewis University (16-2, 7-1) on Thursday at 5:30 p.m.
The Prairie Stars then welcome the University of Indianapolis (8-10, 2-6) on Saturday at 1 p.m.