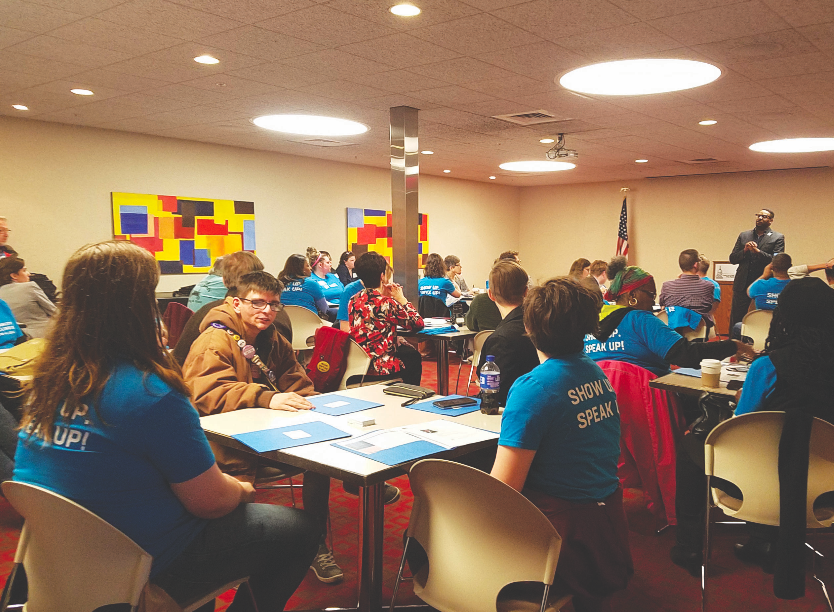 LGBTQ Advocacy Day at the Capitol
On April 11, Gender and Sexuality Student Services (GSSS) hosted a trip to the Illinois state capitol for LGBTQ Advocacy Day. The advocacy day was hosted by Equality Illinois in support of a bill that would bring LGBTQ history into the classroom.
The day started at 11:00 AM as people gathered together at the State House Inn for training and lunch. Directors of Equality Illinois were present to talk to advocators from across the state as well as to help train and teach advocates for the rights that they were fighting for. People from all over Illinois came to the advocacy day in order to support the two bills, SB 3249 and HB 5596.
"As you look around see the diversity in race, in gender, perhaps in class; I am so happy that you all are here," said Anthony Galloway, Equality Illinois director of civic engagement.
The two bills that will hopefully be passed are SB 3249 and HB 5596, which would include LGBTQ history in public school curriculum. It would also ensure that materials that mention LGBTQ people are nondiscriminatory. Because many schools do not teach LGBTQ history, many students are not afforded the ability to study the contributions of LGBTQ individuals and fail to reach the same sense of belonging as their fellow classmates.
"I think it's more important now than in a long time to be engaged in your democracy and to preserve that democracy, and for legislators to hear from you," said Michael Ziri, Equality Illinois director of public policy.
Advocates of the two bills were split into groups based on their Illinois senators and representatives. These small groups met with their senators and representatives to talk to them about how important the bill was, regardless of if they supported the bill or not. People expressed their personal stories, while some simply thanked legislators for supporting the bill. Many people were nervous about meeting with their senators and representatives, but Galloway assured them that they were not as scary as they appeared.
"This is a time to let you all know that they work for you," said Galloway.
For the majority of advocacy day, senators were on the floor, while representatives began their floor meeting at 2:00 PM. Senators voted on the bill on Tuesday, and would debate it further in the coming weeks, however, representatives had not voted the bill prior to their meeting on Wednesday, and plan to vote at a later date.