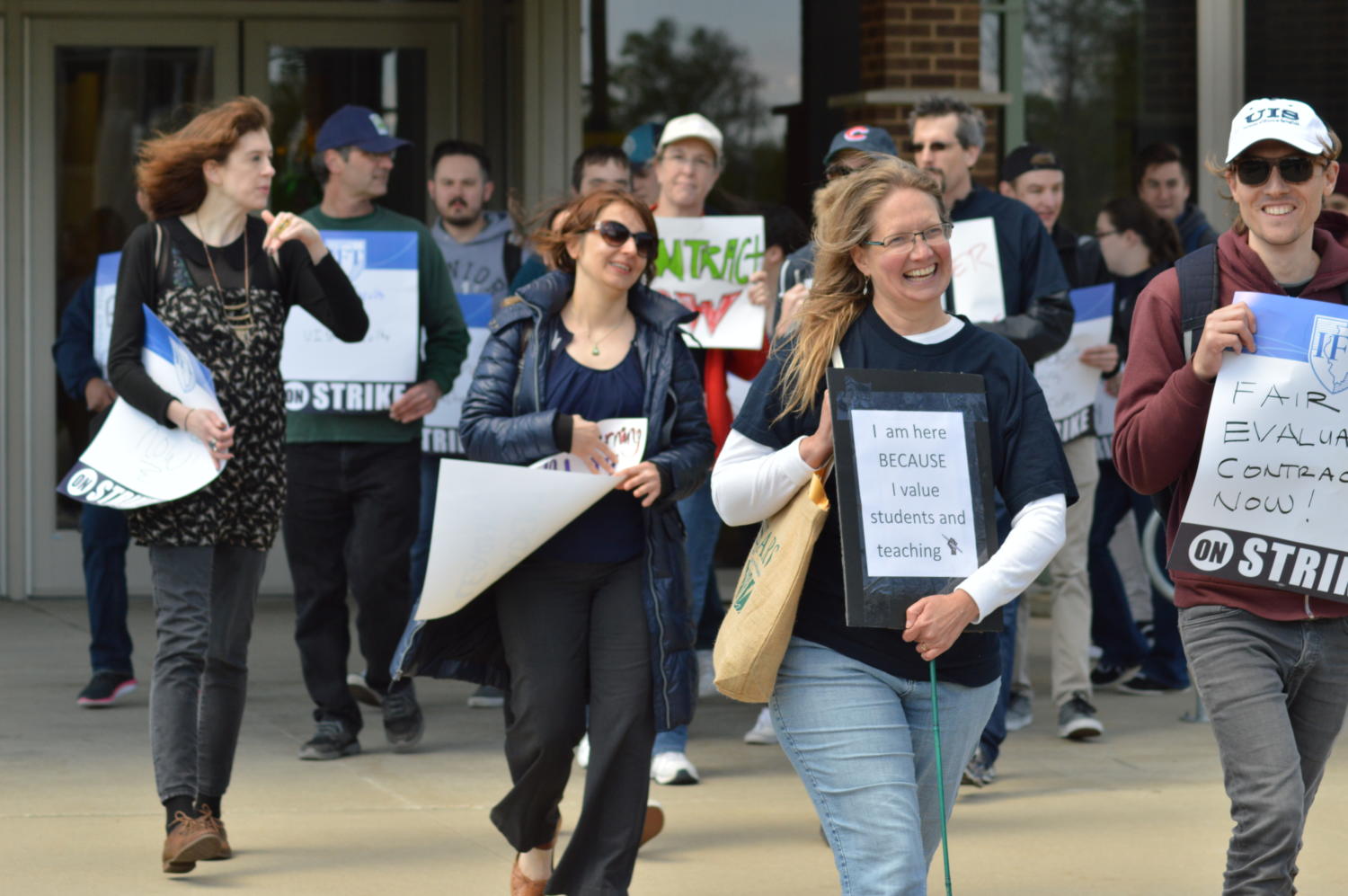 UIS United Faculty calls for strike in response to contract negotiations
The UIS United Faculty union called for a strike on Monday, following another unsuccessful negotiation meeting with the administration. Students were informed of the strike throughout the evening through email and various social media posts.
Professors and supporters began picketing at 9 a.m. on Tuesday morning in front of the University Hall Building.
John Burns, UIS student and president of the UIS College Democrats, joined the picketers.
"I've been following [the union news] for most of the school year," Burns said. "I'm here to show support for the faculty."
While Burns said he was a "bit worried" about the strike happening so close to finals week and graduation, he also noted that professor strikes "typically last a couple days" before finding resolution.
Burns said it was important for students to show support for the faculty. "Students need to show that they stand with their professors."
One hundred and sixty-nine students signed a petition in support of the faculty.
Professor of Women and Gender Studies Heather Dell marched with her fellow professors in response to the 19-month long contract negotiation. According to Dell, one of the biggest concerns of the union is incorporating the personnel policy into their contracts.
The personnel policies of the university's various colleges are not currently part of professors' contracts, making it difficult for professors to air their grievances.
One grievance, Dell noted, was class size.
"[The administration] raised class without consulting us," she said. "They did this a few years ago."
Dell explained that raising class size negatively impacts students and professors, as it cuts down on the one-on-one time they have together.
When asked about how higher enrollment might impact class size, Dell said, "We have the number of professors we need. They didn't need to do that."
The university emailed students, staff, and non-tenure track faculty on Tuesday morning, reminding them of what to do during the work stoppage.
"If you are a student," the email from Derek Schnapp, director of Public Relations, said, "please attend your scheduled classes. If you get to class and your instructor is not present, please wait at least 15 minutes before leaving.
"If you are an instructor who is not part of the UIS United Faculty, please carry on with your classes as usual. If you are a staff member, please also report for duty as usual."
The union has been negotiating with the UIS administration for over 19 months. One topic of discussion is the pay that UIS professor receive.
"Local high school teachers are paid more than UIS professors," Burns said, citing information provided by the union. According to the union, UIS professors are also the lowest paid of all public university professors in Illinois.
"Public universities have to publish that information," Dell said. "You can go to Brookens [Library] and see what I make and what the administration members make."
The difference is severe, according to Dell. She noted that the dean of her college makes three times what Dell does.
"I really wish I could be teaching," Dell said, "but this has gone on too long. When you're in an abusive relationship, you have to take a stand and be a good example [for the students]."