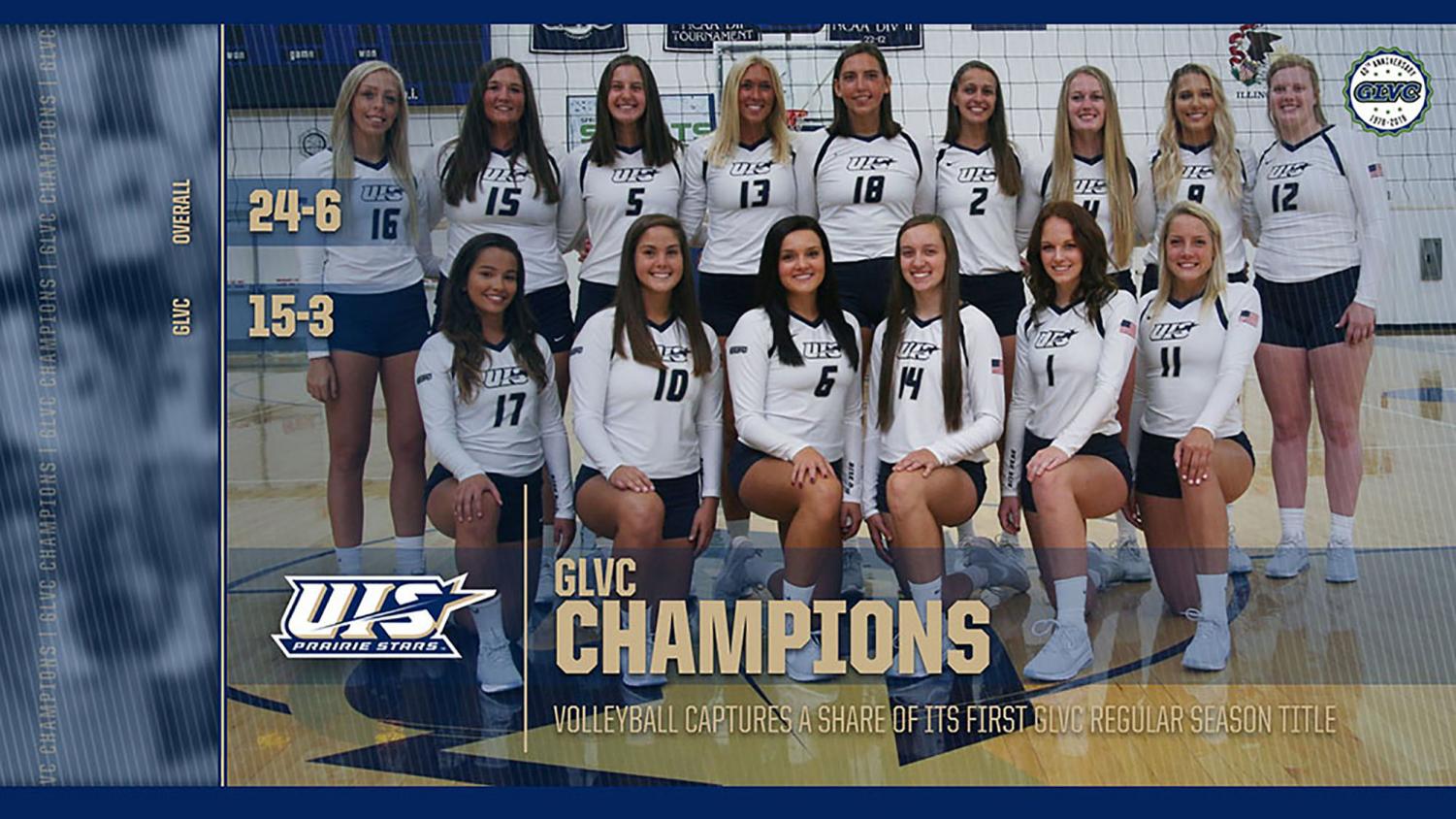 University of Illinois Springfield Volleyball Wins First GLVC Regular Season Championship
The University of Illinois Springfield volleyball team captured a share of the GLVC Regular Season Championship on Saturday afternoon in Louisville, Ky. The Prairie Stars won their first GLVC title in dramatic fashion with a come-from-behind 20-25, 23-25, 25-16, 25-23, and 20- 18 victory over Bellarmine.
UIS trailed 2-1 in the match and faced a big hole in the fourth set as it was down 17-12 at one point. A 6-1 run by the Prairie Stars tied the match up, and the two teams were eventually tied at 23. Taylor Bauer earned a kill to give UIS set point, and a block by Alyssa Hasler and Bauer forced the fifth set.
UIS needed another comeback in the deciding set. Bellarmine scored the first four points and eventually led 11- 4. UIS clawed back into the set though, starting with a 5-0 run punctuated by back-to-back kills by Alli Splitt. Splitt added two more kills in another 4-0 run that tied the game at 13. Bellarmine had two match points at 14- 13 and 15-14, but both times UIS earned kills to tie the match. The Prairie Stars finally took the lead on a block by Hasler and Wentworth. The two teams traded points after that until the score was 19-18, when UIS finally won with another kill by Splitt.
UIS finished with 27 fewer kills in the match, but its defense led to Bellarmine having 42 hitting errors, compared to just 14 for the Prairie Stars. UIS won the blocking battle by a 16-5 margin, which was enough to get the victory.
Hasler led the defense effort with 11 blocks. Jailyn Borum had 18 digs, followed by Wentworth with 15 and Megan Krasowski with 14. Offensively, Bauer finished with 15 kills, and Splitt had 12 kills, including six kills and a .667 hitting percentage in the fifth set. Hasler finished with nine kills, Rachel Cobert had eight, and Brianna Bush collected seven. Wentworth had 39 assists to complete her double-double.
UIS ends its best regular season in its NCAA history with a 24-6 overall record and a 15-3 GLVC mark. The Prairie Stars finished in a three-way tie for first in the conference with Lewis and Drury. The bracket for next week's GLVC Tournament in East Peoria, Ill. will be announced later this weekend.