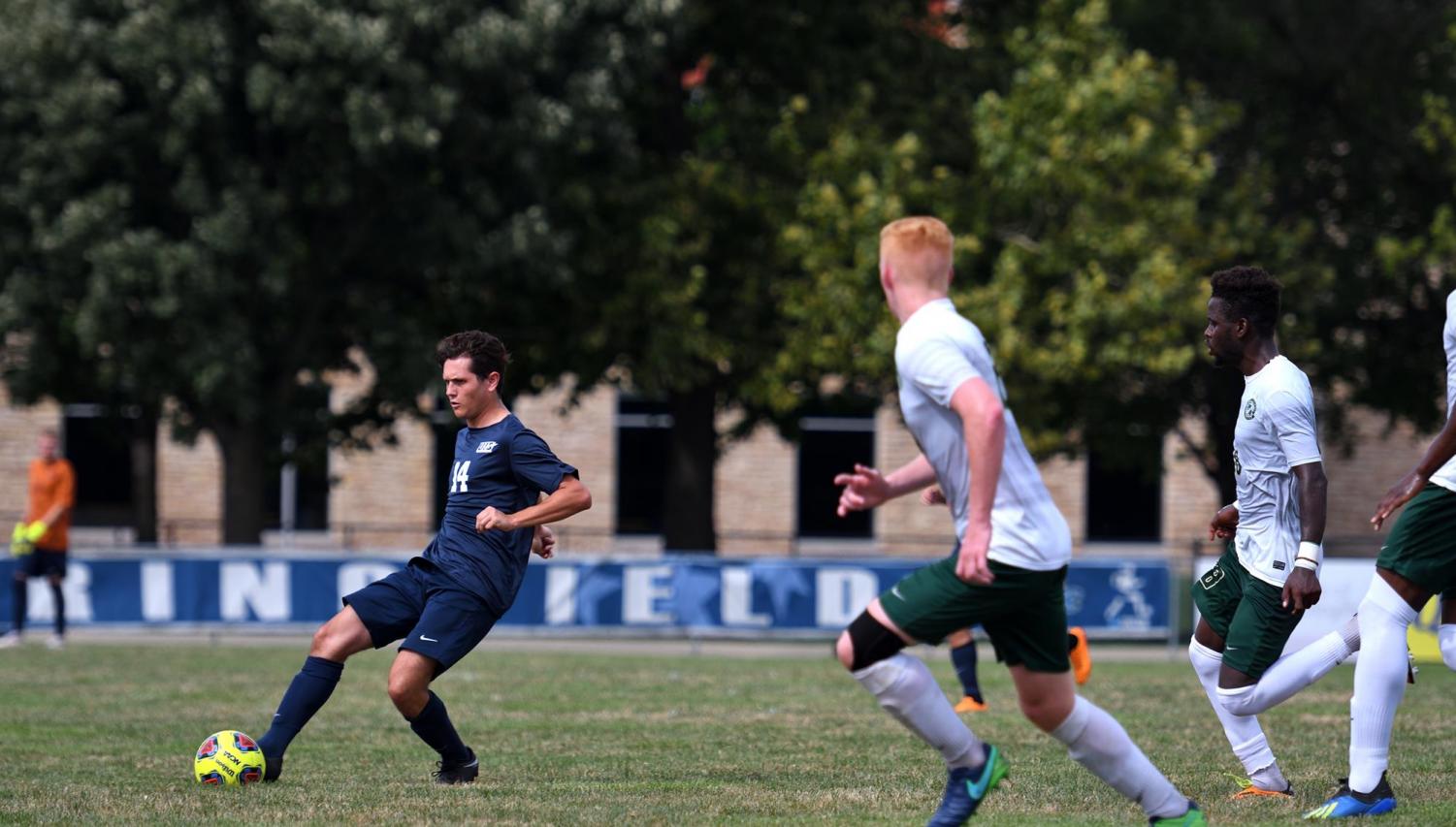 University of Illinois Springfield Handed Loss in GLVC Quarterfinals
McKendree University handed the University of Illinois Springfield (UIS) men's soccer team a 3-0 loss during Sunday's Great Lakes Valley Conference (GLVC) quarterfinal at Kiwanis Stadium.
"The game lacked a bit of quality for us," UIS coach Adam Hall said. "We weren't at our best, punished on a couple of individual errors and guilty of missed chances. On other days, we might have gotten more calls, but I felt we got some really tough decisions against us that made it even more difficult to get into the game."
The Prairie Stars (9-6-3) held the No. 3 seed while the Bearcats (11-5-1) held the No. 6 seed in the GLVC Tournament.
Both teams played through wind conditions that peaked at 26 miles per hour. "It was a really scrappy game with the wind and field conditions."
With less than two minutes remaining in the first half, Eddie Davis made an upfield pass to James Stone. Stone delivered a cross to Gonzalo Correa in the center of the box and Correa found the back of the net. Davis and Stone both received assists.
During the 64th minute, Javier Soto fired a shot that struck the post. Raul Artega rebounded the shot and provided a score. Soto earned the assist.
Stone converted a penalty kick for the Bearcats 75 minutes into the match.
UIS's strongest opportunity was when Daniel Kemp created a breakaway during the 82nd minute, but Alvaro Cortazar came up with the save for the Bearcats.
Kemp tallied three shots, including one shot on goal. Alex Zarco notched two shots. Mario Falsone, Rhys Wallace and Thiago Fernandes each registered shots on goal while Rory Carlson added a shot.
Cortazar recorded a shutout for McKendree, saving each of the four shots he faced. UIS's Pijus Petkevicius faced four shots and came up with one save.
McKendree outshot UIS 15-9. Both teams turned in four shots on goal apiece.
McKendree takes on second-seeded Bellarmine University (11-5-1) in the GLVC semifinals on Friday at 12 p.m. ET in Jeffersonville, Ind. at Woerhle Athletic Complex.
UIS graduates seniors Ahmed Mohamed, Josh Moore, Andrew Mullican, Ahmadou Ndiaye, Wallace, and Zarco.
Last season, Wallace became the first player in program history to receive second-team all-GLVC honors. Among UIS Division II career leaders, Wallace is tied for first in game-winning goals (5), ranks second in points per match (0.64) and ranks second in goals per match (0.27). Wallace is also tied for second in game-winning goals (3) and tied for fourth in goals (5) among UIS Division II single-season leaders. He has competed and started in 33 career matches. Wallace is tied for third in the GLVC with three game-winning goals.
Moore has competed in 47 career matches, started in 23 career matches. He has dished out five career assists, which is tied for fourth in UIS Division II history. Moore has turned in nine career points off two goals and five assists.
Zarco has competed in 30 career matches and started in 12. He has notched six career points off two goals and two assists. Mullican has competed in 51 career matches and started in six. He provided an assist against Saint Joseph's University as a sophomore.
Ndiaye has competed in 28 career matches and Mohamed has competed in four career matches. "I want to thanks all of our seniors. They have helped us to continue to climb the GLVC and compete with some top teams. That have broken many records this season and have been great additions to our program. We wish them all of the best in their futures and hope they will continue playing this great sport."
The Prairie Stars are expected to bring back 25-of- 31 (80.6 percent) players for the 2019 season.