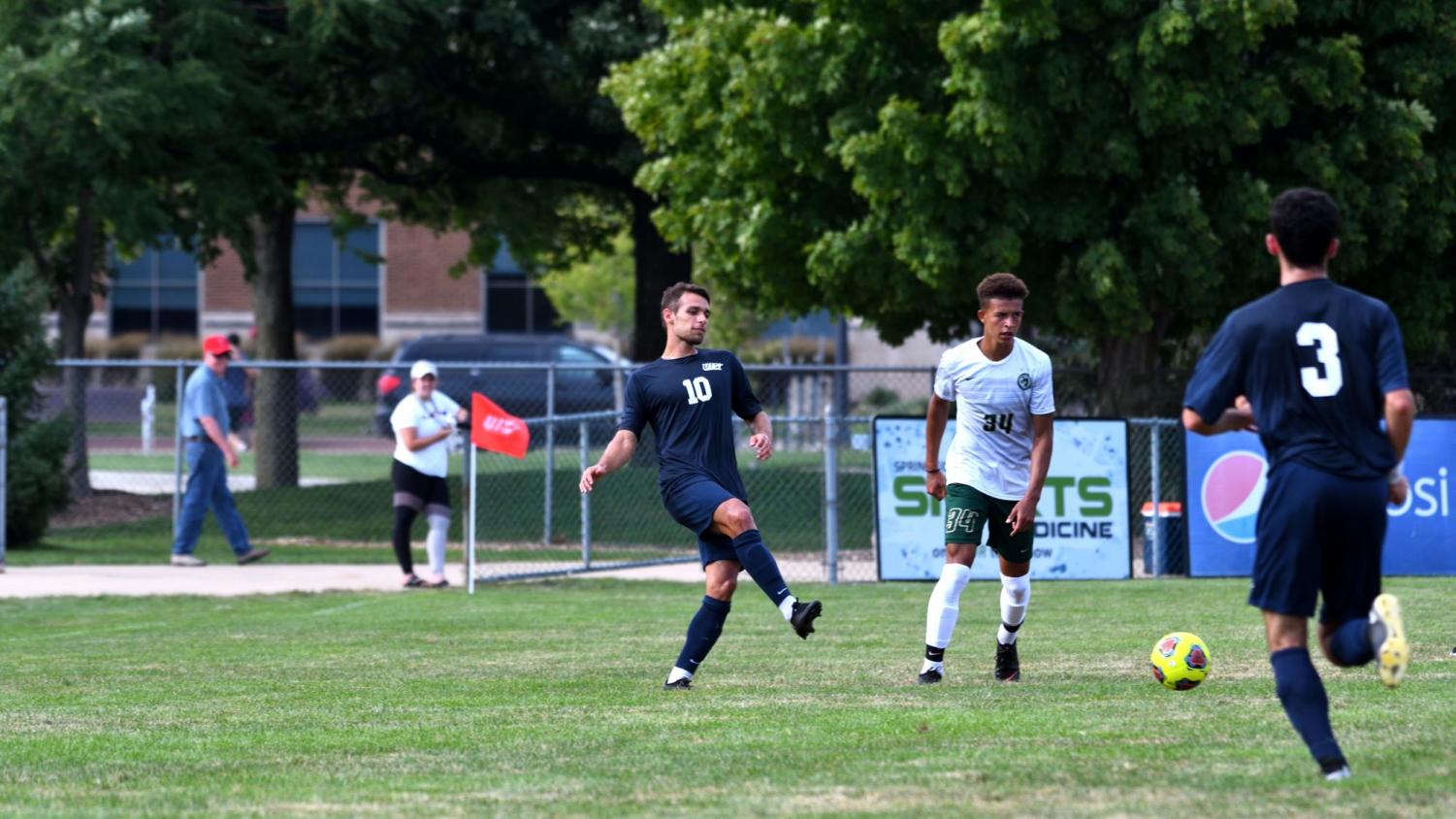 UIS Prairie Stars Powers Past Truman State, Sets Program Wins Record
The University of Illinois Springfield (UIS) men's soccer team powered past Truman State University with a 5-2 Great Lakes Valley Conference (GLVC) victory during Sunday's matchup at Kiwanis Stadium. UIS set the program record for most wins in a season since becoming a Division II program.
"It was a good result," UIS coach Adam Hall said. "There were some nice goals we created. I was happy with the movement on and off the ball." "It wasn't the most eye-catching match under the conditions, but it was a great team effort to grind out a big win. Hopefully we can carry this form into Wednesday and the playoffs."
Among UIS Division II career leaders, Mario Falsone tied the school record with 33 career points.
The Prairie Stars (9-4-3, 8-2-2) scored five goals in a match for the first time since putting together a 6-1 victory against Oakland City University on Oct. 12, 2016.
Falsone was fouled on a one-on-one situation and Wallace converted a penalty kick for the Prairie Stars during the 12th minute.
Colin McDonough played a favorable ball 19 minutes in the match and evened the score for the Bulldogs (3-8-4, 1-8-3) at 1-all.
Seventeen seconds into the second half, Daniel Kemp capitalized off passes from Alex Morais and Harry Hiscock to give UIS a 2-1 lead. UIS received another penalty kick after Edward Rose was fouled in the box.
Wallace converted his second penalty kick of the day three minutes later to give UIS a two-score lead.
Mario Gonzalez set up Falsone with a strong opportunity upfield during the 79th minute. Falsone finished the play for the score for UIS. Mario Gonzalez earned the assist. "I'm buzzing to score and most importantly win," Falsone commented. "There's a great atmosphere amongst the team. We're nowhere near done yet."
Two minutes later, Josh Moore finished a pass from Alexander Gonzalez to give UIS a four-score lead. "It was a massive win against Truman State," Moore stated. "I'm glad I could help the team with a goal assisted by Alexander Gonzalez."
Truman State's Michael Ruzicka found the back of the net with a free kick from about 35 yards out with 61 seconds remaining.
UIS's five goals account for UIS's five shots on goal.Kemp contributed a team-high five shots. Falsone, Wallace and Javier Milla tallied two shots apiece. Morais, Fernando Sanz de Galdeano, Moore, Alexander Gonzalez and Alex Zarco each registered shots.
Pijus Petkevicius saved two of the four shots he faced for the Prairie Stars. UIS outshot Truman State by a 16-12 margin and held a 5-4 advantage in shots on goal. "At times, the match was difficult and tested our discipline," Hall admitted. "I'm glad we came through and got the result."
Falsone and Wallace make up parts of a fourth-place tie among UIS Division II single-season leaders with five goals apiece. Wallace is tied for first in UIS Division II history with five career game-winning goals. Mario Gonzalez has recorded four assists, which is tied for third among UIS Division II single-season leaders and tied for ninth among UIS Division II career leaders.
UIS has clinched a top three spot in the GLVC standings along with home-field advantage for the GLVC quarterfinals.
The University of Southern Indiana (12-2-1, 10-1-1), ranked No. 16 in the latest United Soccer Coaches (USC) NCAA Division II poll, clinched the GLVC regular-season title. The Prairie Stars maintain second place in the conference standings.
The University of Indianapolis (9-4-3, 8-2-2) and Bellarmine University (9-5-1, 8-3-1) are currently tied for third and trail the Prairie Stars by one-half game. Maryville University (8-4-3, 7-3-2) follows in fifth, trailing UIS by one game.
UIS clinches second place in the conference standings by at least matching Bellarmine's result on Wednesday.