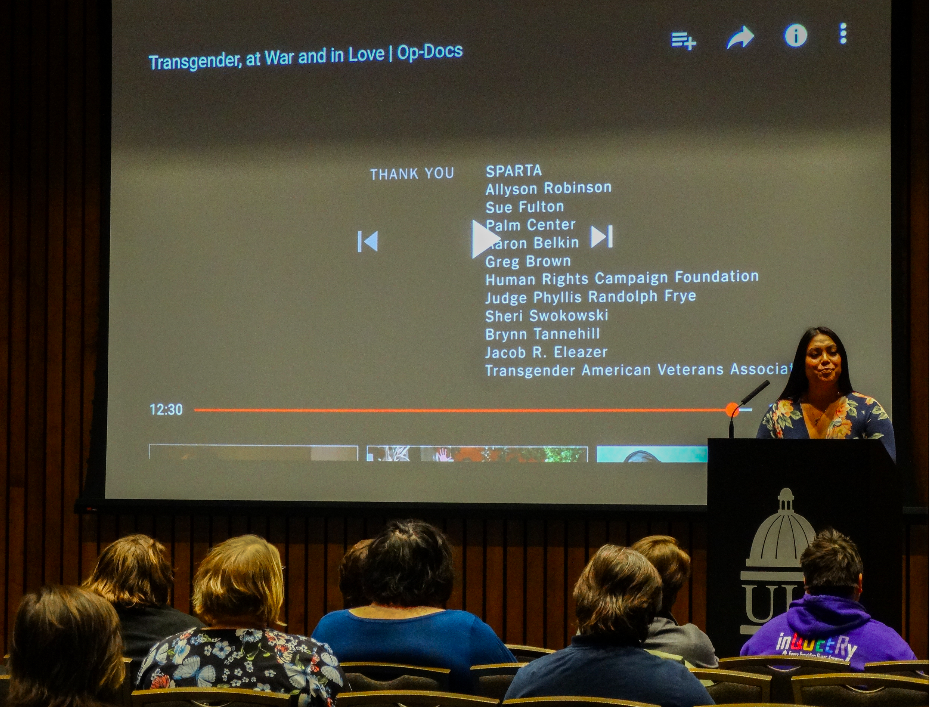 UIS Kicks Off Trans Visibility Week with Speech by Transgender Activist
On March 26tth, UIS Gender and Sexuality Student Services held the first event of Trans Visibility Week: a presentation by retired Army Healthcare Management Administration Specialist and transgender activist Laila Ireland.
At the presentation, students were encouraged to sign a pledge to respect transgender rights. This pledge included agreeing to use more gender neutral language when addressing strangers, asking for preferred pronouns in introductions, educating student organizations and proactively plan for the inclusion of transgender members, respecting rather than policing people using public restrooms consistent with their gender identity, and confronting bias and prejudice against transgender people, among other things. During the presentation itself, students were shown a section of a New York Times opinion documentary, "Transgender, at War and in Love." The section shown focused on Laila, who was assigned male at birth, and her then-fiancé, Air Force Staff Sergeant Logan Ireland, and the different experiences they had in the military.
In the film, Sergeant Ireland is first shown during his time in Afghanistan. In a video call to Laila, he describes his experience telling his unit commander that he is transgender — that he was assigned female at birth — and how the unit commander expressed support in response. At the time, this act could have led to his discharge from the Air Force. The film also notes that there are an estimated 15,500 transgender individuals serving in the military and that transgender individuals are twice as likely to serve in the military as their fellow citizens. After returning home, Logan faces a meeting with his overall unit chief, where once again he found support within his unit.
The support Logan received is contrasted by the antagonism of Laila's unit. She was asked to tell patients not to use female pronouns when talking about her, something that created a great deal of confusion for many patients. She was made to use the male restroom, she was made to abide by male regulations and standards. This demonstrates one of the points of the film, the increased difficulty for a woman assigned male at birth to make the transition while serving in the military. The section ended with Laila and Logan reiterating that transgender people deserve as much kindness and respect as anyone else.
Following the film, the presentation shifted to a Q&A session. During this session, Laila described her experiences as an activist and a transgender person in the military. She talked about initially coming out as gay to her parents, which led to her being kicked out by her family — though they would eventually reconcile, and her later realization that she was transgender. She described meeting Logan and the formation of their relationship. She also explained how the documentary came to be after the "Don't Ask, Don't Tell" policy, which prevented LGBTQ individuals from openly serving in the armed forces, was repealed. The repeal, however, did not cover transgender individuals.
Laila spent twelve years in the Army, with two combat tours in Iraq, and a stationing in Hawaii where she faced pressure by her commanders that eventually caused her to leave the military. Since then, she has served as the Membership Director for SPART*A, an organization supporting LGBTQ individuals who either are serving or have served in the US Armed Forces. She has also been presented with the "Military Spouse Leadership Award" by the American Military Partners Association.
Adam Tomaszewski, Gender and Sexuality Student Services undergraduate assistant, described the event saying "Laila Ireland is a courageous and inspiring trans woman, we're honored to have here speaking with us today on trans advocacy and her experience within the military."
When asked what she wanted students to take from the presentation, Ireland said, "Dignity and respect is of the utmost importance to the American people and if we are qualified to fight for the liberties and freedoms of the American people we deserve the same liberties and freedoms as well."
It should be noted that the current President, who has never served in the military, holds a different view, recently proposing a new policy that bans most transgender people from serving in the military.