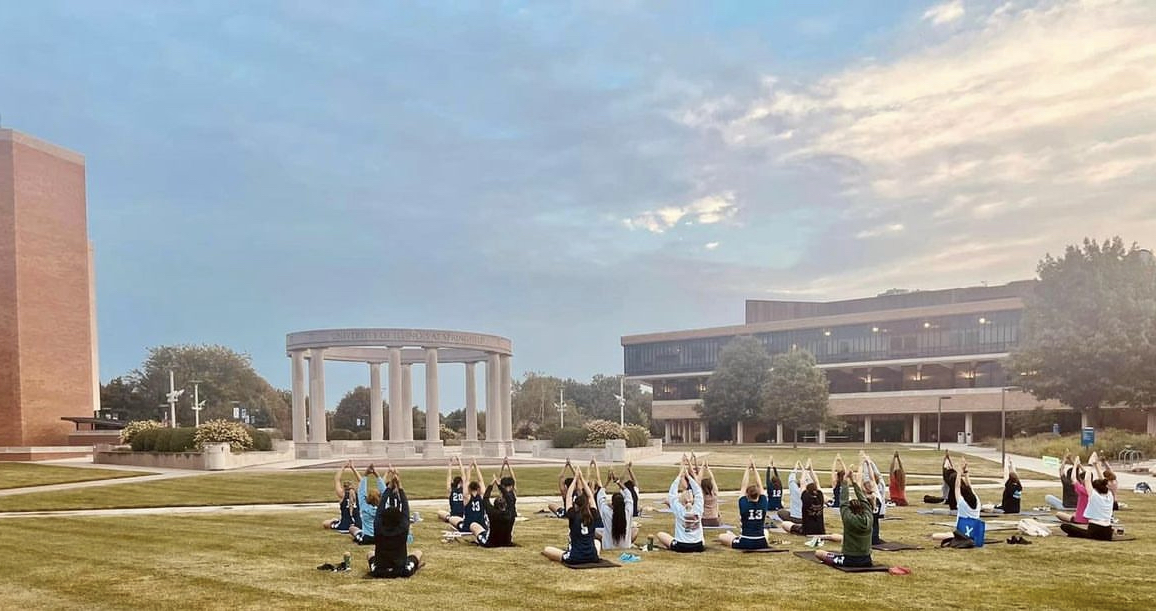 Rec-a-Palooza
On Wed., Sept. 6, UIS Campus Recreation held their annual Rec-a-Palooza event. This event was co-sponsored by UIS Student Affairs and the Student Activities Committee. The event consisted of a multitude of different activities occurring throughout the day. Each activity promoted students getting outdoors and staying physically active. The event began at 6:30 a.m. and lasted until 11 p.m. The event ended with a street party consisting of live music, food trucks, more games, and giveaways. Rec-a-Palooza is one of the most highly anticipated and popular events on campus and for good reason.
Rec-a-Palooza began bright and early with Sunrise Yoga on the quad. Meanwhile, The Recreation and Athletic Center (TRAC) began hosting a variety of events in their facilities. Students had the opportunity to partake in machine orientations and tour the different facilities TRAC has to offer. This is helpful for new students and students who are new to working out. Following this, a nutritionist visited TRAC with free food and knowledge regarding nutritional health. A ping pong tournament took place in the afternoon as well. While students enjoyed these activities and orientations, TRAC handed out free popsicles from 9 a.m. – 5 p.m. At 2 p.m., students had the opportunity to canoe or kayak on the UIS pond or play disc golf near Lincoln Residence Hall. The new UIS E-Sports team also unveiled their area in Founders Residence Hall at 3:30. Additional fitness classes took place at TRAC following this. Students could partake in sunset yoga at 6 p.m. if they wished to unwind before the street party began at 7 p.m. The party offered a choice of five different food trucks and two live performers.
Rec Palooza is one of my favorite events of the school year because of the way it brings students together. The amount of students that come out for these events, especially the street party, is bigger than almost any other event that occurs on campus. Not only does Rec Palooza encourage students to participate in social events, it gives students an outlet to stay active and learn about maintaining their physical health. In my personal experience, it was difficult to prioritize my health when I first came to college. It can be overwhelming to balance our personal well-being with the stress of classes and work. Events like Rec Palooza give us an exciting outlet that also motivates us to take care of our bodies. More events like Rec Palooza would be extremely successful and bring students even closer together on campus.
UIS Campus Recreation hosts events like Rec Palooza and more throughout the year. SAC also hosts many events that attempt to bring students together. Both of these organizations post events on their Instagram profiles. To find Campus Recreation, search their handle, @uiscampusrec. SAC's Instagram handle is @uis_sac. I would encourage every student to follow these accounts if they are looking for more social events and activities to take part in. Rec Palooza was, and continues to be, a major success amongst the student body. It motivates students to come together and informs students about many of the opportunities UIS has to offer.