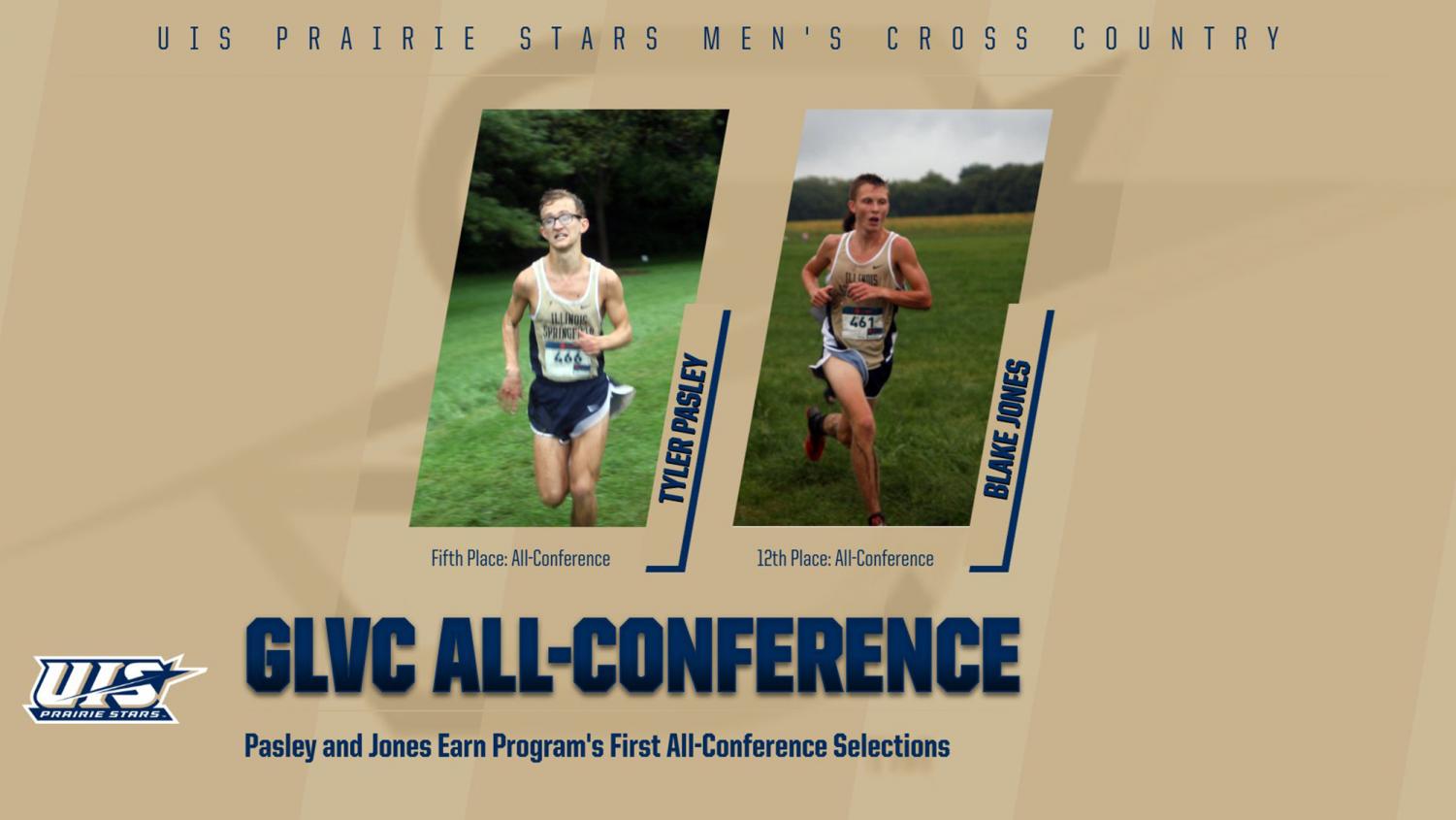 University of Illinois Springfield Handed Loss in GLVC Quarterfinals
The University of Illinois Springfield (UIS) men's cross country team powered to a program-best third-place finish with a team score of 85 points during Saturday's Great Lakes Valley Conference (GLVC) Championships in Louisville, Ky. UIS made a five-place improvement upon last year's program-best finish in the GLVC Championships last season.
"That's the best we've executed the race plan all year and it showed in our best performance [on Saturday]," UIS head coach Scott Slade stated. "They ran together and gave all they had. As a coach, that's all I can ask of them. They ran with a lot of heart and we moved up a lot at the end of the race"
"It was an all-around awesome day for us," UIS assistant coach Tyler Pence added. "They executed the plan and worked together very well."
Tyler Pasley charged to fifth with an 8K time of 25 minutes, 24.04 seconds. The sophomore from Shelbyville broke the school 8K record by 19.7 seconds and busted his personal record (PR) by 48.7 seconds.
"Every time I saw Tyler Pasley, he was further and further up," Slade recalled. "He did an amazing job."
The Prairie Stars ran as a pack for a majority of the race and played as a major contributor to their success. "Having the team together through 4K made a huge difference," Pasley acknowledged. "That was an awesome source of energy for me when we got into the second half of the race."
Blake Jones captured 12th (25:38.1) and set a 35.6-second PR. The Lincoln native bested the previous school record 8K time, clocked the second-fastest 8K time in program history and improved his UIS 8K freshman record.
By securing top-15 finishes, Pasley and Jones became the first all-conference recipients in program history. Pasley also locked up the highest individual finish in school history in the GLVC Championships.
Brendan Kroeger claimed 21st (25:59.32) and a 25.8-second PR. The Quincy, Ill. native provided the sixth-fastest time in school history and the second-fastest time by a UIS junior.
Finishing behind Kroeger by 1.28 seconds was Ryan Stark, who took 24th (26:00.60) and set a PR. The Mapleton native put together the seventh-fastest time in school history while improving his sophomore school record.
Trailing Stark by 0.13 seconds was Kenton Wilson, who cross the finish line 25th (26:00.73). The senior from Shelbyville recorded the eighth-fastest time in school history and the third-fastest time by a UIS senior. Tyler Hiserote finished 33rd (26:10.05) and posted the fifth-fastest time by a UIS junior. Elliot Nabatov captured 55th (26:42.15) and a PR.
Jake Schwartz claimed 67th (26:59.55) and a 32.2-second PR. Thomas Wuchte secured 72nd (27:02.87) and missed his PR by only 4.0 seconds. Alex Phelps finished 0.44 seconds behind Wuchte in 73rd (27:03.31), missing his PR by just 7.9 seconds. Preston Henze locked up 78th (27:10.82) and crushed his PR by 67.3 seconds. Trevor Dunkel placed in 96th (27:42.85). Emmons King raced to 122nd (28:43.81) and a PR.
Each of UIS's eight runners to compete in the 2017 GLVC Championships improved their placing this season. Stark made the largest improvement, moving up 56 places from 80th to 24th. Pasley moved from 36th to fifth, Kroeger improved from 46th to 21st, Wilson moved from 60th to 25th, Hiserote jumped from 76th to 33rd, Nabatov improved from 56th to 55th, Schwartz moved from 97th to 67th and Wuchte jumped from 110th to 72nd.
UIS was voted by GLVC coaches as the winner of the James R. Spalding Team Sportsmanship Award Winner.
Phelps was UIS's individual recipient of the James R. Spalding Sportsmanship Award.
The University of Southern Indiana, which is receiving votes in the latest United States Track & Field and Cross Country Coaches Association (USTFCCCA) NCAA Division II poll, collected its 14th-consecutive conference title with a team score of 38 points. Lewis University took second with 77 points, finishing ahead of UIS (85), the University of Indianapolis (92), Bellarmine University (116), Missouri S&T (164), Drury University (171), Truman State University (228), Maryville University (250), McKendree University (278), William Jewell College (367) and Quincy University (373), which rounds out the team standings.
Southern Indiana is ranked No. 6 in the latest USTFCCCA NCAA Division II Midwest Region rankings while UIS and Indianapolis is ranked No. 9 and No. 10, respectively.
Repeating at conference champion was Southern Indiana's Austin Nolan with a time of 24:06.33 and a 26.99-second margin of victory. Southern Indiana freshman Titus Winders came in second (24:33.22). The separation between second and third was another 27.76 seconds.
The Prairie Stars return to action on Nov. 17 in the NCAA Division II Midwest Regional at 9:30 a.m. CT in Hillsdale, Mich.
"This is a vastly-different team from last year," Slade commented. "They have improved so much and I'm proud of their efforts."
"This is a huge step in the right direction," Pence added. "As always, there is still work to be done."