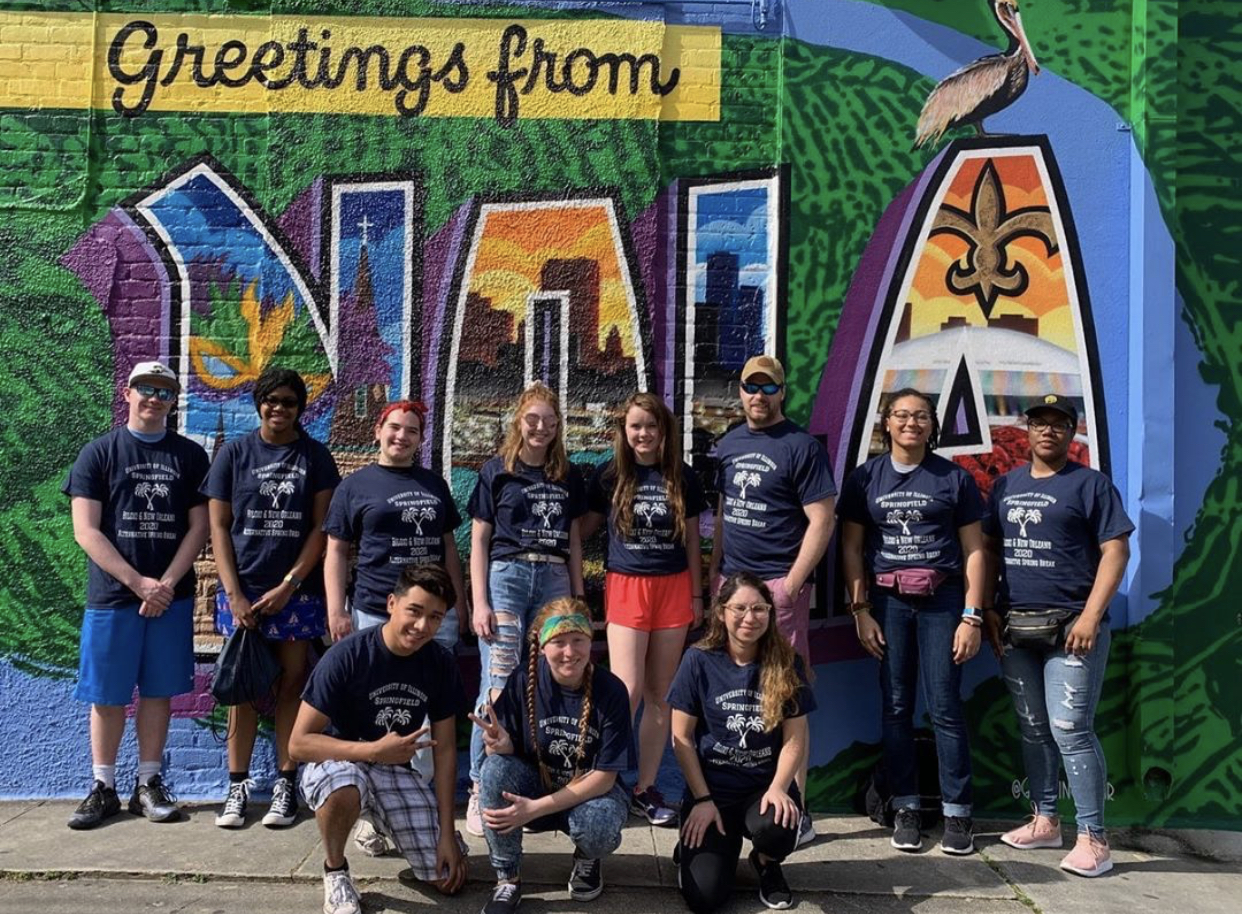 Alternative Spring Break: New Orleans 2020
Alternative Spring Break (ASB) is a week-long service trip that takes place during the UIS Spring Break. During this time, students travel to an off-campus location where they volunteer and provide aid to multiple causes. This year they traveled down to Biloxi, Miss. and New Orleans, La.
Mark Dochterman, Assistant Vice Chancellor for Student Engagement, is the advisor for the New Orleans trip. When asked what experience he hoped students would gain from ASB, he stated, "It's really easy to get wrapped up in working and not giving back…Students get to learn something about the places we go and hopefully expand their world."
ASB is a student-run organization in charge of planning the trip. This includes choosing the location, calculating travel costs, fundraising and setting rules. Fernando Contreras, leader of the New Orleans excursion, said, "All the meetings, planning and fundraising were definitely worth it…Whatever had to happen [for this trip] was worth it, and so everything that went into making this ASB trip a reality was beyond worth it."
On the ASB New Orleans trip students volunteered at Court Appointed Special Advocates (CASA). This organization helps fight for the rights of abused and neglected children by providing them with advocates who are there to help the children. UIS students sorted through clothes, filled Easter baskets with toys, made cards for donors and organized a closet.
The students also volunteered at Second Harvest Food Bank, which fights against hunger in southern Louisiana. Students spent the day helping pack food orders that were to be delivered to the surrounding communities.
The next day, students volunteered at Audubon Nature Institute, which focuses on preserving and celebrating nature. Students planted trees in the local park, with a grand total of 140 new trees planted by the end of the day.
Finally, students volunteered at a privately owned horse ranch that adopts abused and neglected horses. The owners of this horse ranch nurse the horses back to health. During their time there, students spent the day removing weeds from a tree so the horses had more room to run.
Amanda Jones, ASB New Orleans attendee, said her favorite part of the trip is "[t]he balance between work and service and the satisfaction of that and the experience of having fun… Definitely a memorable experience that I'll remember for the rest of my life."