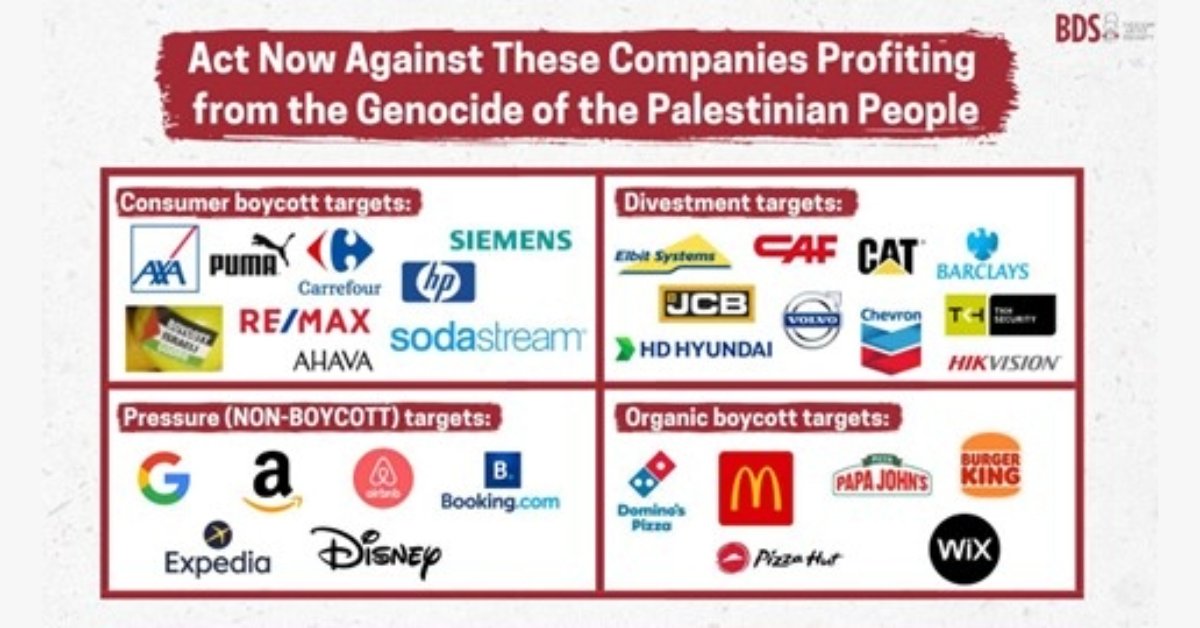 Boycotts in Support of Palestine
Due to the genocide and humanitarian crisis in Gaza, the Boycott, Divestment, Sanctions (BDS) movement has called for a boycott against brands supporting or profiting from actions against Palestinians in Israel. This boycott was called not only in solidarity with Palestine, but to put pressure on brands to withdraw their support for Israel and to call for a cease-fire.
The BDS has split the boycott into four categories. Consumer boycotts urge people to stop purchasing products from specific brands. These brands include Puma, AXA, Hewlett Packard Inc (HP Inc), SodaStream and others. Divestment targets to encourage investors, from individuals to governments and institutions, to divest from companies complicit in these actions. These include Elbit Systems, Barclays, Chevron and others. Pressure targets are brands that the BDS has chosen not to boycott. They are instead calling for pressure against these brands to withdraw their support for Israel. Google and Amazon are part of this target, as well as Disney and Airbnb. The BDS movement is also supporting grassroots-organized boycotts. These are boycotts that were organized independently of the BDS movement, but the BDS is in support of them. These include brands like McDonald's , Burger King, Pizza Hut, Papa John's, etc.
Another boycott that has gained traction is the boycott of Starbucks. This came about towards the end of October when Starbucks sued their union for using the Starbucks logo for a post they made in support of Palestine. There have been reports that they may be donating funds to Israel, but that is not confirmed. This boycott gained traction from social media posts, and it is widely accepted in conjunction with the BDS movement boycotts.
Consumers may find it difficult to understand how boycotts work exactly, but the BDS website clearly explains the details of the boycotts. They also list plenty of other articles and resources for consumers to learn more about the genocide happening in Gaza and what they can do to help. Some consumers may even go so far as to say that they can't boycott because they "need" their daily coffee or their Friday night pizza dinners. That is simply not an excuse. There are plenty of other brands to support that are not contributing to the genocide in Gaza. The more consumers that participate in the boycotts, the more quickly these brands will stop supporting the genocide in Gaza.