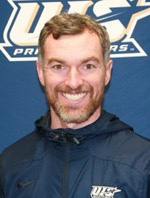 Coach Profile: Nathan Gaudreault
UIS is proud to announce a new member of the Prairie Star family, assistant men's soccer coach Nathan Gaudreault. With over 20 years of experience, Gaudreault is sure to help shape the team this upcoming season.
Gaudreault has played all levels of youth soccer as well as playing at the semi-professional, collegiate, and club levels.
Aside from holding positions at the NCAA Division II level, Gaudreault was a co-captain for Piasa FC in the Premier Arena Soccer League from 2007-2009.
Gaudreault is a 2006 graduate of conference rival Truman State University, where he played soccer for four years. While playing for the Bulldogs, Gaudreault started 50 games, scoring 18 goals with 10 assists. During his time with the team, the Bulldogs appeared in the NCAA Tournament twice, making it as far as the final eight.
Upon graduating with his bachelor's in exercise science with a minor in business administration, Gaudreault began his coaching career as an assistant at Truman State. Eventually, Gaudreault moved on to coach the Metro United FC U14 team out of the St. Louis Scott Gallagher camp, and then, finally, to UIS.
Gaudreault said he's always wanted to be at UIS.
"My dad played here and won a national championship in 1988, and I grew up coming here, and this soccer program means a lot to me and my family."
Gaudreault has a lot to bring this soccer program. From April of 2016 until the present, Gaudreault has been with the Wyoming Soccer Association as a technical advisor and Olympic Development Program coordinator. He currently holds a United States Soccer Federation (USSF) National 'C' License and is enrolled for his USSF National 'B' License, National Soccer Coaches Association of America National Diploma, NSCAA Director of Coaching Diploma, and NSCAA Goalkeeping Level 1 Diploma.
He is currently working toward a master's degree in public administration at the University of Colorado-Denver. His in-depth knowledge and vast experience will be a great contribution to the team.
Gaudreault has high hopes for the team this year.
"I have no doubt that this team has the potential to end up in the top four of the GLVC this regular season, and anything can happen in the GLVC tournament. I believe this group and the recruits we are bringing in to support them are capable of turning in the best season in the GLVC era for UIS men's soccer."
When asked what he looked forward to the most this season, Gaudreault said each and every game.
"All the hard work and preparation is finally put to the test, and I relish every opportunity to help the players achieve the most they can every time they step out on the field."