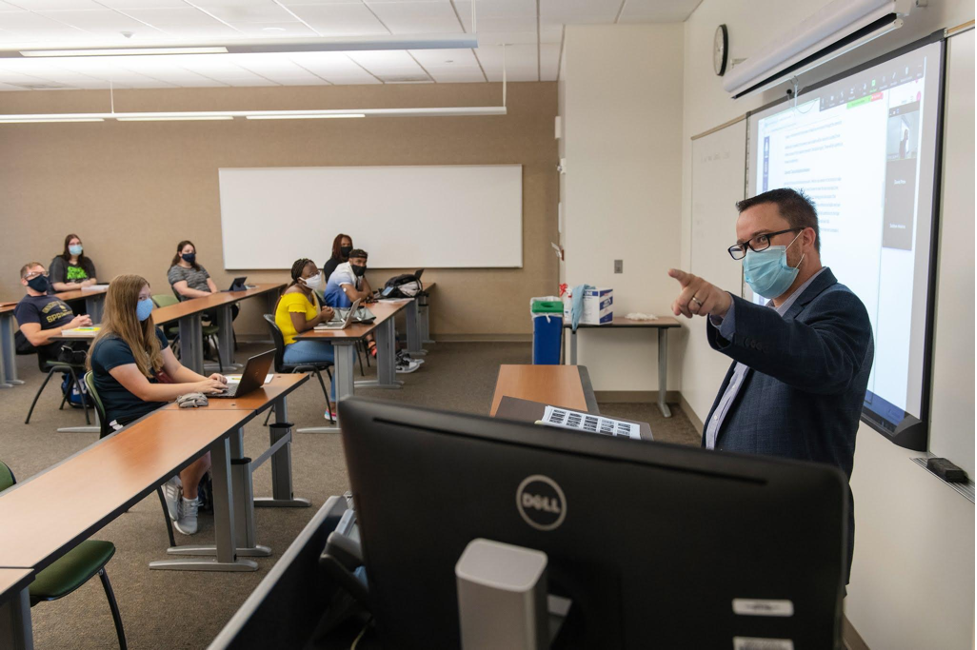 Spring 2022 Pandemic Mitigations
The University of Illinois Springfield has announced its' "Instructional Plan" concerning COVID-19 mitigations for the upcoming Spring 2022 semester. The University plans on eliminating their "6-foot social distance" rule which has scattered students across classrooms. Teachers will be required to create a seating chart and are encouraged to take regular attendance. Doing so, the university claims, will aid in contact tracing if breakout cases occur.
Currently, it is believed that students will still be required to wear masks in classrooms, regardless of vaccination status. However, there could be exceptions to mask-wearing if cases remain low and if the state of Illinois relaxes mandates. In that scenario, it would be up to the discretion of the faculty member whether or not to require masking in class if all students in the room are fully vaccinated. Instructors will be alerted if a student in their class has a vaccine exemption. Those with an exemption will be required to continue testing, masking and social distancing.
Nearly four semesters since UIS and most of the country went into lockdown, vaccines in response to the novel coronavirus have bestowed a route back to normalcy. The University of Illinois system has led the charge in keeping students and faculty safe through saliva-based testing. And although vaccine mandates have become a controversial topic in today's society, roughly 96% of students attending UIS are fully vaccinated.
For more information on Spring 2022 COVID mitigations please see the Provost's press release. For current requirements see UIS: United in Safety.