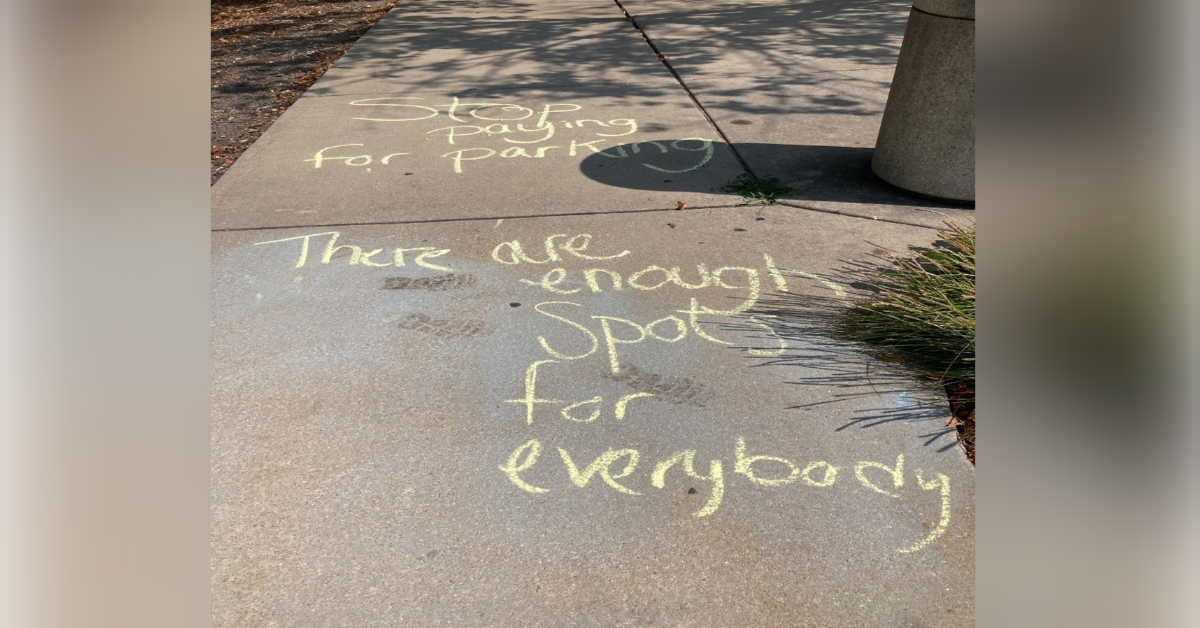 Beyond "What Scares UIS Students?" | Beyond Parking
This week, the Observer is looking into The Beyond to see what scares UIS students. Sure, this opportunity could be used for some silly little anecdote about test anxiety to lighten the mood about the rapidly-approaching midterm exams, but that has already been covered extensively by student services. Instead, it seemed like a better idea is to discuss the horrific parking situation on campus. It is not a new issue. In fact, it has been covered before by Observer journalists. Simply searching for "parking" at uisobserver.com will pull up several articles related to parking fee increases and the Student Government Association's involvement in policy resolution. One notable story, posted five months ago by Nicholas Nielsen, titled "What's with UIS Parking? A Personal Reflection" touches on the classist manner of campus parking. Nielsen goes on to describe how fee increases, the implementation of "pay-for-priority," and the lack of noteworthy safety standards detrimentally impacts students. One thing that appears to be left out is how much the atrocious parking situation affects low-income students and students with disabilities.
The White House has taken the initiative to investigate "junk fees." One such junk fee is exploitative or predatory fees and is defined as "Excessive fees that target consumers who have limited alternative options – because they are locked into a product or service, or are otherwise economically vulnerable – can likewise impose a financial burden." A 2020 parking brochure, published by UIS, states that the implementation of tiered parking is "To improve the campus' parking infrastructure by enhancing safety, security, and the condition of the university's parking lots." This seems rather contradictory to what it actually does. Low-income students and students with disabilities are especially disadvantaged with the fee-for-parking burden. If you choose to attend UIS, your options are to pay for parking (and pay even more for a good spot) or park somewhere off campus and far away, possibly risking being towed or ticketed for parking there. Luckily, Lincoln Land Community College does not charge for parking. However, this is a long trek to make, made even worse for students with disabilities. The walk from the parking lot of the LLCC campus to the middle of the UIS campus takes about 20 minutes, if you walk quickly – not at all convenient. Furthermore, it can be rather dangerous when walking through bad weather or after sunset. Women especially have the burden of worrying about being attacked and the walking path that rounds the daycare into LLCC's campus is very dark at night. Though some lights illuminate the path near the road, two of them consistently fuse out and there are no streetlights once you reach the daycare.
To add to the UIS parking conversation, a mysterious message appeared in chalk on the PAC sidewalk at the beginning of the 2023 fall semester. It read, "Stop paying for parking," and "There are enough spots for everybody." Approximately 4,000 students enroll in UIS every year and there are about 1,100 employees. Yet, even with these numbers, we have all noticed the abundance of available parking. Charging for parking is exploitative, especially for those that are required to be there. Furthermore, it is mandatory for freshmen and sophomores under 21 years of age to live on campus, but parking fees are not included in the already exorbitant housing fees. UIS takes this exploitation a step further by charging UIS staff to pay for parking. The lowest rate for staff parking is $160 per year. That is the equivalent of paying approximately $13.33 a month to work at UIS. As if the rising costs of education fees are not enough, parking fees are expected to increase each year. Must we really wait for an accident or tragedy to happen before anything is done about the ridiculous fees for parking? UIS says that campus police are available to give rides, should students or staff feel unsafe. Perhaps if the campus police find themselves bombarded with safety calls, the administration will reevaluate their implementation of parking fees.