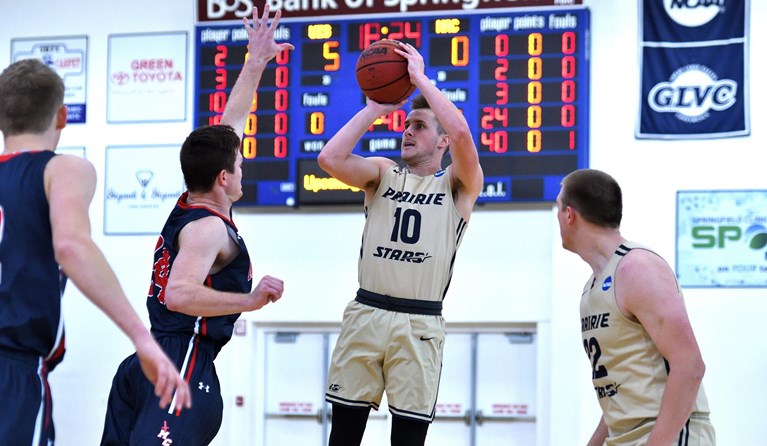 Vince Walker Breaks School's Career Three-Point Record Against Indianapolis
Walker hit his 193rd three-pointer of his career with 2:20 left in the first half, tying him with Jamall Millison who set the previous mark in 2016. That tie lasted just 78 seconds into the second half when Walker hit another long distance shot. He added one more later in the half and is now just five away from 200 for his UIS career.
UIS and Indianapolis were tied at halftime at 36. The Prairie Stars had a small lead for the first few minutes of the second half, but a Greyhounds three-pointer sparked a 10-2 run that put Indianapolis ahead. The Prairie Stars stayed close but could never regain the lead, and a 12-3 run by the Greyhounds put the game out of reach with under three minutes left.
Indianapolis shot 46 percent for the game, compared to 37.5 percent for the Prairie Stars. UIS had one more three-pointer and two fewer turnovers, and Indianapolis won the rebounding battle by nine boards.
Walker finished with 17 points, including a team-high nine in the first half. Gilwan Nelson had a team-high 19 points, and Aundrae Williams was in double-figures with 16. Those two players were a combined 12-of- 12 from the free-throw line, including nine makes by Nelson, and helped UIS shot 92.9 percent from the charity stripe.
Nelson also had a team-high eight rebounds, Logan Gonce led the team with three assists, and Daniel Soetan had a team-best two steals.
UIS falls to 13-8 on the season and 6-5 in GLVC play. The Prairie Stars start a five-game road trip next Thursday at Rockhurst.